I require a new kitchen. Where do I start?
You've started correctly by coming to the Harrington Kitchens website. Contact us for a consultation with one of our highly experienced designers as creating a new kitchen is a personal and complex journey. Your Harrington Kitchens designer will discuss your requirements with you, and work towards creating your dream kitchen. The more information that you can provide your designer, the easier it will be for them to bring your dream kitchen to life. So start gathering your inspo now! Check out our website gallery and our Instagram to get you started.
Is Harrington Kitchens just a showroom, or do they manufacture their own kitchens within Australia?
We are both! We have two showroom locations in Narellan and Bowral. Our Narellan location includes our state-of-the-art manufacturing facility where all of our kitchens are produced. We are 100% Australian owned and operated and have proudly provided thousands of kitchens for happy Aussie families for over 25 years.
How much does a new kitchen cost?
It's a common question we get asked but until we are able to measure the kitchen area, discuss materials, appliances and scope of the project we are unable to definitively answer this question. Ask yourself how much you want to spend. Once a budget is established we can accommodate to your budget by discussing different options to meet your kitchen needs.
Building your dream kitchen can vary greatly in cost, anywhere from under $20,000 to over $100,000 depending upon what type of kitchen you desire including style, materials, size and inclusions.
Is my Harrington Kitchen going to be custom made to suit me?
No two kitchens are identical. Our expert designers will work with you to create your dream kitchen completely customised and sized to your requirements. Our designers will treat your kitchen space as a blank canvas, therefore you're not restricted by mass produced, cookie-cutter modular kitchen cabinets which often lead to design compromises. We are proud to design and manufacture our kitchens in-house to ensure all kitchens we provide are of the highest quality.
Will Harrington Kitchens work to update my existing kitchen? For example replace my existing kitchen doors and benchtops?
The short answer is no. There are a number of technical reasons why we choose not to re-face existing kitchen doors and benchtops. 
In our experience, the time taken and the compromises required to accomplish a kitchen re-face is uneconomical and can result in a less than perfect outcome. A brand-new kitchen from our expert designers will make the extra investment well worth it and add value to your home.
How long will it take before I have a fully operational kitchen?
The time frame is totally dependent on a range of factors including your chosen kitchen style, whether it is a brand new build or an extension or whether it requires the removal of your existing kitchen with all the subsequent trade work required. 
Your Harrington Kitchens designer will be able to provide you with the most accurate forecast of the project timeline.
Where are the Harrington Kitchens showrooms and what times are they open?
We have 2 convenient showroom locations. 
Narellan
12 Graham Hill Road
NARELLAN NSW 2567 Australia
Mon-Fri: 8.00am-4.00pm Sat: 8.00am-1.00pm
click here
Bowral
Unit 14, 63 – 69 Kirkham Road,
BOWRAL NSW 2576 Australia
Mon-Thu: 10.00am-4.30pm Fri: 11.00am-4.30pm Sat: 8.00am-1.00pm
click here
What areas does Harrington Kitchens service?
We service almost everywhere within the Sydney metropolitan area and beyond! We provide kitchens to the Macarthur district, Camden, Campbelltown, Narellan, Southern Highlands, Wollondilly Shire, Sutherland Shire, Blue Mountains and as far as the South Coast and Northern Beaches.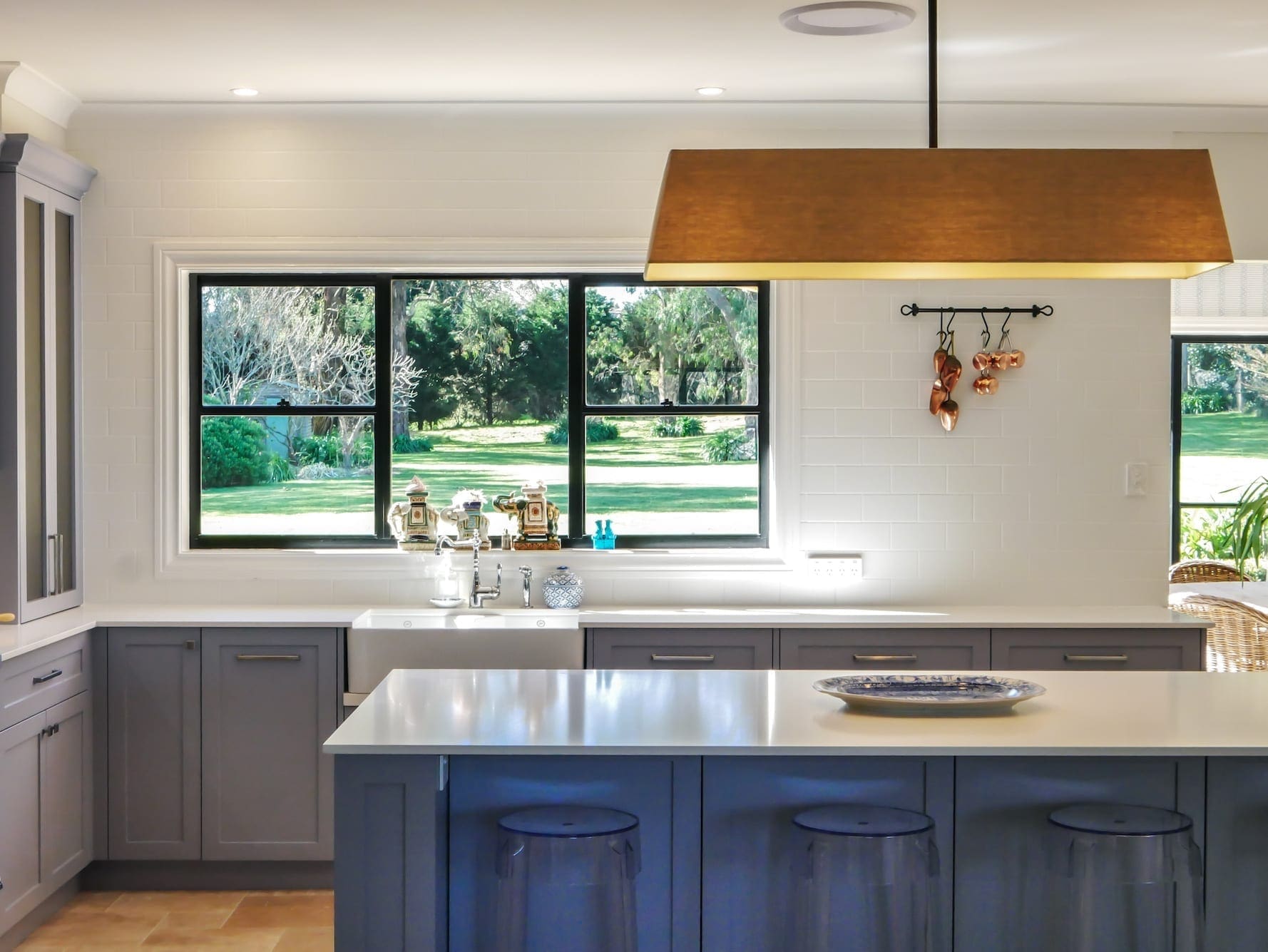 For more information on our various kitchen designs, please visit our Gallery. Our Gallery brings together a selection of our custom kitchen designs ranging from traditional to contemporary kitchens. Each kitchen style has the flexibility to work in any home environment and can be designed to suit all tastes and budgets.
The entire Harrington Kitchens team is focused on designing kitchens that utilise premium materials and offer each and every customer the highest level of service. Harrington Kitchens partners with the best quality kitchen suppliers within the kitchen manufacturing industry and employs experienced and professional tradesmen to ensure the longevity of your custom designed kitchen.
For a quote and design consultation please contact us at Harrington Kitchens on (02) 4647 4474 or submit an online enquiry, alternatively you are welcome to visit either of our showrooms at 12 Graham Hill Road Narellan NSW or Unit 14/63-69 Kirkham Road, Bowral NSW.
Black Kitchens
Click to view gallery
Classic Kitchens
Click to view gallery
French Provinical Kitchens
Click to view gallery
Hampton Style Kitchens
Click to view gallery
Modern Contemporary Kitchens
Click to view gallery
Modern Polyurethane Kitchens
Click to view gallery
Two-Toned Kitchens
Click to view gallery
White Kitchens
Click to view gallery