Kitchen islands have become popular due to their practical and functional design. Depending on your kitchen style and design, the kitchen island can add colour and texture to your kitchen, as well as create a large working space in a kitchen where work space is limited.
Depending on your specific kitchen needs, the kitchen island can be located to function as an integral part of the work area, or as a part of the traditional "kitchen triangle" of the fridge, sink and stove. The kitchen island can also serve as a stylish divider between the kitchen and the family room.
Kitchen islands are beneficial when entertaining family and friends. When choosing the right island for your kitchen, keep in mind how it will be used and what your needs are in order to determine the right materials and size.
Kitchen islands offer storage solutions that are easily accessible and can open up cooking and preparation space in your kitchen. Shelving can be added into the kitchen island to store all of your cookbooks, and other frequently used items, for easy accessibility.
Kitchen island benches are available in a wide range of colours, materials, finishes and sizes to suit each individual's style. Kitchen islands offer a unique focal point to your kitchen with additional storage and seating space, which is perfect for family dinner, used as a study bench and a socialising hub when entertaining. Add a sink for easy workflow and additional appliances such as a dishwasher or mini fridge for convenience.
The kitchen island is one of the most diverse features in any kitchen, providing both storage and work space. It is a wonderful and practical addition to any new kitchen design.
Visit our Kitchen Materials page and Kitchen Materials Gallery for more information about the materials we use to build kitchens of quality…always.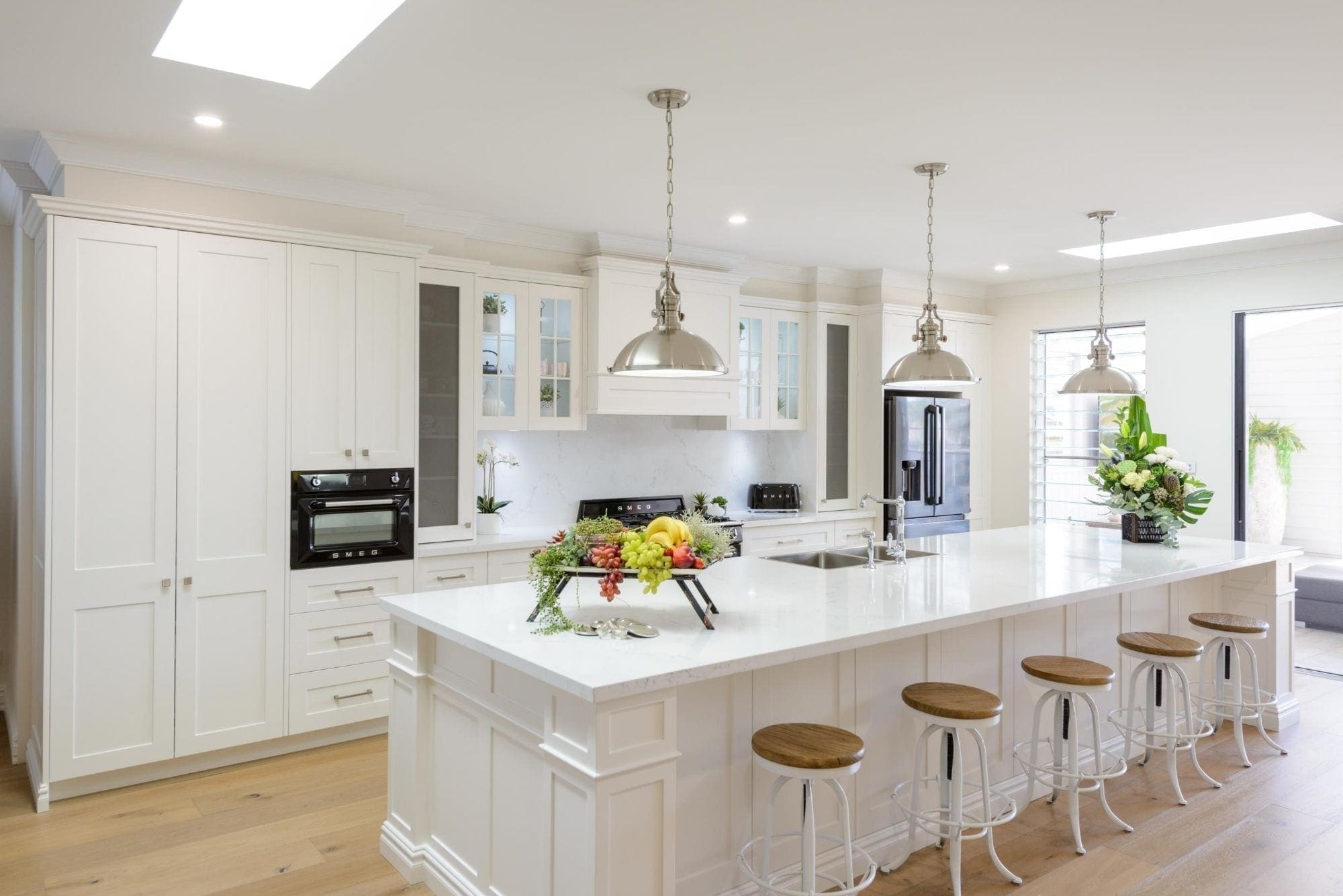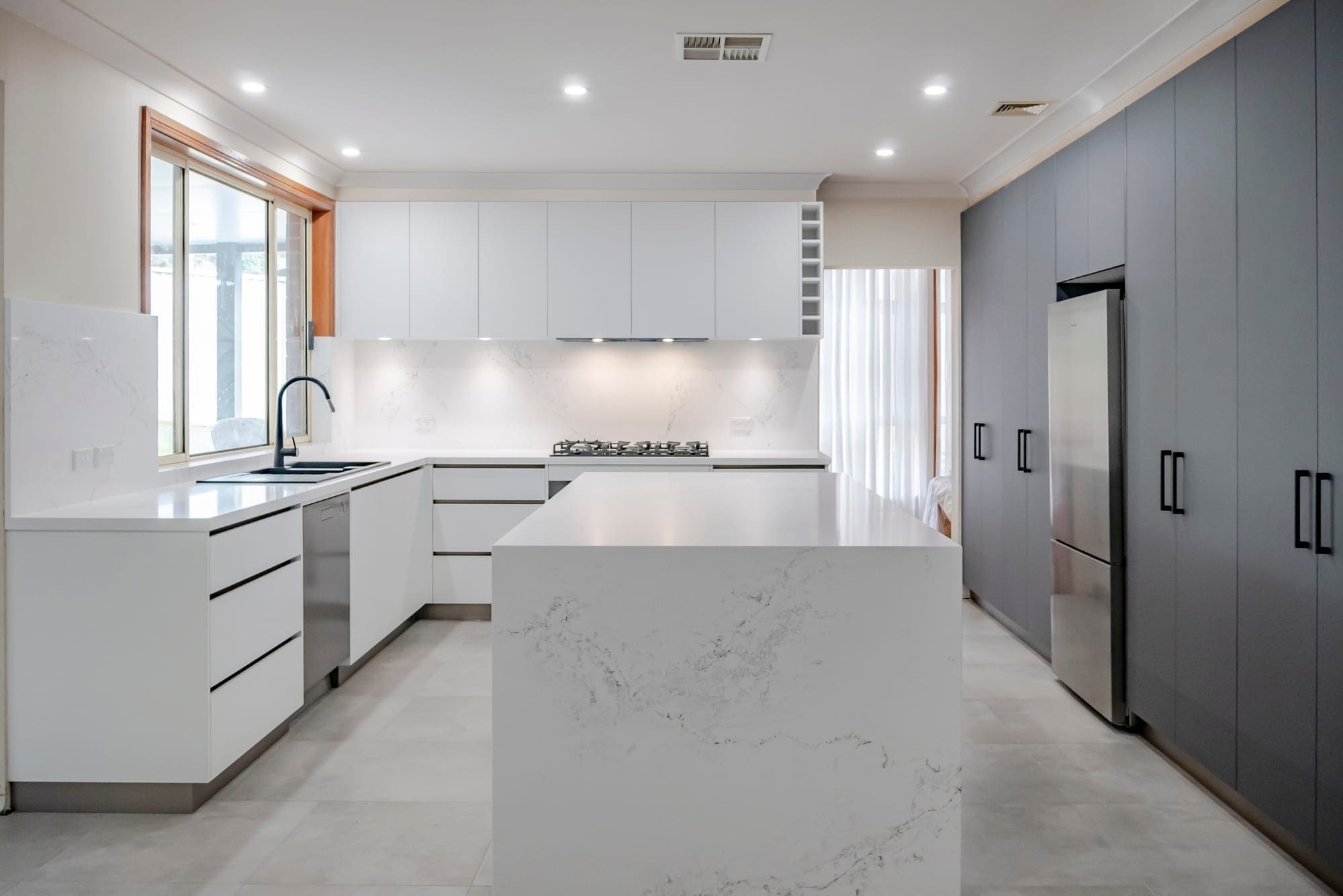 For more information on our various kitchen designs, please visit our Gallery. Our Gallery brings together a selection of our custom kitchen designs ranging from traditional to contemporary kitchens. Each kitchen style has the flexibility to work in any home environment and can be designed to suit all tastes and budgets.
The entire Harrington Kitchens team is focused on designing kitchens that utilise premium materials and offer each and every customer the highest level of service. Harrington Kitchens partners with the best quality kitchen suppliers within the kitchen manufacturing industry and employs experienced and professional tradesmen to ensure the longevity of your custom designed kitchen.
For a quote and design consultation please contact us at Harrington Kitchens on (02) 4647 4474 or submit an online enquiry, alternatively you are welcome to visit either of our showrooms at 12 Graham Hill Road Narellan NSW or Unit 14/63-69 Kirkham Road, Bowral NSW.
Black Kitchens
Click to view gallery
Classic Kitchens
Click to view gallery
French Provinical Kitchens
Click to view gallery
Hampton Style Kitchens
Click to view gallery
Modern Contemporary Kitchens
Click to view gallery
Modern Polyurethane Kitchens
Click to view gallery
Two-Toned Kitchens
Click to view gallery
White Kitchens
Click to view gallery