Kitchen drawers are a functional design feature for kitchen cabinet interiors as they maximise the storage space available in your kitchen cupboards and kitchen pantry. Many innovative kitchen drawer solutions, currently available at Harrington Kitchens, include soft close mechanisms, pot drawers, cutlery drawers, internal drawers, pantry drawers, and under sink drawers.
Kitchen drawers are advantageous in that they permit easier access to contents compared to kitchen cupboards. Kitchen drawers make it easier to reach your stored items, making your kitchen more ergonomic in the process. Kitchen drawers allow you to view contents easily as every item is clearly visible especially when using full extension drawer runners.
Kitchen drawers can be finished in many materials and suit all styles, from French Provincial Kitchens right through to the most modern kitchens.
Harrington Kitchens incorporates the use of kitchen drawer systems from Hettich, a company that produces high quality kitchen cabinet hardware and kitchen drawer systems with attractive, convenient and high-tech runners.
Visit our Kitchen Materials page and Kitchen Materials Gallery for more information about the materials we use to build kitchens of quality…always.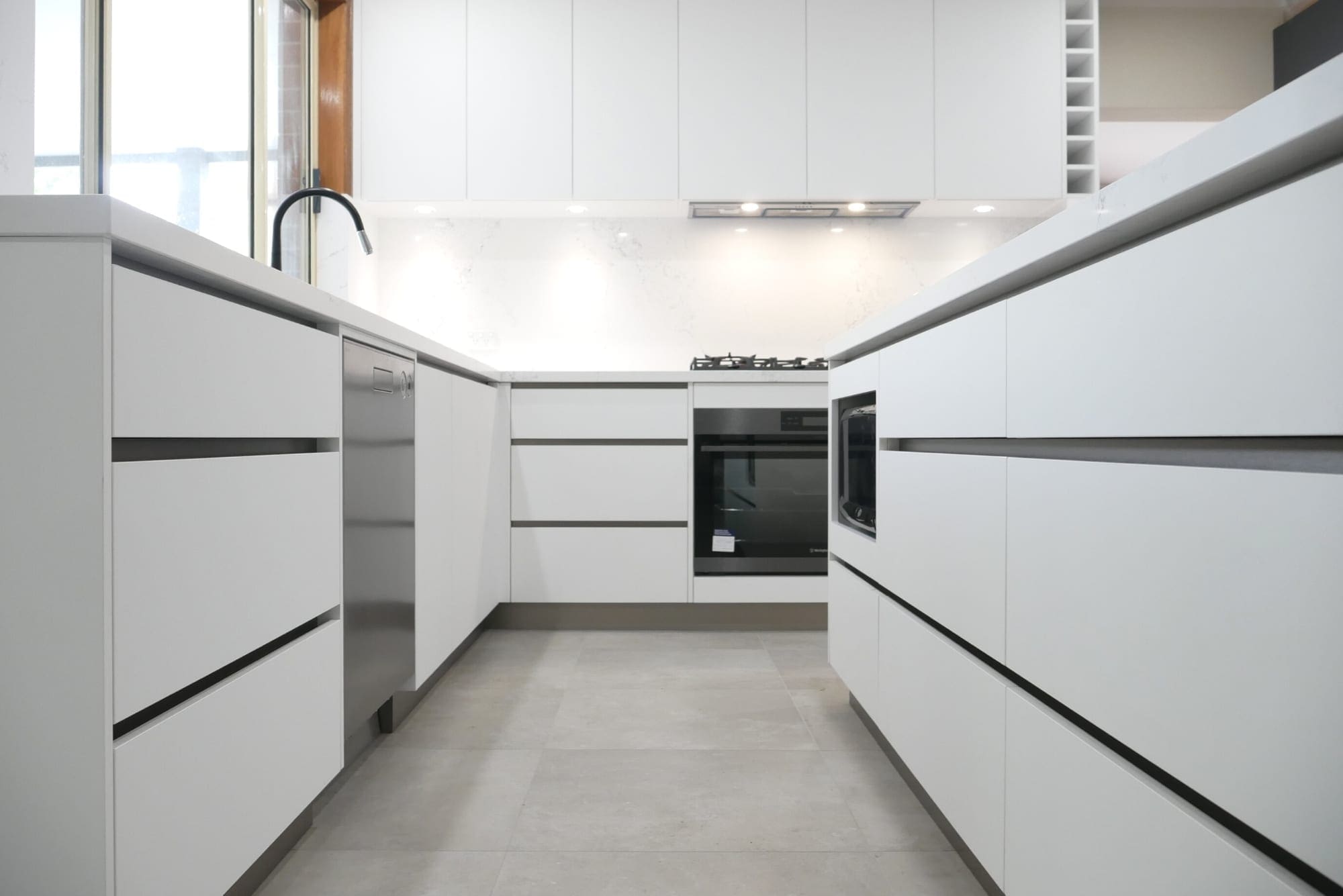 For more information on our various kitchen designs, please visit our Gallery. Our Gallery brings together a selection of our custom kitchen designs ranging from traditional to contemporary kitchens. Each kitchen style has the flexibility to work in any home environment and can be designed to suit all tastes and budgets.
The entire Harrington Kitchens team is focused on designing kitchens that utilise premium materials and offer each and every customer the highest level of service. Harrington Kitchens partners with the best quality kitchen suppliers within the kitchen manufacturing industry and employs experienced and professional tradesmen to ensure the longevity of your custom designed kitchen.
For a quote and design consultation please contact us at Harrington Kitchens on (02) 4647 4474 or submit an online enquiry, alternatively you are welcome to visit either of our showrooms at 12 Graham Hill Road Narellan NSW or Unit 14/63-69 Kirkham Road, Bowral NSW.
Black Kitchens
Click to view gallery
Classic Kitchens
Click to view gallery
French Provinical Kitchens
Click to view gallery
Hampton Style Kitchens
Click to view gallery
Modern Contemporary Kitchens
Click to view gallery
Modern Polyurethane Kitchens
Click to view gallery
Two-Toned Kitchens
Click to view gallery
White Kitchens
Click to view gallery