Kitchen Cupboard and Cabinet Doors
The kitchen cabinet doors are subjected to intense use every day with repetitive opening and closing. It is important that they are functional, durable and aesthetically pleasing due to their prominence in the kitchen.
The kitchen cabinet doors used by Harrington Kitchens are mostly manufactured at our own workshop, equipped with the most advanced computer controlled machinery to ensure the highest quality, timely delivery and design flexibility. Each kitchen door is crafted to perfection with a durable fibreboard core and protective exterior to ensure it is moisture resistant.
Each kitchen style has its own unique door design.
For example, kitchen doors used in….
Country Kitchens doors often have simple moulding or a V-Groove pattern finished in matt polyurethane or our unique Hand painted finish or alternatively they can be made from genuine solid timber and stained or clear coated in a matte finish.
Classic or Hamptons style kitchens are known for kitchen doors in the Shaker framed style and are often combined with framed glass doors for a timeless finish.
French Provincial Kitchen doors generally have more intricate carvings and details and can incorporate our unique hand painted finish for a charming French countryside kitchen design style.
Modern and contemporary style kitchens almost always utilise a streamlined flat cabinet door, often with a shark-nose finger pull or shadow line opening method combined with push to open doors. They can also use the very cost effective and durable edged doors with more and more technically advanced fingerprint resistant finishes such as Tesrol Superclean and Laminex Absolute Matte or alternatively for a high gloss durable door finish Tesrol Pure Gloss acrylic can be used and is available in solid colours or with a metallic finish in some colours.
Harrington Kitchens only installs quality doors, most of which are manufactured in our own joinery shop by our professional and experienced tradesmen. The ability to control the entire manufacturing process, rather that outsourcing, ensures we can provide the highest level of quality for every cabinet and door.
Visit our Kitchen Materials page and Kitchen Materials Gallery for more information about the materials we use to build kitchens of quality…always.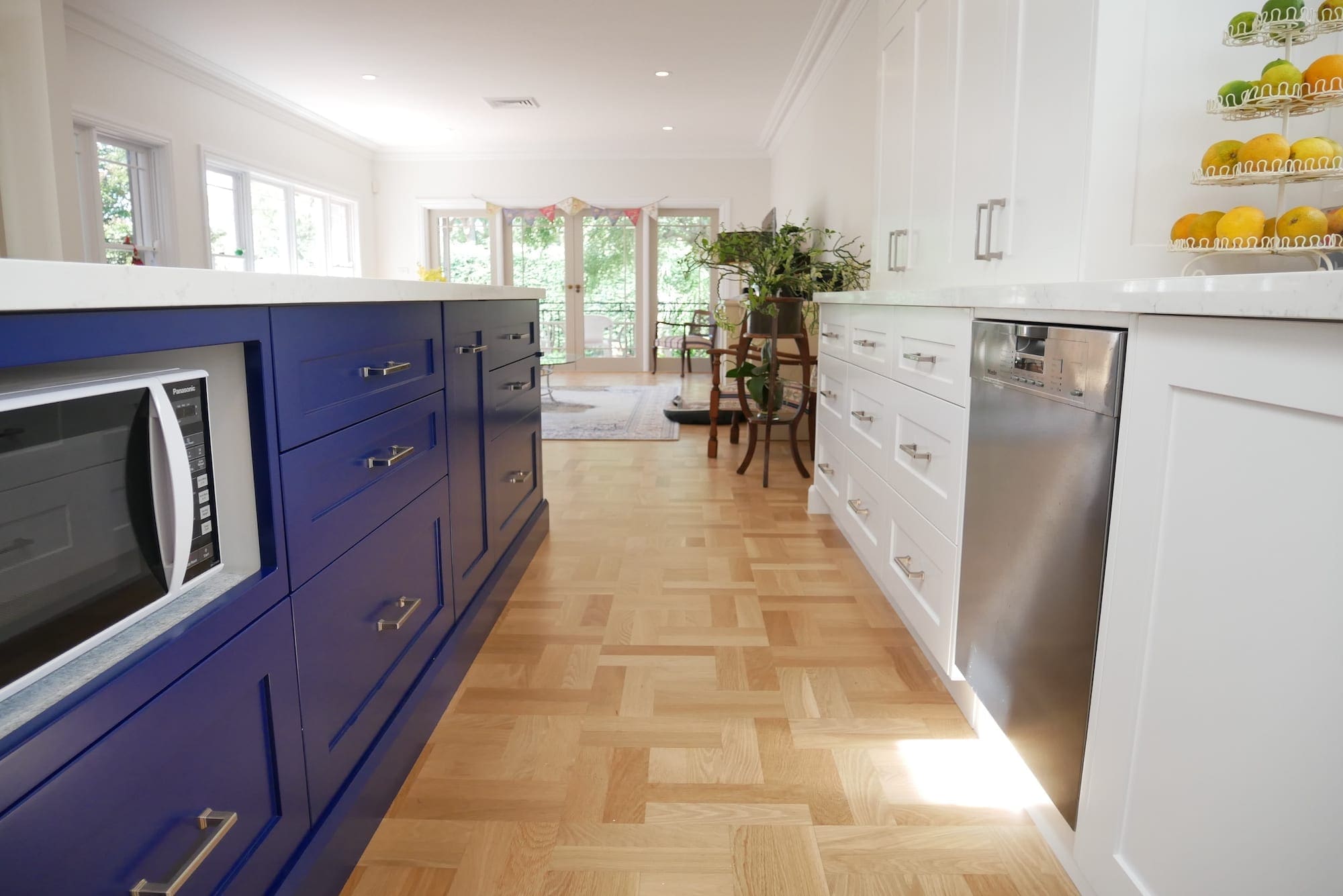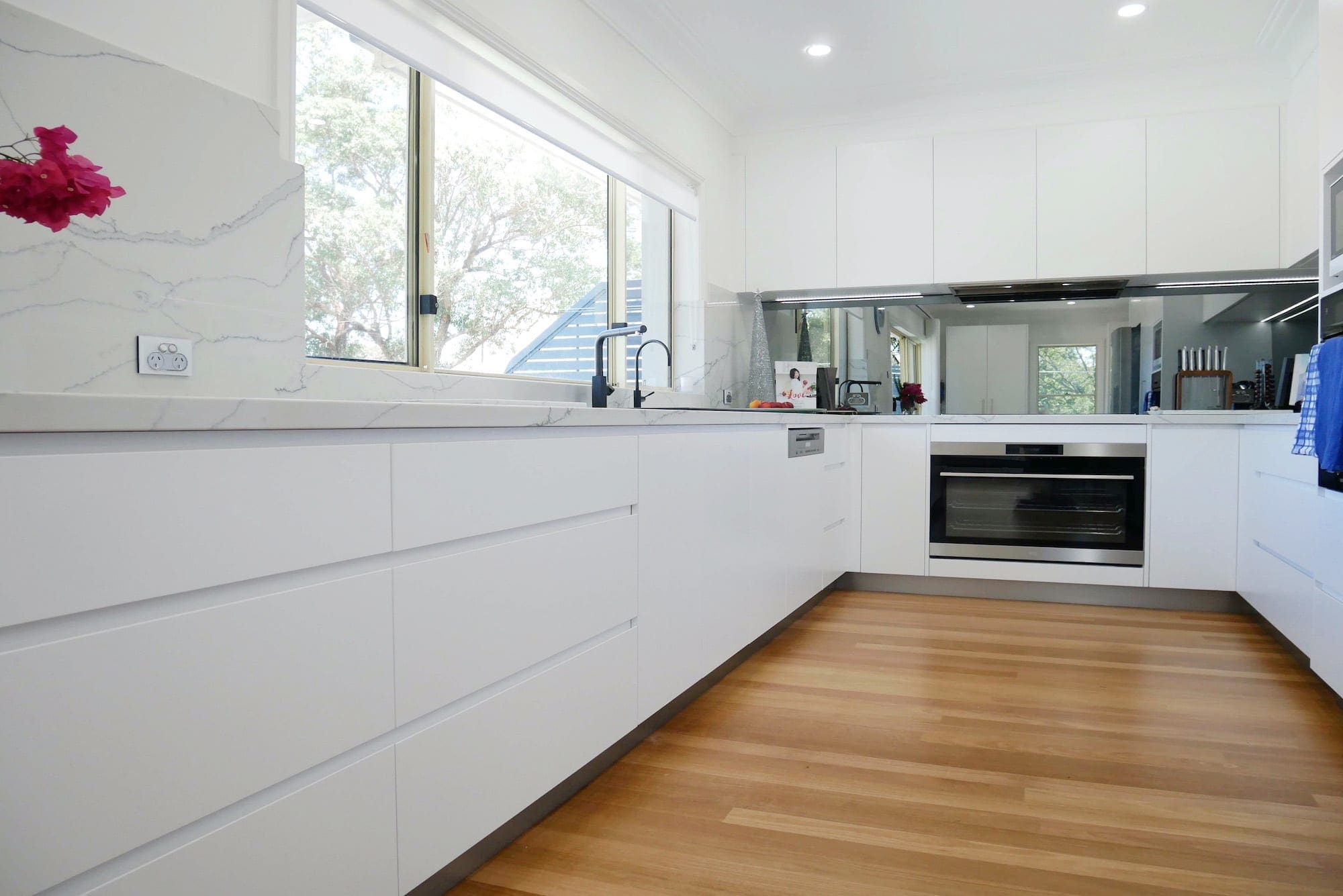 For more information on our various kitchen designs, please visit our Gallery. Our Gallery brings together a selection of our custom kitchen designs ranging from traditional to contemporary kitchens. Each kitchen style has the flexibility to work in any home environment and can be designed to suit all tastes and budgets.
The entire Harrington Kitchens team is focused on designing kitchens that utilise premium materials and offer each and every customer the highest level of service. Harrington Kitchens partners with the best quality kitchen suppliers within the kitchen manufacturing industry and employs experienced and professional tradesmen to ensure the longevity of your custom designed kitchen.
For a quote and design consultation please contact us at Harrington Kitchens on (02) 4647 4474 or submit an online enquiry, alternatively you are welcome to visit either of our showrooms at 12 Graham Hill Road Narellan NSW or Unit 14/63-69 Kirkham Road, Bowral NSW.
Black Kitchens
Click to view gallery
Classic Kitchens
Click to view gallery
French Provinical Kitchens
Click to view gallery
Hampton Style Kitchens
Click to view gallery
Modern Contemporary Kitchens
Click to view gallery
Modern Polyurethane Kitchens
Click to view gallery
Two-Toned Kitchens
Click to view gallery
White Kitchens
Click to view gallery