Our kitchen design tips can help you navigate the murky waters of selecting a kitchen design from scratch. We know that it can be difficult to sort through the masses of information that is available online and so the Harrington Kitchen's in-house experts have provided their favourite, tried and true kitchen design tips to help you on your journey to create your dream kitchen.
1. Choose one style and stick to it
Choosing an overall style can bring a sense of harmony and synchronisation in to your kitchen. When sorting through all of the kitchen design tips  that you can find online, you should gather and collect all of the images and ideas that you like and that inspire you! Categorise and sort your images once you have amassed a collection of everything that you like, look for common threads and bring them together in to some loose categories. Sort by materials, by types and by items! You might discover some unexpected trends that you like, that keep cropping up in your kitchen design mood board!
Once you have your categories sorted, go through and cull down to your absolute favourite images and concepts. Get rid of anything that you don't have a passion for and let this clarify your own style. When you've narrowed your focus down to a specific style, search for images they will give you ideas on how you're going to pull it off in your space! This is a great time to start looking for a professional, as they will have ideas and concepts that can bring your style to life in ways you've never imagined!
2. Kitchen design tips for clever storage
Investing in clever and practical storage will help increase the liveability of your kitchen. Spending money on quality storage is an investment in the longevity and durability of your kitchen, as it sets a steady foundation for years to come. Many kitchen design tips  focus on how to hide and disguise your storage, however there are growing trends towards exposed shelving as a decorative piece, as well as glass-front cabinetry. Invest in some quality kitchenware to make the most of your exposed storage space and let your plates and glassware shine as it's own statement. Your Harrington Kitchens designer will show you other brilliant storage mechanisms available which will further improve the function of your kitchen.
3. Choose the kitchen benchtop type that best suits your kitchen
Picking a benchtop surface can be a difficult choice, as there is quite a substantial difference in price and quality depending on the material that you choose. It is vital to choose a benchtop that will be able to withstand daily use, entertaining and to stand the test of time. There is no one-size fits all approach to choosing a benchtop, which is why our experts have 4 basic kitchen design tips  as relates to your choice.
Identify your kitchen needs
Review your kitchen style
Discover your threshold for maintenance
Budget
There are a number of benchtop materials available and your Harrington Kitchens designer will explain the pros and cons of each. 
4. Play with colour
The basics of kitchen design tend to lean towards clean, monochromatic colour palettes. The majority of kitchen designs will generally gravitate towards whites and greys. If your kitchen palette is becoming a bit too monochromatic or even bland, you could consider injecting a bit of bright colour into the decor! Choose your favourite vibrant hue, opt for a glass or tiled splash back or get some brightly coloured benchtop appliances for a bolder look.
You can always look to current interior design trends to get tips for your kitchen design , with greenery being one of the biggest we have seen recently! Put some potted plants in your kitchen to soften a monochromatic look.
5. Don't be a slave to trends
It's easy to get swept away in the kitchen design tips  and tricks that adorn your Pinterest board, but some trends will not stand the test of time. To avoid ending up with a dated, aged looking kitchen in a few years time, take advantage of timeless design features. There is a reason that white has been a staple for kitchens as far back as can be remembered, it is the perfect neutral hue to be used on your walls, your cabinets or any space that you can! If a white kitchen is not your style, dark hues and greys are flexible, classic choices that you can adapt to keep up with the latest styles.
Keep your cabinets and countertops simple, with clean lines and modern doors. optimise your storage with high-quality fitting and finishes that will not date. 
6. Make the most of your space (or lack of space)
While most kitchen design tips centre around the visuals and aesthetics of your kitchen, this one is purely practical! If your kitchen is small, you might be wondering how you will be able to create the kitchen of your dreams. Here is where the experience of your Harrington Kitchens designer comes in to play. Practicality is key, with smart design you can take advantage of every available inch of space. As with every good kitchen design tip , the key is to plan, plan, plan! Think about how you and your family use your kitchen, what is most important and what is least important to you and discuss this with your designer.
7. Light up your kitchen island
Your kitchen island forms the centrepiece of your kitchen. It should be well-lit and highlighted, as the functional heart of the room. One of our experts' key kitchen design tips  is to carefully consider the aesthetic of the bench top that you choose, especially when combined with strong lighting. A stone bench top with reflective elements will bring light and energy to a kitchen when well-lit.
When choosing your lights, it is essential to consider the look of your kitchen and compliment or contrast it with your light fittings accordingly. Grand, modern kitchens may benefit from glass and chandeliers, while contrasting colours between your bench top and lighting will create a subtle impact. Copper, bronze and gold can perk up your stainless steel appliances and give wow-factor to your kitchen.
8. Have an eye for detail to make it look polished
When looking in glossy magazines, or on Pinterest or Instagram, the best and brightest kitchens will always be the ones that have been finished to perfection! Even if you don't have a designer's eye, these kitchen design tips  are fail-safe ways to bring your beautiful kitchen up to the next level! Find some artwork that works with your decor, a rug that adds a pop of colour and be generous with your greenery! The right combination of 'little touches' will go a long way and change the whole feeling of your room.
Mix function and fun, with decorative lighting and modern bar stools. Update your hardware for a touch of luxe and vamp up the aesthetic appeal of your cupboards and drawers.
9. Unique details – make it your own
Lastly, make it your own! All of these kitchen design tips  are a means of expression for you to own the heart of your home. Pick out statement pieces and details that inject some personality in to the kitchen, with dramatic coloured sinks, tapware and detailing providing strong insight in to the mind of the designer. Marble and luxe metals give a fine and luxurious feel and give a lasting touch to your kitchen design.
Harrington Kitchens provides the ultimate in bespoke, luxury services in kitchen design and construction. From ideas to conception, we are dedicated to quality and affordable materials and design to meet all budgets. We will utilise our years of industry experience and the latest technology to custom design a kitchen that meets your needs and style.
Present your kitchen ideas to your designer
Download our FREE guide for handy tips on presenting your kitchen ideas to your designer.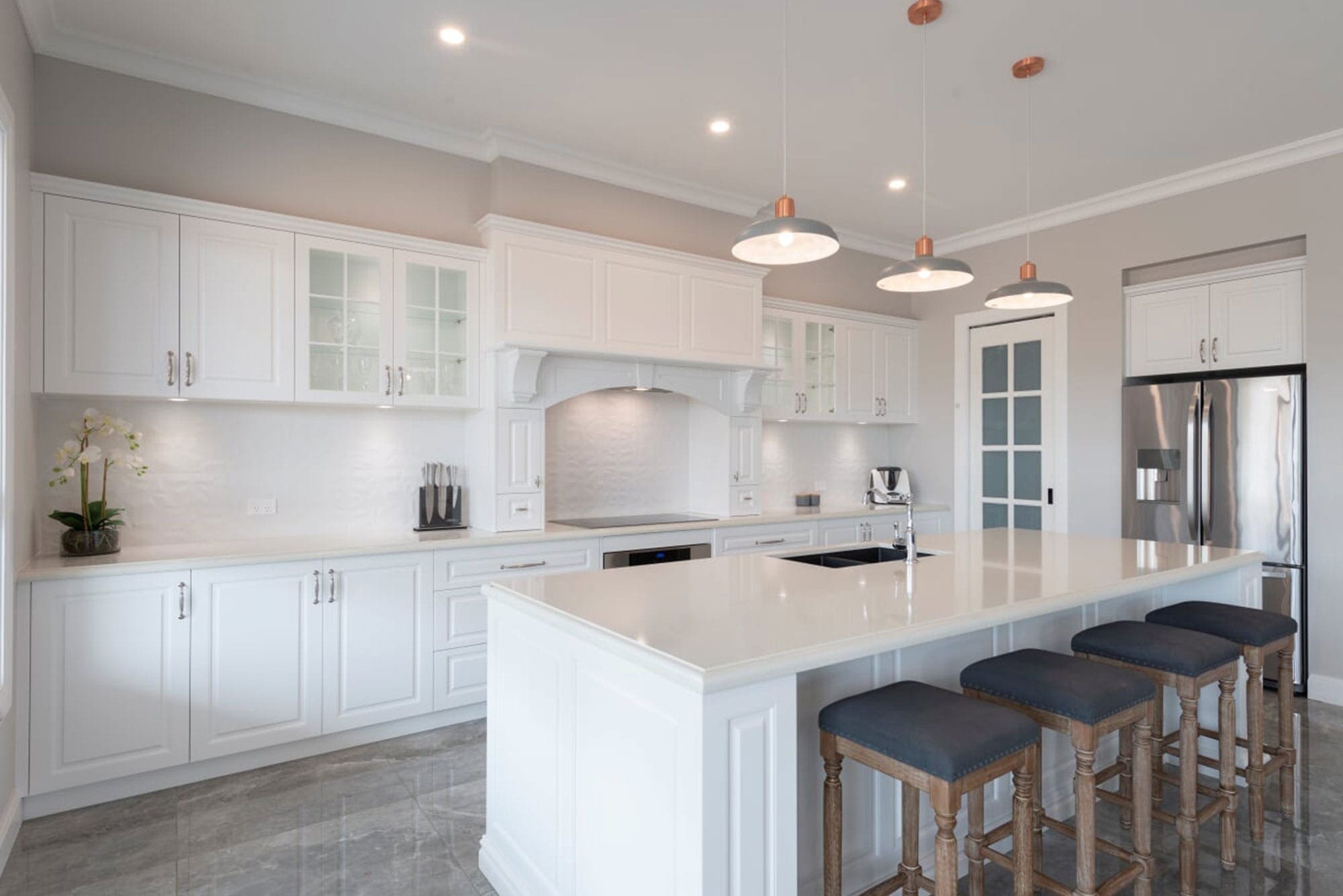 For more information on our various kitchen designs, please visit our Gallery. Our Gallery brings together a selection of our custom kitchen designs ranging from traditional to contemporary kitchens. Each kitchen style has the flexibility to work in any home environment and can be designed to suit all tastes and budgets.
The entire Harrington Kitchens team is focused on designing kitchens that utilise premium materials and offer each and every customer the highest level of service. Harrington Kitchens partners with the best quality kitchen suppliers within the kitchen manufacturing industry and employs experienced and professional tradesmen to ensure the longevity of your custom designed kitchen.
For a quote and design consultation please contact us at Harrington Kitchens on (02) 4647 4474 or submit an online enquiry, alternatively you are welcome to visit either of our showrooms at 12 Graham Hill Road Narellan NSW or Unit 14/63-69 Kirkham Road, Bowral NSW.
Black Kitchens
Click to view gallery
Classic Kitchens
Click to view gallery
French Provinical Kitchens
Click to view gallery
Hampton Style Kitchens
Click to view gallery
Modern Contemporary Kitchens
Click to view gallery
Modern Polyurethane Kitchens
Click to view gallery
Two-Toned Kitchens
Click to view gallery
White Kitchens
Click to view gallery