Kitchen benchtops are the most used surfaces in any kitchen. There are many options and designs available for you to choose from when selecting a kitchen benchtop for your new kitchen.
Kitchen benchtops set the tone of the whole kitchen. Therefore when choosing the benchtop for your kitchen you must take into consideration, not only the overall aesthetics, but the many ways in which you'll use your kitchen benchtop, the maintenance requirements, the durability of the surface, and your budget.
Engineered stone is a mixture of natural minerals and resin binders and is a very popular choice for kitchen benchtops. Quartz engineered stone combines two major ingredients: the "filler" made of natural mineral, glass, metal and a resin "binder" with additives. These are combined and then cast in a curing process to produce sheets of engineered stone, resulting in rich and durable benchtops. Engineered stones such as Caesarstone, Quantum Quartz and Smartstone are the most popular and widely used benchtops sold in Australia and vary in price depending on the colour, pattern, edge thickness and edge profile used.
Natural stone is a popular choice for kitchen benchtops and is available in a variety of types, shades, styles and finishes. The most popular natural stone benchtop is granite. Other natural stone materials such as marble are softer than granite and require greater care. All-natural stone benchtops must be sealed to ensure durability and longevity.  Granite benchtops are available in a variety of colours and textures. As granite is a natural material, no two benchtops are identical. Granite benchtops are low-porous, able to withstand high temperatures, and can resist scratches and stains. Granite, a strong and durable stone, is a common and widely occurring type of igneous rock with a grained texture. There are many different types of granite kitchen benchtops available on the market today.
Laminate is the most cost-effective material for kitchen benchtops and is available in a variety of colours and finishes. Laminate is a type of plastic and is typically fused together with heat, pressure and an adhesive. Laminate benchtops are non-porous and easy to maintain. With advancements in technology, laminate design patterns are now able to mimic the look of stone and timber surfaces.
A solid timber kitchen benchtop is a natural product that gives the kitchen a warm, lived-in feel, and wears well with age. It is also environmentally friendly and available in a range of species, with either a satin (oiled) or gloss (polyurethane) finish. Timber benchtops require higher maintenance compared to laminate and granite benchtops, as they are more prone to water damage. However, they can often be the perfect choice, either aesthetically or environmentally, for some kitchens.
Other popular choices for kitchen benchtops include concrete, moulded solid surfaces, ceramic tiles and stainless steel.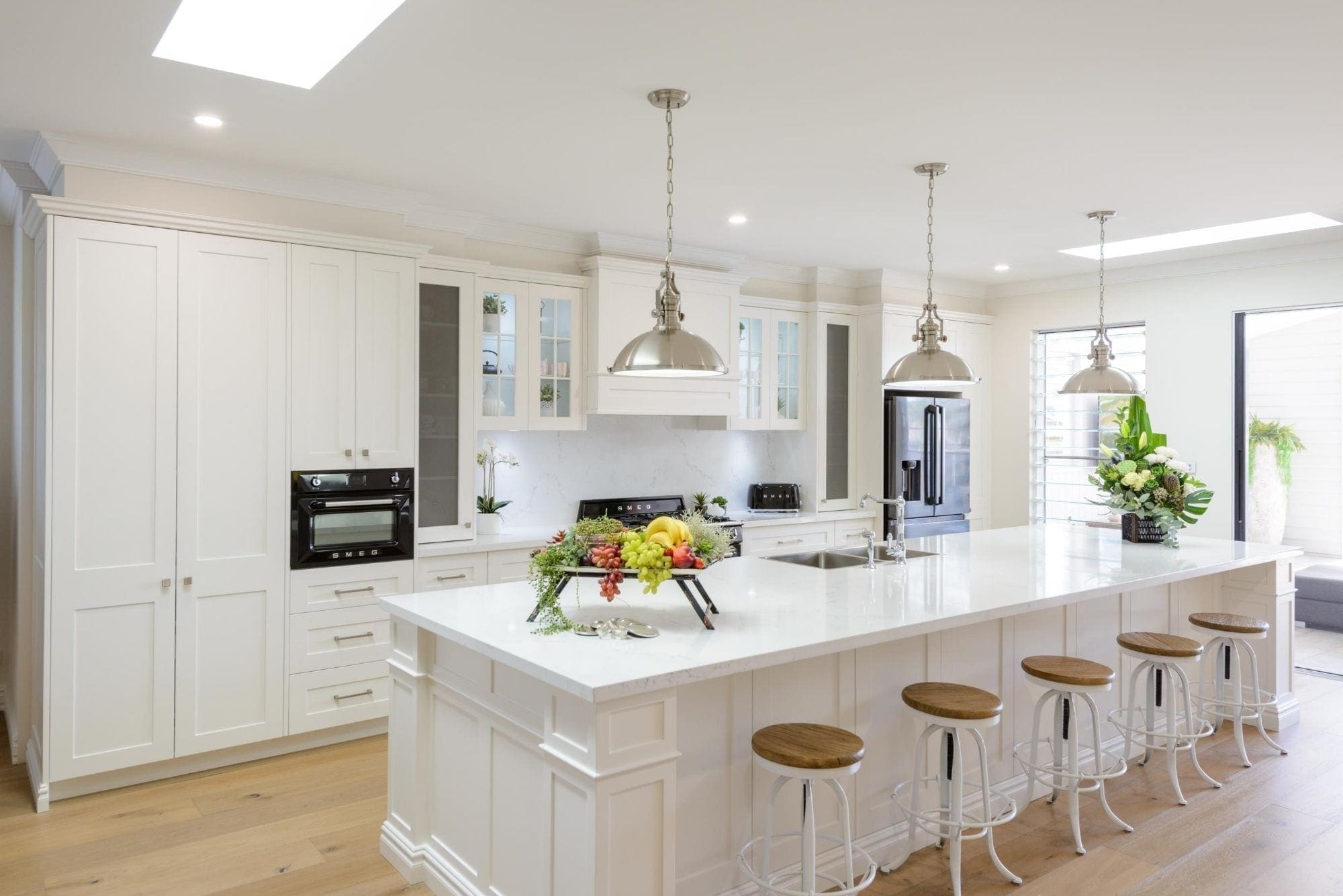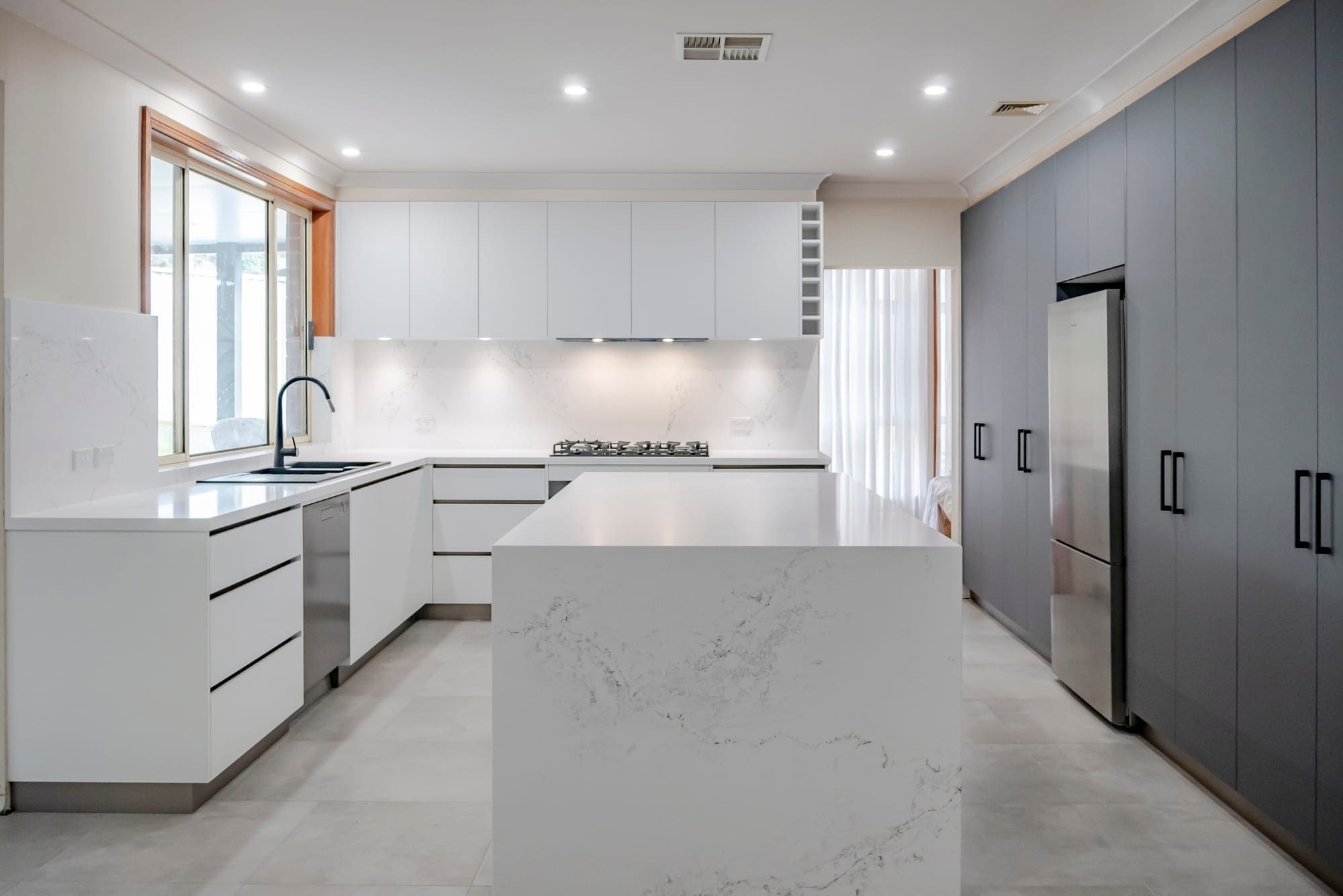 For more information on our various kitchen designs, please visit our Gallery. Our Gallery brings together a selection of our custom kitchen designs ranging from traditional to contemporary kitchens. Each kitchen style has the flexibility to work in any home environment and can be designed to suit all tastes and budgets.
The entire Harrington Kitchens team is focused on designing kitchens that utilise premium materials and offer each and every customer the highest level of service. Harrington Kitchens partners with the best quality kitchen suppliers within the kitchen manufacturing industry and employs experienced and professional tradesmen to ensure the longevity of your custom designed kitchen.
For a quote and design consultation please contact us at Harrington Kitchens on (02) 4647 4474 or submit an online enquiry, alternatively you are welcome to visit either of our showrooms at 12 Graham Hill Road Narellan NSW or Unit 14/63-69 Kirkham Road, Bowral NSW.
Black Kitchens
Click to view gallery
Classic Kitchens
Click to view gallery
French Provinical Kitchens
Click to view gallery
Hampton Style Kitchens
Click to view gallery
Modern Contemporary Kitchens
Click to view gallery
Modern Polyurethane Kitchens
Click to view gallery
Two-Toned Kitchens
Click to view gallery
White Kitchens
Click to view gallery