It took a while to finally happen, but it seems that the warm summer weather is now behind us for another year, and the crisp temperatures and rainbow coloured leaves of autumn have started to settle in.
With the changing of seasons comes necessary wardrobe changes too. So whilst you are packing away the singlets and swimsuits and pulling out the jackets and pants, it is also the perfect time to refresh the styling in your home. Whether you like the cooler weather or not, it's certainly not going anywhere anytime soon so you might as well embrace it and get busy introducing the gorgeous colours and fresh produce of autumn into your home, and especially your kitchen.
Jenn, from cleanandscentsible.com, has some great ideas for great autumn kitchen decorating ideas that are easy to achieve in any home.
Set-up "reserved" seasonal decorating areas
Unless you are a seasoned decorating professional like Jenn it may pay for you to do a little bit of thinking and planning before you launch into your autumn kitchen decorating project. If you are a bit of an old-hand at decorating, then feel free to skip right to the next section.
For those just starting out on their kitchen decorating journey, or perhaps looking for some more tips and guidance on how best to go about it, before you get started choosing décor pieces and textile accessories, it's a good idea to take some time to look around your kitchen space. Try to locate certain areas of the kitchen that will easily lend themselves to seasonal kitchen decorating. Having dedicated or "reserved" spaces means that at the change of season you can quickly and easily swap out the seasonal styling items without having to completely rearrange your entire kitchen.
It's important to be able to add and change your style without interrupting the core functionality of the space.
Non-seasonal décor items are a great starting point
Once you have identified the spaces that will be dedicated to seasonal kitchen decorating, it's time to look at what is already in the space that you can use, or what you can add to make your seasonal styling nice and easy.
Kitchen décor items that are season neutral are a great place to start. With some core items in place, you can then add touches of seasonal colours and textures.
This scale clock is full of character, perfect for styling and practical at the same time. Simply add decorative pumpkins, a few berry sprigs, and tea towels or other linens to complete the look.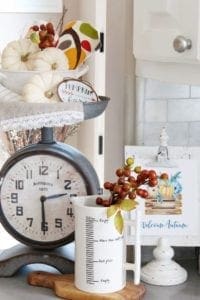 Image source: cleanandscentsible.com
Small quirky jugs like the one above, or larger more refined pieces work really well as a makeshift vase for your autumn inspired berries and twigs.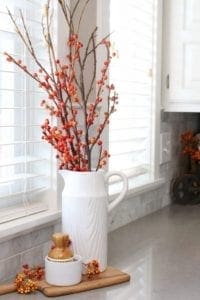 Image source: cleanandscentsible.com
Almost any kitchen tray or storage area can be given an autumn style make over by simply adding hints of natural red, orange, yellow and brown colours that are synonymous with autumn.
The dry ingredients storage jars and tray area and hutch below are great examples of how, if you keep your base décor items relatively neutral in terms of both style and colour, you can easily transform the theme by changing the decorative style pieces that surround them.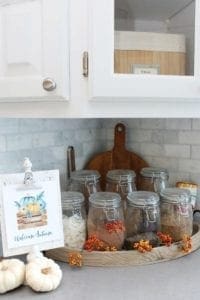 Image source: cleanandscentsible.com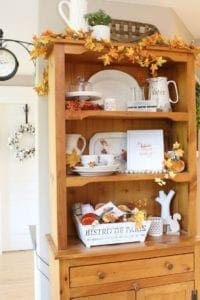 Image source: cleanandscentsible.com
Add one or two seasonal feature pieces
As an alternative, or in addition, to changing up the accessories that surround your basic kitchen décor items, you might like to introduce one or two seasonally themed feature pieces to your kitchen decorating.
This wheelbarrow is perfect for autumn decorating. Add some fruit and/or vegetables, some autumn inspired tea towels and berry sprigs and you've got yourself a practical but gorgeous piece of kitchen décor.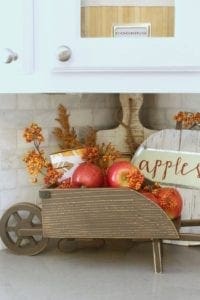 Image source: cleanandscentsible.com
Get arty with autumn inspired printables and blackboard designs
Printable art is so easy to come by these days and a great way to add another level of visual interest to your kitchen decorating. All you need is a computer, a printer (or your local print shop) and a frame or clipboard/noticeboard to display in on.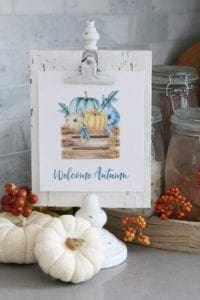 Image source: cleanandscentsible.com
Have fun finding autumn printables that match your personality or lifestyle. And because they are so cheap and easy to do you don't have to chose just one. Add a few different ones around your kitchen space or change them out for something new as often as you like.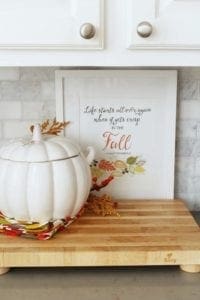 Image source: cleanandscentsible.com
Blackboards are not just for shopping lists and notes. They are also a great canvas for autumn inspired designs. If you can spare the space, share a seasonal message on your blackboard. You can always get another blackboard or noticeboard for the lists and notes!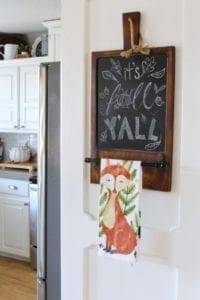 Image source: cleanandscentsible.com
Dress up the table with a seasonal centrepiece
Easily create an autumn centrepiece for your table using some core kitchen décor pieces such as a wooden board, terrarium and canisters and adding seasonal items such as autumn leaves, berries and pumpkins.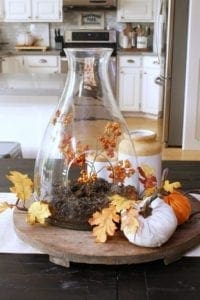 Image source: cleanandscentsible.com
Linens and Table Runner
Fabrics and textures are a perhaps one kitchen decorating element that are easily overlooked when it comes to seasonal styling. They can make such a big impact and like many of the tips we have shared here, it's so easy to do. So make sure you add some autumnal linens to your autumn kitchen decorating.
A cute table runner really compliments a simple centrepiece for your autumn dining table.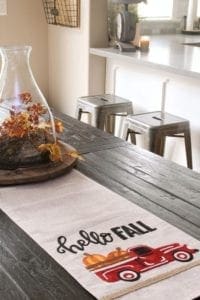 Image source: cleanandscentsible.com
A selection of tea towels in autumn inspired colours and designs add softness and texture to many areas of the kitchen space.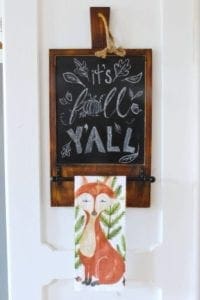 Image source: cleanandscentsible.com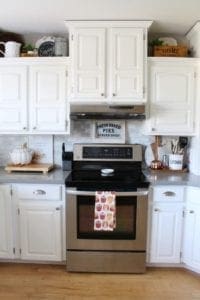 Image source: cleanandscentsible.com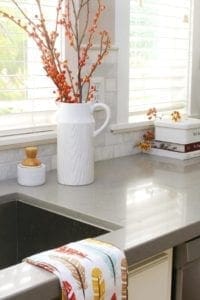 Image source: cleanandscentsible.com
We hope that you enjoy capturing the colour and warmth of autumn in your home with this great autumn kitchen decorating ideas.
Of course, beautiful kitchen decorating is just the icing on the cake. Creating the kitchen of your dreams starts with amazing kitchen design, quality workmanship, and great materials. Starting a new kitchen project is definitely not dependant on the seasons so contact the team of professional kitchen designers at Harrington Kitchens today on 1300 662 112, submit an online enquiry or visit us at our Narellan or Bowral showrooms to discuss making your dream kitchen a reality.