Whether you've got a generous sized Butler's pantry or a small cupboard in your main kitchen space, every home needs a kitchen pantry of some form or another.
Regardless of size, the purpose of any kitchen pantry is having a dedicated space to store all of your food and cooking related items. Ideally, it will be organised enough to allow you quick and easy access to the items you need when you are busy preparing food.
Having a well-organised kitchen pantry is not as difficult as it may seem. You don't have to be a compulsive organiser or obsessed with neatness and order. With a few simple ideas, you can maximise the potential of your kitchen pantry, no matter its size, and make your time and tasks in your kitchen much more efficient.
Take a look at some great ideas that you could use in your kitchen pantry.
Get organised with containers, tubs, and labels
It's surprising how much difference a co-ordinated approach to kitchen pantry storage can make.
Investing a little time and effort to get it all set-up definitely pays off in the long run. Not only does it look neat and organised, but it also makes it so much quicker and easier to find what you are looking for.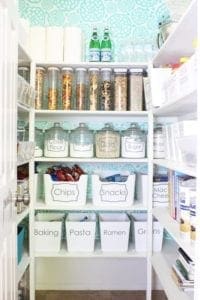 Image source: classyclutter.net
Large tubs are great for keeping similar or related items all in one place.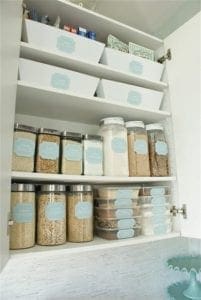 Image source: thesocialhome.blogspot.com
And clear canisters make locating products even easier as you can see exactly what is inside.
Make use of every space and find a home for those tricky items at the same time
No matter how big your kitchen pantry is, it is likely that it will still never seem to be big enough. It is important to make use of every available space and that includes the inside of your pantry doors.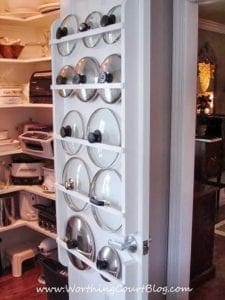 Image source: worthingcourtblog.com
A very simply constructed frame can make a great storage solution for all those pot lids. It keeps them all nice and safe from precarious storage and possible breakage as well as looking neat and tidy, and really easy to access too. A much better option than stacking them all on a shelf, or cramming them into a drawer.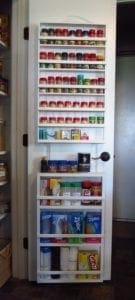 Image source: homestagingbloomingtonil.wordpress.com
Pots lids are not the only items that can easily be stored in that precious space on the inside of your kitchen pantry door. Small items such as spice jars, condiments, and other miscellaneous kitchen items are perfect candidates for door rack storage. It's a great way to keep them organised and makes it very easy to find and access what you are looking for. Much better rather than having to find your way through various bottles and jars stacked layers deep on a shelf.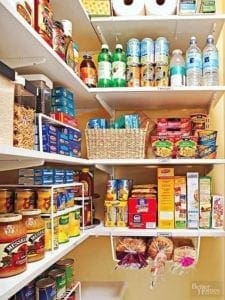 Image source: bhg.com
Another way to squeeze the absolute most out of every piece of available space in your kitchen pantry is to embrace under-shelf storage too. There are plenty of products available that you can easily attach to your existing pantry structure to make use of otherwise "wasted" space. Items such as bread, kitchen wraps, and paper towel are all things that can easily be stored in these areas.
Embrace blackboards: inside or out, organisational or decoration
Blackboards are so versatile. Not only are they practical for planning and organising but they can really help to add some personality and character to your kitchen pantry too.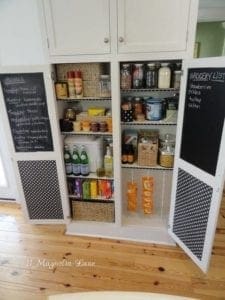 Image source: 11magnolialane.com
Use them on the inside of pantry doors for shopping lists and meal plans.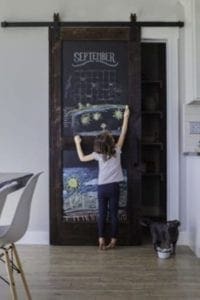 Image source: rusticahardware.com
On the outside as a calendar and creative canvas…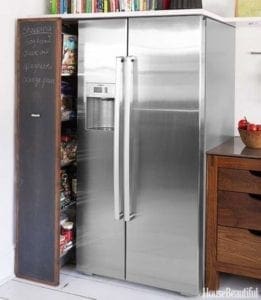 Image source: housebeautiful.com
…or any kind of shopping or a to-do list that you need.
Make a statement at the door
We've been focusing on how you can be creative inside your kitchen pantry, but don't keep all that creativity behind the closed pantry doors.
Add some colour and inspiration to your pantry and the whole kitchen space, by making a statement with your pantry door.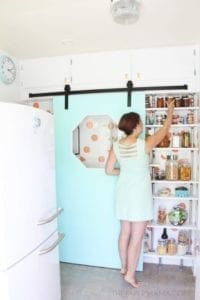 Image source: cleanandscentsible.com
It could be bright and vibrant…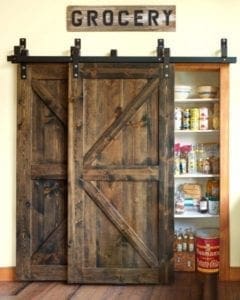 Image source: countryliving.com
…or rustic and traditional. Or anything you fancy in between really.
There is a good chance that you will be opening and closing that lovely door many, many times a day. So you might as well make it something that makes you feel happy when you look at it.
Get creative with the pantry itself
Why stop the creativity at the door? What about getting creative with the entire kitchen pantry itself?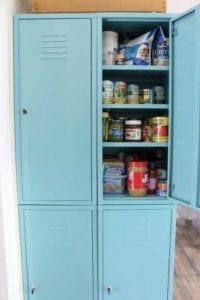 Image source: theshabbycreekcottage.com
It's also a great idea if there is not an option for a built-in or integrated pantry in your kitchen space.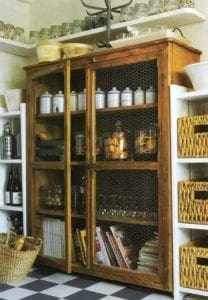 Image source: blogspot.com
Any large storage item such as an armoire, wardrobe or lockers can easily be transformed into an amazing kitchen pantry with a little creativity.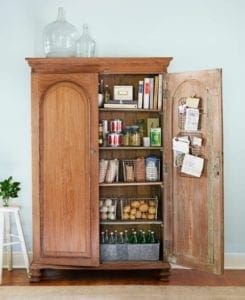 Image source: countryliving.com
Using re-purposed items to create your kitchen pantry can really add a sense of individuality and personal style to your kitchen.
Kitchen pantries are as versatile and varied as kitchen owners are. Don't feel limited or restricted by what is considered a typical pantry layout and construction.
The beauty of it is that you can make it as big and bold or as refined and classic as you want. And with these simple and creative ideas to get you started, you can see that it's perhaps not as monumental or overwhelming as you might think.
At Harrington Kitchens, we pride ourselves on creating customised kitchens that are individually tailored to each client, and of course that includes kitchen pantries too. Contact our team of expert kitchen designers to discuss your new kitchen project a reality. Call us on 1300 662 112, submit an online enquiry or Bowral showrooms.