As a kitchen design style, Hamptons kitchens have already stood the test of time. With their highly liveable, easily adaptable design, we don't see Hamptons kitchens going anywhere anytime soon. In fact, this seemingly traditional design style just keeps transitioning to be more and more on-trend.
Today's Hamptons kitchens are a symmetric combination of traditional design and contemporary style, metamorphosised over the years to champion interiors boasting cool holiday home vibes and coastal characteristics. They are homely, relaxed and comfortable, yet refined and highly functional. With this year bringing many of us closer to our homes than ever before, it's no wonder the value and popularity of Hamptons kitchens only continues to grow.
In this article, we will highlight some of the common characteristics of modern Hamptons kitchens and how to achieve the look in your home. To do this, we break down the perfect blend of traditional versus contemporary, and explain how and why it works so well.
The key to success in achieving a modern Hamptons kitchen is to embrace its traditional principles of style, but pare back on heavy embellishments to embrace the simplistic and minimalist approach to modern design and living.
Elements of traditional Hamptons Kitchen design
Architectural Elements of a Hamptons Kitchen
Traditional Hamptons kitchen architecture showcased detail such as pitched ceilings, exposed timber beams and sarking on walls and ceilings, wooden flooring, and a welcomed play on natural light. A modern Hamptons kitchen still embraces these design aesthetics and works extremely well in an interior which boasts some of these features already as a starting base.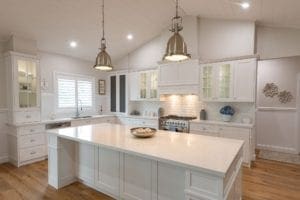 This image shows the traditional use of the pitched ceiling with timber panelling, which is part of a typical Hamptons kitchen design.
Hamptons Kitchen Colouring
Hamptons kitchens are traditionally built on a white or just-off-white colour base. Most popular with this, you will find white cabinetry atop dark timber flooring. Sea-toned colours of blues and greens are used to add highlight and texture to the neutral base. Soft grey is a popular inclusion too.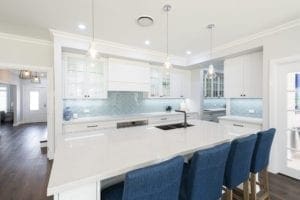 This Hamptons kitchen design by Harrington Kitchens showcases a stunning use of blue in accents and furnishings, which reflects the coastal-based theme of a Hamptons kitchen perfectly.
Stylish Hamptons Kitchen Cabinetry
Beautifully styled cabinetry is generally a drawcard of a Hamptons kitchen design. Distinctive joinery trim on the doors, and solid, traditional lines and detailing showcase professional craftsmanship.
It is not uncommon for Hamptons kitchen cabinetry to also feature glass panelling and display cabinets as a point of interest.
Cabinetry handles can be traditionally oversized. However, sleeker-styled handles provide a good balance between beautiful detail and clean lines, which is the trademark of a contemporary Hamptons kitchen design.


The Hamptons Kitchen Splashback
Two common finishes of a Hamptons kitchen splashback are tiles or glass, but tiles work exceptionally well in this style. Here are a few things to consider when choosing the tiles for your Hamptons kitchen.
white or coastal-based pastel tones generally work best in Hamptons kitchens

subway tiles are perfectly Hamptons, as are marble (or marbled-look) tiles in a herringbone setting

patterned tiles can be tough to work with in the Hamptons kitchen style as they can take away from the overall look of clean lines and refined style, however they needn't be ruled out entirely
Contemporary Hamptons Kitchen Style
Hamptons Kitchen Appliances
Slate grey, silver and black appliances are perfect for introducing a modern feel to a Hamptons kitchen design. Unless you intend to honour an older-looking Hamptons kitchen style, we recommend avoiding the temptation to include any retro-styled appliances. Keeping it sleek, keeps it modern.


Hamptons Kitchen Lighting Choices
Lighting is a hugely important feature in contemporary Hamptons kitchens. Stunning pendant lights crafted from fabric, metal, woven cane or ceramic are often featured. Glass is also an option in Hamptons kitchens.
Oversized lighting adds to the drama and brings plenty of character to a contemporary Hamptons kitchen.
Hamptons Kitchen Furniture and Accents
Furniture and accessories are just as important to consider when it comes to modern Hamptons kitchen design. Opt for interesting, yet simple styling that will compliment, not take the attention away from, the kitchen itself. To stay true to the essence of Hamptons kitchen style, avoid florals and any patterns that are too overbearing and rather stick with stylish single-colour fabrics and feature pieces.
Hamptons Kitchens Benchtops
Due to its natural, timeless quality and premium look and feel, marble makes the perfect Hamptons kitchen benchtop. If the price tag of marble is a little outside your budget, you can certainly opt for a beautiful stone which mimics the marble look. There are so many gorgeous stone options to choose from in the market at the moment, you are sure to find just the right one for your kitchen.

This image showcases the use of stunning, glass pendant lighting above a beautiful marble benchtop.
Bring some of the coast into your Hamptons Kitchen
Coastal accents and pieces like old fishing, diving or surfing equipment can add character and quirkiness to a modern Hamptons kitchen if used properly. You could hang an old timber surfboard as some wall décor or add a netted fruit basket to the bench, pending they don't detract from the kitchen design.
Other coastal-based accessories such as giant clam shells, natural or pastel-coloured coral also partner perfectly with a Hamptons kitchen style.
Spacious, airy and flooded with plenty of natural light. Like the chameleon of all kitchen designs, Hamptons kitchen style has seamlessly transitioned through the decades to remain on-trend and one of the most in-demand styles of today.
For expert advice designing and creating the perfect blend of contemporary and traditional Hamptons kitchen style for your home, contact our team of professional kitchen designers on 1300 662 112 or submit an online enquiry. We invite you to visit our Hamptons kitchen image gallery and explore our collection of kitchen projects for plenty of ideas and inspiration for your kitchen project.