Trendy gimmicks or actually really helpful? Here is a list of interesting kitchen gadgets we think every kitchen needs to have. Or perhaps they really don't, but they definitely look cool – you decide!
We've all done it before. Bought a "miracle" kitchen gadget advertised on midday television or on an annoying pop-up Facebook ad (annoying because you actually fell for it, right). But you get it home, realise you really didn't need it after all and it gets lost in the Bermuda Triangle deep within your kitchen cupboards and drawers.
Well, fortunate to those who are impartial to a kitchen gadget or three – we have hunted the internet and come up with this cracking list of unique, and maybe just a little bit helpful, kitchen gadgets to make your kitchen complete. There is definitely a kitchen gadget for everyone. But before you rush in to hit the "Buy Now" button, ask yourself the very important question "Will I actually use this?!" For some of you, it might change your world and you'll wonder how you ever lived without it, and for others, it might be just another impulse buy to clog up a valuable bench or cupboard space and collect too much dust. Some people must actually buy them, right? Otherwise, there wouldn't be so many of them around. I wonder…
The kitchen gadgets that are just darn helpful!
This list of kitchen gadgets is full of tools that will do the job for you. These kitchen gadgets allow you a spare hand to make the job of cooking and entertaining that much easier.
#1 Automatic Pan Stirrer
I love a good homemade sauce. But I don't love standing in front of the stove stirring the life out of said sauce for what often seems like an eternity. The automatic pan stirrer with timer claims to be a helpful kitchen gadget that offers a solution to how I can have my homemade sauce without testing my patience. Just pop it in the pan, set the timer and it does the stirring for you.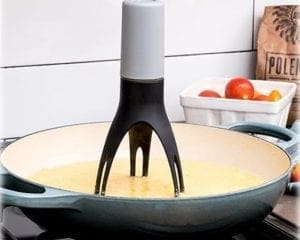 Image source: Uncommon Goods
#2 Egg Peeler
Eggs are full of protein and good for you, but they are not so great when you experience a boiled egg shell under the fingernail (ouch). Or wrestling with the stubborn little pieces and hacking the egg to pieces in the process. Or is that just me? That's why we love this kitchen gadget. The easy egg peeler makes light work of peeling Henny Penny's finest.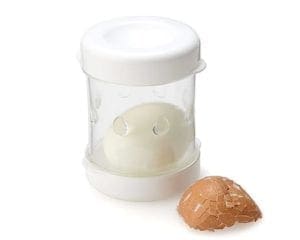 Image source: Uncommon Goods
#3 Fruit Keg
Fancy a fresh juice or two? Or perhaps your favourite cocktail calls for some of nature's nectar. This kitchen gadget is a handy cure for both. The fruit keg tapping kit can turn melons and pumpkins into delicious and unique juice-dispensing machines.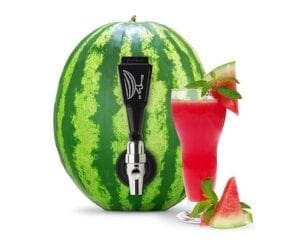 Image source: Uncommon Goods
#4 Citrus Juicer
This countertop citrus juicer not only looks uber cool on the benchtop but with one press of the lever, it makes juicing citrus fruits a breeze. If you are used to manual juicers, you will love this kitchen gadget. It takes the pressure off your wrist and more than halves the time taken to squander juice from the mothership.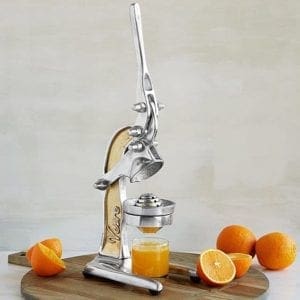 Image source: Uncommon Goods
#5 Breakfast Centre
If you have a kitchen not large enough to hold a multitude of bits and bobs, this kitchen gadget can save precious space and time. With a three-in-one function, you can prepare your coffee, toast your bread and cook your eggs all at once and from the one machine.
Check out the elite cuisine three-in-one multifunction breakfast centre online at Amazon here.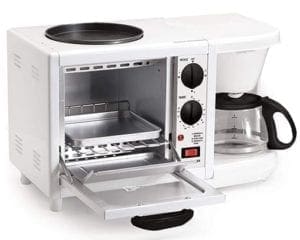 Image source: Amazon
Unique kitchen gadgets for those who like to be different
These kitchen gadgets might not be as hard working as those above, but we love them as they add a little bit of character to the room.
#6 Superhero apron
When the going gets tough and you need a kitchen gadget that can handle anything thrown at it, these superhero aprons do the trick nicely. When stirring, frying or baking, channel your superhero with designs that include Wonderwoman, Batman, and even the Green Lantern.
You can check out the full range of aprons available at Colourblocker here.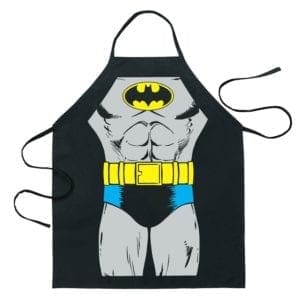 Image source: Colourblocker
#7 Oven mitts
It's not often oven mitts and unique fit into the same sentence. That is why these little kitchen gadgets are great. Hot headz bring some life to the kitchen when the going gets too hot handle.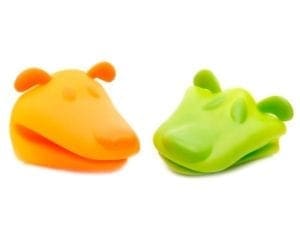 Image source: Colourblocker
#8 Muffin baking cups
As a home baker, I couldn't go past adding these muffin top baking cups to the kitchen gadget list. Ranked with a quirky score of a perfect ten, these kitchen gadgets are just a bit cheeky (pun intended).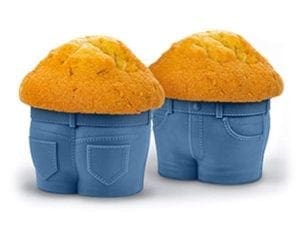 Image source: Amazon
Are there any amazing kitchen gadgets that you couldn't live without? Or ones that you have come across that are so unusual you can't help but ask "why"?
We'd love to hear from you! Visit our Harrington Kitchens Facebook page and share your thoughts.