Not just the place where we are fed and watered anymore, kitchens are becoming the real amphitheatre to main stage living areas within our homes. Due to this, kitchen décor is ever-changing and perpetually important.
Image Source: TheChristmasCart.com.au
Prominently featuring in the everyday hustle and bustle of life, a kitchen plays host to our food preparation, catch-ups between meals, a spot to read the mail, and plenty of bench top bartering as we keep each other informed of the day's news and gossip.
Through the sheer diversity of a kitchen's usage, your kitchen décor should reflect not only your styling preferences, but the various functional aspects required of the décor in your kitchen itself. The styling of your kitchen trinkets, odds and ends, can play a real starring role when it comes to the overall interior decorating of your home.
With Christmas now getting closer and closer, have you thought about incorporating some extra Christmas cheer into your kitchen décor this year?
Kitchens are generally positioned in prominent locations within the home, and some cleverly planned kitchen décor can really add to the festive atmosphere of the silly season. Your humble food prep quarters can bestow so many fantastic embellishments for Christmas. And you don't need to go over the top or spend thousands of dollars to be successful at setting up some eye-catching Christmas décor for your kitchen.
To help kick your creative skills into gear, we've set out some easy to follow guides on how to update your kitchen décor so that you are well sorted in time for Christmas. Unlike the concepts that are sourced from the other side of the globe, our décor tips for your kitchen are uniquely tailored for a summer Christmas, because we all know that it does not snow in summer here. Think beach, think fun in the sun, and think about Santa arriving in board shorts and thongs instead of that big red getup.
So, let's surprise the jolly fat man and give him some uniquely Australian, conventionally savvy, Christmas kitchen décor this time around!
By changing it up just a little, you can have some effective and attractive Christmas kitchen décor that will make your kitchen shine like the star that it is at this time of the year.
Here's our how-to for updating your kitchen décor for Christmas, the southern hemisphere way.
Colour Selections
To achieve uniformity for your kitchen décor, select your colour palette first (let it flow, not let it snow). Rather than the warmer subdued tones of winter or the traditional red and green, a summer Christmas can make way for some brighter tones. Examples of these include;
Blue and silver to reflect the water
Throw in some gold to reflect the colour of the beach
Playful fuchsia or purple also work well, especially with sparkly elements commonly found at this time of the year
You might like to remain neutral and opt to keep a white base, reflected only by the elements that you introduce into the rest of the décor for your kitchen and home
Be Minimalistic and Realistic
As we mentioned above, the kitchen can usually be considered a central hub for goings-on in the home. It is simply not realistic to pack so much into your kitchen décor arrangements that you don't have space for anything else. An abundance of decorative items on your bench and strewn around the area might look festive, but just won't cut it with practicality. Who needs overgrown greenery and scruffy tinsel everywhere anyway?
An easily-defined colour palette for Christmas kitchen décor with minimal clutter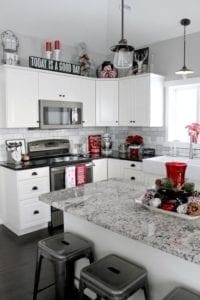 Source: Pinterest
Kitchen Décor Suggestions
With your colour palette sorted and your requirements for space established, following are some of the basic ways you can achieve Christmas kitchen décor without the overkill.
Mason jars
Most of us have pre-loved mason jars lingering around in a collection for a rainy day. Well, here is that rainy day! Mason jars make fantastic, extremely versatile, economical ways to grasp any type of styling for your kitchen. Some of the many ways you can use mason jars include;
Add some water and a floating candle (coloured water looks great too)
Add some twine, ribbon or wire to the outside of the jar
Drop some sand into the bottom of the jar and a tealight candle
Fill the jar with some shells and rocks
Fill the jar with mini Christmas baubles or string bead decorations in your chosen colour
A mason jar is an economical kitchen décor idea. This starfish jar is very reflective of the beach lifestyle for an Australian Christmas.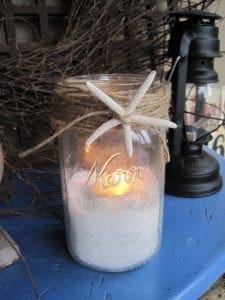 Source: The Inspired Room
Battery operated fairy lights
Nothing screams festive than lights and more lights! Adding some battery-operated fairy lights around your kitchen will introduce some candy for the senses, especially after dark.
Consider winding some fairy lights around the inside of glass vases or jars. You might like to run some lights on top of your cabinets for some depth to your kitchen décor. Or how about taped to the underside of your breakfast bar stools. Think about anywhere you can add a little twinkle, without getting in the way of you or your guests.
Functionality
Remember to consider how you can suit up your kitchen décor with space in mind, in particular where to put your greeting cards. We all get them, some of us are just a little more popular than others (or fallen into the realm of e-cards as it would be these days). Instead of leaving your cards all over the kitchen bench, display them proudly as a feature decoration in your kitchen. Check out the examples we have sourced below.
A fun and functional way to display your greeting cards using vases, sand and forks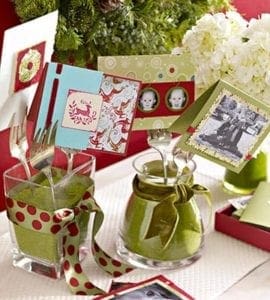 Source: Better Homes and Gardens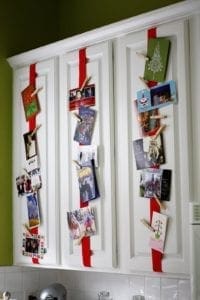 Functional décor for your kitchen displaying Christmas cards
Source: Greener Grass Handmade
Kitchen décor is easily interchangeable from season to season and for each special occasion throughout the year. All it takes is a little bit of imagination and a splash of creative flair.
To get your kitchen ready for styling and some impressive décor this Christmas, firstly consider the space you have available and the functions you need to perform. Keep it simple, keep it fresh, and keep it summer savvy, without the fake greenery in your face and imitation snow in your eyes. We've done the legwork, now get out there and starting planning the creative décor ideas for your kitchen.
For guidance on choosing the right design that best suits your needs, seek the advice of the professionals in kitchen designs at Harrington Kitchens. We will ask the right questions to figure out your needs prior to giving you advice, to be sure that we design the best kitchen for your family and your lifestyle.
Harrington Kitchens offers a wide variety of kitchen design and styles including:
For more information on our various kitchen designs, please visit our Gallery. Our Gallery brings together a selection of our custom kitchen designs ranging from traditional to contemporary kitchens. Each kitchen style has the flexibility to work in any home environment and can be designed to suit all tastes and budgets.
The entire Harrington Kitchens team is focused on designing kitchens that utilise premium materials and offer each and every customer the highest level of service. Harrington Kitchens partners with the best quality kitchen suppliers within the kitchen manufacturing industry and employs experienced and professional tradesmen to ensure the longevity of your custom designed kitchen.
For a free quote and free design consultation Please contact us at Harrington Kitchens on (02) 4647 4474 or submit an online enquiry. Alternatively you are welcome to visit the Harrington Kitchens Showroom at 12 Graham Hill Road Narellan NSW or 5 Old Hume Highway, Mittagong NSW.
See more great kitchen ideas in our Online Gallery.