A Butler's pantry might not be everyone's cup of tea (or coffee… whichever you prefer), but there are plenty of reasons why a Butler's pantry is still a popular request in new and refurbished kitchen designs. Here are five top reasons why we think a Butler's pantry is well worth its weight in any kitchen.
Not only great for extra storage, a Butler's pantry can be the very secret to keeping a kitchen looking clutter-free and organised. Carefully-planned, a Butler's pantry can stash away pantry food and other household items like appliances, crockery, cutlery, and other bits and bobs that often clutter up benchtops and cabinetry. But there is a common misconception that a Butler's pantry demands a huge area. The truth is, whether you have only a small space to spare or an amphitheatre-worth, you can tailor a Butler's pantry to suit most shapes and sizes. The trick is careful planning and prioritising what you want to achieve from the end result (e.g. storage, conveniences, additional preparation area, etc).
Here are our tips and top reasons why we love a Butler's pantry and how you can make the most of one in your home.
#1 Storage, storage, storage
The number one positive for a Butler's pantry is the golden potential for extra storage. And there is an endless list of storage options to select.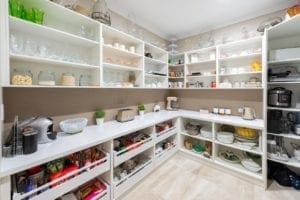 From floor-based storage to ceiling suspended and all in between. Below are some popular Butler's pantry storage solutions:
open shelving of various depths, particularly to cater for appliances such as toasters, microwaves, kettles, sandwich presses, donut makers, hotdog makers, etc

pigeon holes and cubed shelves for appliances and tech gadgets

wall-hung cabinets keep storage clean-looking and are still very popular

under-bench cabinets

wine racks

ceiling-suspended pot holders

#2 Gadget-savvy space
If you like the convenience of an extra gadget for this and another for that, then you will likely be a fan of a Butler's pantry too. It is often hard to fit all those gadgets on the bench or stuffed into kitchen drawers and cabinets, but the potential within a Butler's pantry is huge. Design storage to cater for your items, like larger appliance drawers, an appliance garage, or open shelving. Or for those much-loved and well-used appliances then consider planning a permanent benchtop spot for those so that you can have quick and easy access whenever you need without having to take it out and put it away each time.
* Tip: remember to cater for all those gadgets with adding a couple of extra power points inside of your Butler's pantry too.

#3 Dedicated hub for your favourite beverage
Preparing beverages can be a messy business, especially when you are catering for a few people at once. Perhaps you've got lots of people living at your place or when friends and family come over to visit, for example.
If you find you are making hot beverages like a barista, you might consider tucking your coffee machine and tea-making facilities into the Butler's pantry. This way you can have everything at your fingertips and get the beverages made in a jiffy. You can then enjoy the precious time with your family and visitors and then worry about cleaning and tidying up once everyone has gone home (or left the room, as the case may be!).
Some people also opt to include a small sink and water to plumb into their coffee machine. This all depends on the type of machine you have of course and whether that is needed. If you are serious about your coffee, this is definitely worth considering.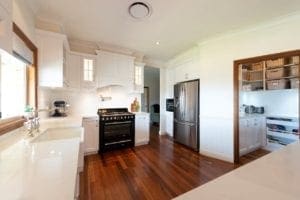 Further to a tea and coffee hub, a Butler's pantry can also be a great place for some mixology. Especially with a sink on hand. If you enjoy mixing (and drinking!) cocktails, why not add some cocktail books and storage for shakers, spirits, mixers and glassware to your Butler's pantry?
* Tip: a sink inside a Butler's pantry can double as an extra clean-up area too. Whether you like to entertain and need the extra space to stash to dirty platters and serving trays out of sight, or you simply prefer to keep the kitchen area as clean and clear as possible, then including a sink and extra cleaning area to the Butler's pantry can be a welcome addition.
For wine connoisseurs, a Butler's pantry can also provide the ideal place to cellar wine. Configure some wine racks into a dark, cool corner, or install temperature controlled wine fridges if you'd prefer, and Bob's your uncle! Space permitting, you could also include a small bar fridge and some overhead stemware wine glass holders inside the Butler's pantry too. The perfect hub for everything that you need to enjoy your favourite beverages.
#4 Troubleshooting nook
We had one of our very happy Butler's pantry clients tell us that she loves her Butler's pantry because she can use it as a spot to disappear from guests if something goes a little pear-shaped and she needs to troubleshoot an issue.
"Once, I snuck away into my Butler's pantry to work over a crisis and returned in a jiffy with everything running smoothly again. No one even realised there was a problem in the first case".
Now that's a little Butler's pantry secret from someone already in the know. It's like a headquarters for troubleshooting on the go!

#5 Taking the pressure off
These days, with the kitchen being the hub of many homes, a Butler's pantry makes the perfect extension to the traditional kitchen area. It can take the pressure off by freeing up more of the main kitchen space for entertaining – whether it's the kids and their friends or a gathering with extended family and friends – while also helping to keep it free of clutter and being more streamlined for food preparation.

A Butler's pantry is place you can store away appliances that are only used now and then, house those that are enjoyed daily, and provide back-up space for cleaning and preparation. Be sure to make the most of the space you have available by determining what you really want to achieve from your Butler's pantry.
To give yourself the best chance of creating the perfect Butler's pantry it is important to engage the services of an experienced and professional kitchen design team. At Harrington Kitchens we have over 30 years of experience designing and manufacturing custom-made kitchens and would love to help you plan and design your ideal kitchen and Butler's pantry. Just reach out to our team to get started. Contact our team on 1300 662 112, submit an online enquiry or visit us at our Narellan or Bowral showrooms to discuss your dream kitchen project.