Whether it be that you're not a morning person, you snoozed your alarm or became distracted by daily chores these time saving recipes are great for busy mornings.
MICROWAVE EGG AND VEGETABLE BREAKFAST SANDWICH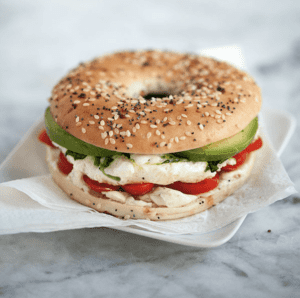 Ingredients
1 Bagel
¾ cup egg whites
10-15 fresh spinach leaves
1 wedge Laughing Cow Herb & Garlic Cheese
2 slices tomato
2-4 slices avocado
salt
Hot Sauce 
Instructions
Toast bagel thin in the toaster or toaster oven. In a small bowl (I used disposable bowls at the office) add egg whites and spinach leaves, season with salt. Place in microwave for 1 minute 30 seconds, keeping an eye on the eggs so they don't overflow.
Smear wedge of cheese on toasted bagel thin and add slices of tomato. Spoon egg out of bowl in a single patty and place on top of cheese and tomato, top with avocado. Season with more salt and hot sauce if desired.
Source: FoodieCrush.com
PEANUT BUTTER OVERNIGHT OATS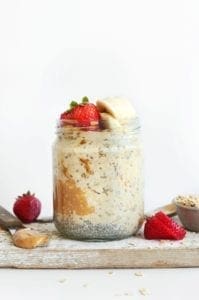 Ingredients
OATS
1/2 cup milk of choice
3/4 Tbsp chia seeds
2 Tbsp natural salted peanut butter or almond butter (creamy or crunchy)
1 Tbsp maple syrup (or sub coconut sugar, organic brown sugar, or stevia to taste)
1/2 cup gluten-free rolled oats
TOPPINGS optional
Sliced banana, strawberries, or raspberries
Flaxseed meal or additional chia seed
Granola
Instructions
To a mason jar or small bowl, add almond milk, chia seeds, peanut butter, and maple syrup (or other sweetener) and stir with a spoon to combine. The peanut butter doesn't need to be completely mixed with the almond milk (doing so leaves swirls of peanut butter to enjoy the next day).
Add oats and stir a few more times. Then press down with a spoon to ensure all oats have been moistened and are immersed in almond milk.
Cover securely with a lid or plastic wrap and set in the refrigerator overnight (or for at least 6 hours).
The next day, open and enjoy as is or garnish with desired toppings (see options above).
Overnight oats will keep in the refrigerator for up to 2 days, though best within the first 12-24 hours.
Source: MinimalistBaker.com
SPINACH, FETA, AND ARTICHOKE BREAKFAST BAKE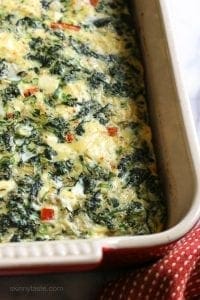 TOTAL TIME: 50 minutes
INGREDIENTS:
1 package frozen chopped spinach, thawed, all excess liquid squeezed out
1/2 cup scallions, finely chopped
3/4 cup chopped artichokes (from can), drained and patted dry
1/3 cup diced red pepper
1 clove garlic, minced
1 tablespoon fresh dill, chopped
8 large eggs
4 large egg whites
1/4 cup milk of choice
2 tablespoons grated parmesan cheese
1 1/4 teaspoon salt
1/4 teaspoon ground pepper
1/2 cup crumbled feta cheese
DIRECTIONS:
Preheat the oven to 190°C. Spray a 9 x 13 casserole dish with nonstick spray.
In a small bowl combine spinach, scallions, artichoke, red pepper, garlic and dill. Pour into the casserole dish spreading evenly.
In another bowl, whisk together the eggs, egg whites, milk, parmesan, salt and pepper. Mix in feta cheese and pour over vegetables.
Bake until a knife inserted near the center comes out clean, 32 to 35 minutes.
Let stand 8 to 10 minutes before cutting into 8 pieces.
Source: SkinnyTaste.com