Tight on budget, tight on room, or just on ideas? No matter your situation, there's no need to be tight or go without out when it comes to kitchen decoration. Find out how you can transform your kitchen decorating into something Insta worthy with these quick and simple kitchen decorating ideas and styling tricks.
With the kitchen booming as a main activity hub of the home, the emphasis on great kitchen decorating and styling has really changed in recent times. Kitchens have morphed from closed-in cooking quarters into free-flowing entertainers and hosts, and along with that is an increased demand for looking the part. And looking the part isn't just about impressing the guests either. We've come to realise that seeing as we spend a lot of time in our kitchens – whether its preparing food, catching up on homework and emails, entertaining or enjoying each other's company – if we put some effort into making it look a little special then it only helps to enhance our experiences in the space.
Of course, having a great looking kitchen as a foundation is the perfect step to kick off your kitchen decorating, but regardless of canvas you are working on, with a few simple kitchen decorating ideas and tricks, you can easily transform your cooking abode to resemble more of a showpiece than a tired workhorse.
Kitchen Decorating Ideas for a Splash of Colour
All-white kitchens are very popular and perhaps one of the main reasons for this is due to their ability to travel through trends fairly seamlessly, as well as being somewhat of a trend in themselves. While white on white kitchen decorating can certainly look clean and refreshing, it also has the potential to become a little clinical or stagnant. But adding a splash of colour here and there can change that in an instant.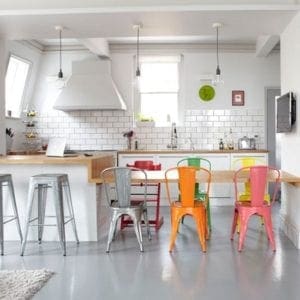 Image source: The Cottage Market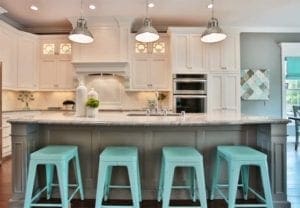 Image source: Decoist
Mixing matt black with natural, earthy tones against a white backdrop adds a moody dynamite to a generally clinical base. This look is modern and fresh, while not being overbearing.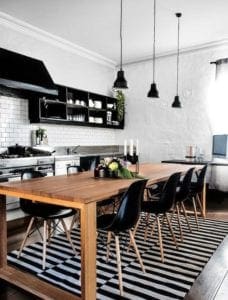 Image source: Decoholic
Keep It Simple
No matter what type of kitchen decorating ideas inspire you, the golden rule of the day is to keep it simple. Uncluttered, free-flowing spaces with room to entertain and prepare meals remains key.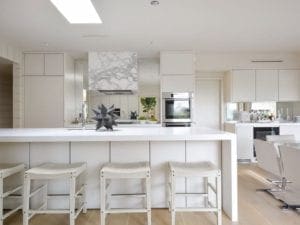 Image source: The Spruce
* Tip: A Butler's pantry makes the perfect clutter-free addition to a modern kitchen. Check out 5 Top Reasons Why We Love a Butler's Pantry to find out more.
Make Light of It All
Coordinate your un-cluttered kitchen decorating ideas with some beautiful, ambient, feature lighting from above. Pendants are perfect for setting the scene and can really help to add interest and style to an area. Pendant lighting is also helpful for defining the space and creating an invisible barrier between kitchen and the rest of the home.
This image shows the use of pendant lights for the kitchen as well as the adjacent living space. The pendants break up the two areas beautifully, mimicking the layout.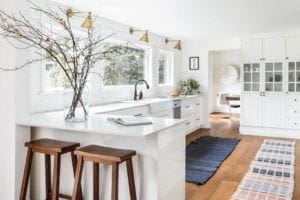 Image source: My Lighting Source via Pinterest
When considering the lighting choices for your kitchen, remember that because your kitchen is primarily a functional space, you need to have lighting that is suitable for practical purposes too, not only to look great.
general – for day to day use

task – for cooking and preparation

ambience – for aesthetics
Of course, there's no reason that your lighting can't be both functional and beautiful, but make sure it's not just beautiful.
Below shows some clever use of overhead task lighting as part of the overall kitchen decorating plan.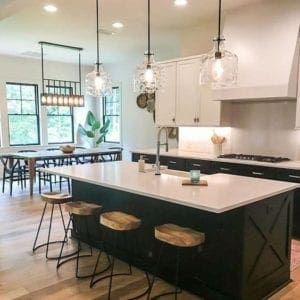 Image source: The Spruce
Kitchen Decorating Ideas to Capitalise on Shelving
Open shelving is very popular in modern kitchens. But shelving also promotes the potential to be over-stacked and messy on the eye. If you've got open shelving in your kitchen here's some tips to ensure that it's eye-catching for all the right reasons. Keep your kitchen shelving clean and clutter-free by:
Try to keep like for like together when stacking plates and bowls on top of each other

Line up glasses like proud soldiers

Unless you are opting for a eclectic and mis-matched style style, keep stacks all the same colour (or in the same pattern – black, white, black, white, etc)

Remember that items on your open shelving contribute to the overall look of kitchen decorating and styling. Consider the style and colours of plates, mugs, glasses and other items when deciding what to put out on show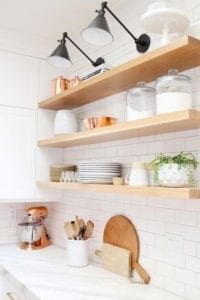 Image source: Modern Glam
Go Green
Fresh greenery always brings an injection of happiness to a room and plants can be an important part of those great kitchen decorating ideas. Plants are not only colourful but add a softness and texture to what is usually quite a linear and clean-lined space.

Image source: Alissa Jacobs
Place an overflowing pot on a top shelf. Add a plant stand to the corner of the room for a sprig of freshness or suspend a hanging pot plant from the ceiling.
Or how about making your own kitchen vertical garden! Use it to grow herbs and ensure that you always have fresh ingredients on hand for your cooking.
Check out this awesome DIY guide from Bunnings on how to create a vertical garden as part of your kitchen decorating idea – click here.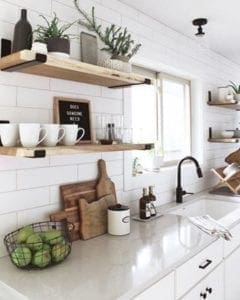 Image source: Bunnings
Is It Time to Update your Appliances?
If you are someone who likes to leave your appliances out on the benchtop as opposed to storing them away, make sure you take into account their effect on your kitchen decorating plan too. Outdated, rusted-looking toasters never really look the part in a modern, slick-styled kitchen (however, they would be fantastic partnered with industrial-style!).
Small appliances such as kettles, toasters and blenders can be relatively inexpensive to replace and can have a huge influence on overall kitchen decorating and appearance.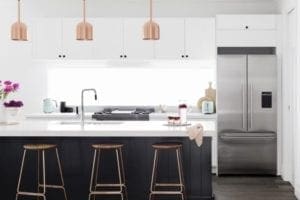 Image source: Interiors Addict
A Fresh Food Display
Fruit is not only good for you; it is an inexpensive (and delicious!) kitchen decorating idea. Fruit can add instant colour and texture to kitchen decorating efforts at a very low cost. Find a simple fruit bowl or any other interesting display option to suit your style.

Image source: The Spruce
It's Not "Just a Board" with these Kitchen Decorating Ideas
Fancy chopping blocks and serving boards are right on trend at the moment. You can get some fabulous hand-crafted boards from talented artisans all over the internet.
Grab a couple of these beauties and display them on the bench for some beautifully layered kitchen decorating appeal.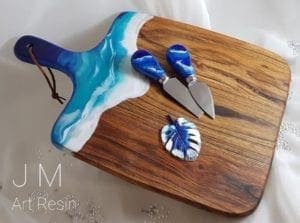 Image source: JM Art Resin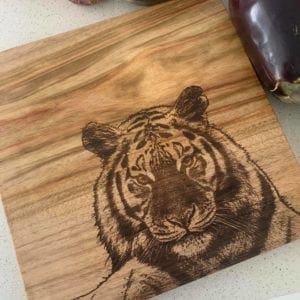 Image source: Shelly Gilbert via One Day Closer to Rain (Draught) Rural Cottage Crafts
Kitchen decorating is a great way to give your kitchen a quick and simple aesthetic update. If your kitchen needs a little more than a new toaster and some colourful stools, then the team at Harrington Kitchens are just the people that you need. With plenty of experience designing and manufacturing kitchens of various sizes, styles and designs, they are well-equipped to design the just the kitchen you need. Contact our team on 1300 662 112, submit an online enquiry or visit us at our Narellan or Bowral showrooms to discuss your dream kitchen project.