Kitchen decorating art can shape the heart and soul of an entire kitchen. Here's 7 inspirational ways to capitalise on the power of art in your kitchen.
Art embodies personality. And without art, let's face it, life can be pretty boring. So, when it comes to adding character and style to your kitchen space, it's hard to go past some amazing pieces of kitchen decorating art.
From pieces unstrung to kitchen decorating art that is hung, we have an array of wonderful kitchen decorating art ideas to showcase how a work of art can transform the look, feel or mood of a kitchen in an instant. No matter your kitchen style or budget, our kitchen decorating art ideas can boost even the blandest of spaces; some pieces you could even craft yourself!
#1 Photo Gallery

Transform a wall in your kitchen into a budget-friendly work of kitchen decorating art, all while displaying your (or someone elses!) photography skills.
Create a gallery of photos for your wall or display just one photograph. Black and white photo canvas prints work exceptionally well in white and two-toned kitchens. You can leave your photos in their natural form or change them into an abstract for something more arty.



Image sources: Elle Décor, Elle Décor, Elle Décor
Love this idea? Here are a few quick places to help arrange your own kitchen decorating art photos on canvas:
#2 Let's Chalk About It
Transform some wall space into functional kitchen decorating art with a blackboard to use for scribing reminders, shopping lists, meal planning or to display a cocktail menu when you are entertaining at home!


Image source: The Lettered Cottage, Shelterness
Alternatively, paint an entire wall with chalk paint. You can use the space for writing motivational messages or quirky quotes too. If there is one way to introduce some character through kitchen decorating art, this is a cost-effective idea that can be used for so many purposes.
#3 When Art Comes Alive!
Take the opportunity to use your kitchen decorating art efforts to grow your own ingredients or add some freshness to your kitchen space through living art.
Grow your own herbs in a planter pot or some repurposed mason jars atop the bench. Or liven up your walls with cute succulents sprouting from kitchen utensils.



Image source: Pinterest, Pinterest, Harrington Kitchens
Live plants and greenery promote a calming effect and this kitchen decorating art idea provides the chance to bring some of nature's gifts inside your kitchen, which we love.
#4 Kitchen Wall Art Prints
Splash some extra colour or character around your kitchen instantly with specially printed kitchen decorating art in frames.
Set a framed print on the top of your kitchen bench, on a side table, or above your kitchen cabinets if there is a void to fill. And there are always the walls to hang a print if you don't have the room elsewhere. A simple pop of colour or character, just like that!



Image source: Caesarstone, Decoist, Harrington Kitchens
Alternatively, display a decal message to add even more personality to your space.
#5 Three-Dimensional Wall Art
Chopping boards, cheese boards and rolling pins can all make great kitchen decorating art pieces, if you have the kitchen style to match the look. Following are a few ideas that showcase how to make use of kitchen tools and utensils as part of your decorating efforts.



Image source: Pinterest, Pinterest, Solebich
#6 Graffiti Art
To think outside the standard box of kitchen decorating art, and go for maximum impact in your kitchen space, you could commission an artist to do some professional wall graffiti. While graffiti is not everyone's cup of tea when it comes to art styles, this is one sure way to add wow factor to a room. Wouldn't this look amazing in an industrial-style kitchen for example? The ultimate one-of-a-kind and truly personalised piece of art.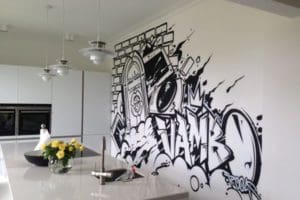 Image source: Pinterest
#7 Functional Display of Art
If you have a beautiful range of chinaware or collector plates, make use of them as a kitchen decorating art feature. Often, these pieces are stashed away and "saved for a rainy day", so it's a fantastic chance to show off your fancy dinnerware more regularly instead.
This is a great option for kitchens that feature open shelving or glass-fronted cabinetry.



Image source: The House of Silver Lining, Pinterest, Harrington Kitchens
Impressive appliances, showstopper splashbacks and stone beach tops might be typical talking points of kitchen styling. But it is often surprising how much impact kitchen decorating art can really add to the overall look and feel of a space.
It's important to remember that art comes in many shapes and styles – much like us and our kitchens too – there are so many more options than a painting on a wall so it is easy for everyone to add a little personality to their space with some kitchen decorating art. When it comes to decorating a kitchen, never underestimate the power of art.
For more kitchen decorating ideas and inspiration, take a look at our Harrington Kitchens gallery of beautiful finished kitchens. Call us on 1300 662 112 or submit an online enquiry today and make an appointment with a Harrington Kitchens designer to discuss your new kitchen project.