There's so much more to creating an amazing kitchen than simply deciding on a layout and choosing some doors and appliances. Whilst these pieces are certainly a large part of the complete kitchen project, the accessories that you choose for your new kitchen can really make a huge difference to the end product.
There is a vast array of options when it comes to accessorising and styling your kitchen, so we couldn't possibly cover them all here. Instead we've gathered a list of a few of our favourites to get you started.
Appliances – on show or no show
The way that you choose to install the major appliances in your kitchen generally falls into one of 2 categories – statement or integrated. That doesn't mean that you have to have only one option throughout the entire space, but it is important to carefully consider what your preferences are for each item and how your choices will affect the overall impact of your completed kitchen design.
There are certainly some show stopping appliances on the market today that are purposefully created with the intention of being a visual feature in the kitchen (as well as their functional purposes too, of course). The craftsmanship and finishes seen in many statement ovens and refrigerators can make for dramatic impact in your new kitchen and will definitely make a lasting impression.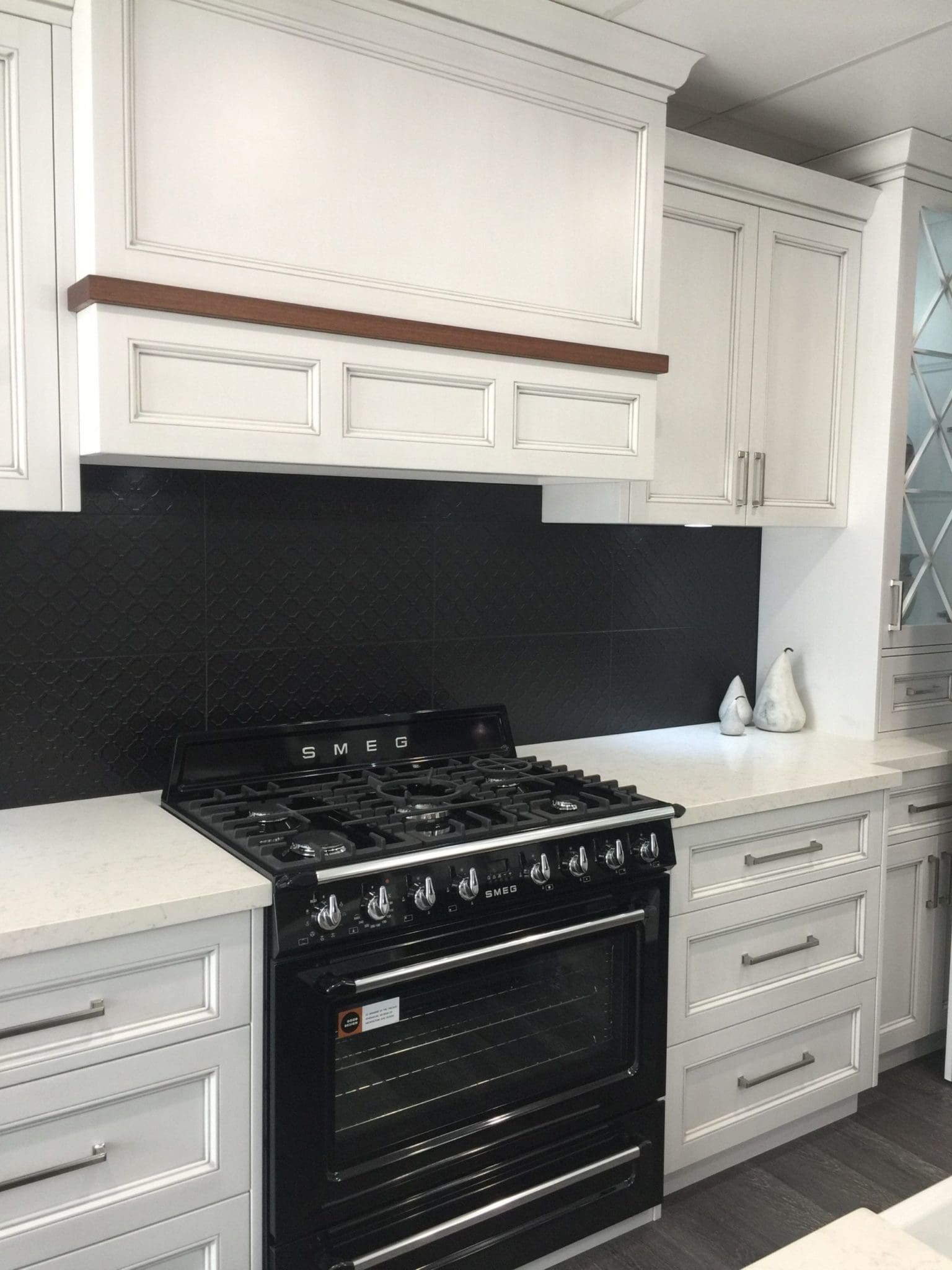 At the other end of the spectrum are integrated appliances. This modern design choice means that you can have all the appliances and functionality that a hard-working kitchen needs, while creating a sophisticated, clean and uninterrupted aesthetic.


Splashbacks – not fading into the background
The splashback is just one of the many important pieces that contribute to your overall kitchen space. Whilst the name implies they are "in the back", that definitely doesn't mean that splashbacks are to be considered insignificant or hidden away. In fact, it is quite the opposite.
In addition to the practical requirement for splashbacks to protect the wall space behind cooking and preparation areas, they have evolved considerably to become an opportunity to enhance the style and colour choices in your kitchen.
There are a countless amount of splashback options to consider.
This kitchen with its classic white style and gorgeous subtle stone is enhanced beautifully with these 300 x 600 satin tiles in Woodsmoke by Southern Ceramics. Not only are these tiles a practical choice in terms of sizing and installation, but they turn your splashback into a truly wonderful textured feature wall. Patterned tile options range from modern geometrics to vintage pressed metal looks.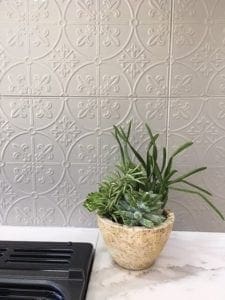 For a more modern, streamlined splashback, take a look at our Harrington Kitchens glass splashback in a special paint finish with the "Luna Effect". The metallic paint adds a gleam to your gloss white cabinetry and creates a stunning feature with a refreshing "pop" of colour. Opting for a painted glass splashback means that you can choose from a wide range of exciting colour options and create something very special.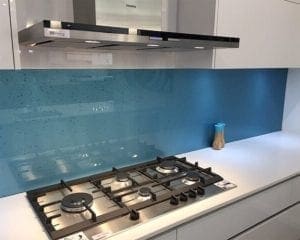 If dark and moody is more your style, our smoky Black Mira Star splashback gives a muted, modern feel to your new kitchen. Ideal for bringing your garden indoors and decorative reflections, this glass is both practical and beautiful. With its darker characteristics, it is the perfect choice for today's sultry and streamlined kitchens.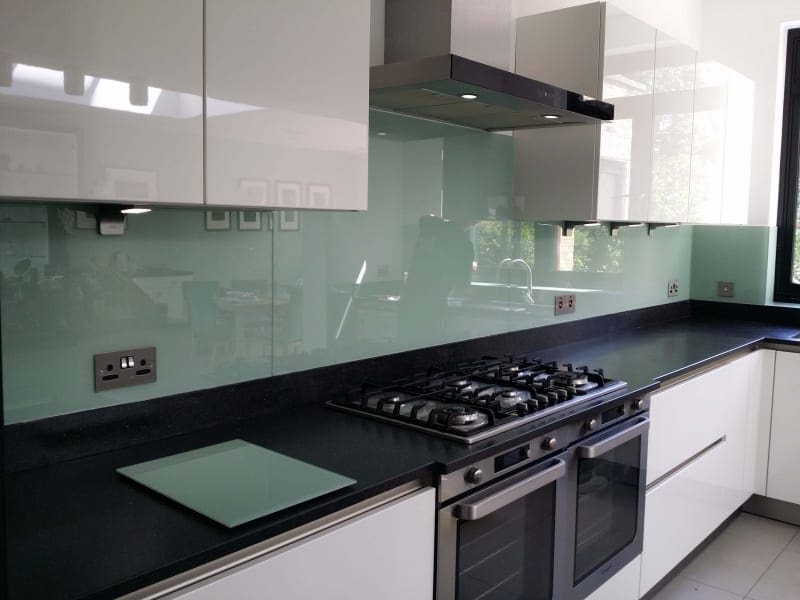 Hardware can be hard to choose
It might not be the biggest item in your kitchen but the choice of hardware items such as cabinet handles, taps, knobs and pulls, plays an important role in completing the look of your kitchen.
It is important to make sure that the hardware finishes and colours you choose compliment your cabinetry and design style choices. Popular choices that we have seen over the past year include hardware that is matte black, gold, champagne, copper, polished brass, marble and natural finishes.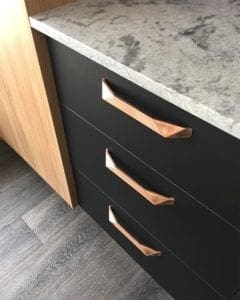 This elegant Perrin & Rowe Phoenician tap in a subtle pewter finish is no exception and offsets the veined stone and butlers sink perfectly.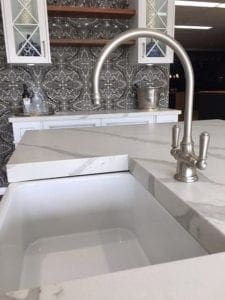 Meet the Blanco Linussa tap in Anthracite. Using Silgranite engineered in Germany with 80% composite granite, this tap lends itself to the modern, sleek lines of today's integrated cabinetry. Match it with the Blanco Subline Graphite sink and you have the winning combination for your new kitchen.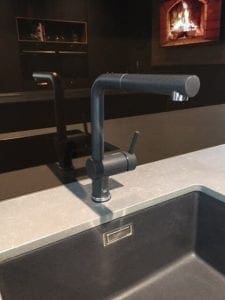 Making a statement in your new kitchen is easy when you accessorize with this stunning 1901 Provincial tap in Chrome with porcelain levers. Pair it with the matching 1901 Butlers Sink to complete the picture. Functional and highly decorative, this tap is sure to impress.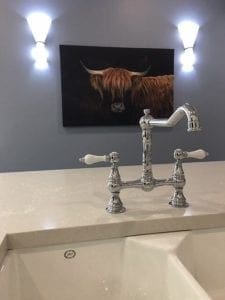 Splashes of Colour
2019 saw our interiors taken over by natural textures and green foliage. This trend has been embraced and is seeing the colours of nature become a more solid fix in our homes. The Dulux colour forecast range for 2020, titled "essence" shows the gorgeous muted brights that we can expect to be seen throughout interiors in the coming year. Embrace the trend by incorporating Laminex colours in your new kitchen. Paired with neutrals, these beautiful hues will really have impact.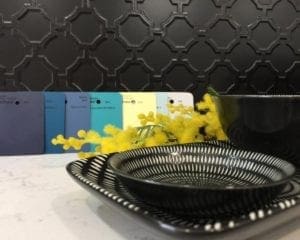 Choosing the right accessories for your new kitchen can definitely be exciting, but it can also potentially be overwhelming to navigate with the multitude of choices and options available. Professional kitchen designers, like the team at Harrington Kitchens, can guide you not only on the best cabinetry and layout options for your new kitchen space, but also provide expert advice when it comes to the best accessories to suit your functional and design needs.
Contact our team on 1300 662 112, submit an online enquiry or visit us at our Narellan or Bowral showrooms to discuss your new kitchen project. We'll show you how we can make your dream kitchen a reality.