There is more to a great kitchen renovation than an impressive splashback and slick-looking finishes. For a kitchen that functions just as great as it looks, check out our handy hints for an amazing kitchen renovation. Because, it's not only the big-ticket items that get you there in the end.
If you are planning a kitchen renovation, or in the process of preparing for a kitchen renovation, you probably have items such as benchtop materials, splashback options, cabinetry finishes, and brands of your shiny new appliances on top of the agenda. And these are indeed important factors to ponder over. But, when you are busy arranging the big picture, don't forget the small items that can play a massive role in the functionality and day-to-day operations of your renovated kitchen.
If you want to complete an amazing kitchen renovation, it's a good idea to line up all the little puzzle pieces in order to create your ideal big picture. Proper consideration of these items can often make a huge difference to a perfect kitchen.
To ensure you are not missing any of the important pieces to your kitchen renovation puzzle, we have created these handy hints to help get you started.
Appropriate landing space
As tempting as it may be to include an over-sized oven and cooktop that looks uber impressive against the back wall, or a huge fridge that promises to do almost everything for you, don't let temptation lead you astray. When designing the layout for your kitchen renovation, be sure to leave plenty of adequate 'landing space' on each side of these key items. This space is especially important for food preparation and set-down, particularly when cooking and stocking your fridge with groceries. We recommend a minimum of 38cm-40cm on each side.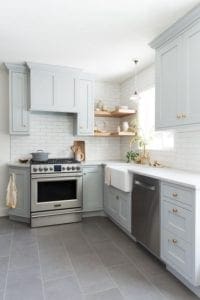 Image source: Fireclay Tile
This image above is a good example of minimal landing space provided on one side of the cooktop. For maximum functionality, we recommend a little more room than what has been included here. You could rectify this by placing a roll-away butchers block beside the bench if space is an issue.
Generally, the more bench space you have to work with, the more efficient and functional you can be in your kitchen space. So always try for at least the minimum of 38cm – 40cm on each side, but if you can get some thing like this, even better.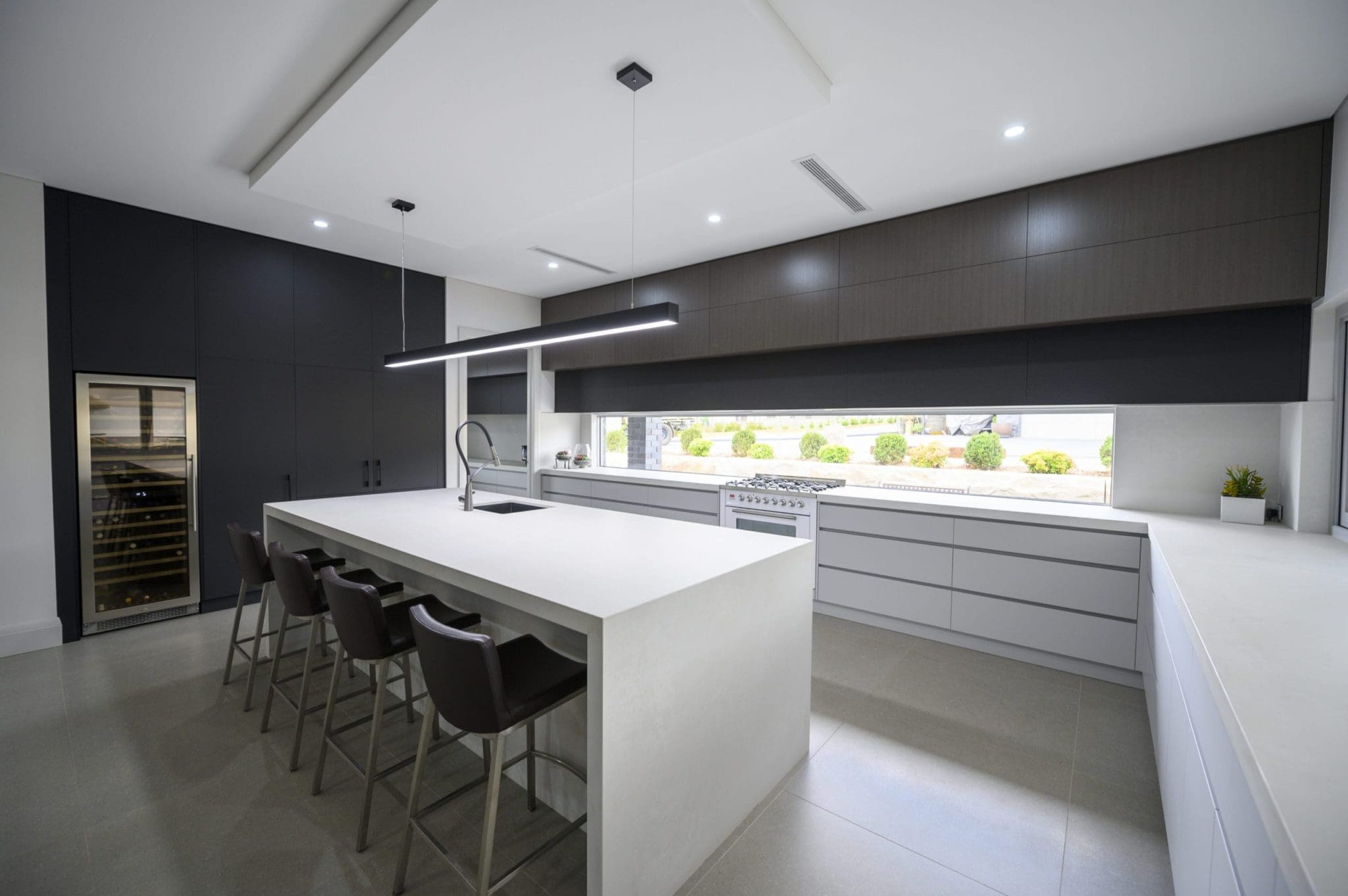 Image: Harrington Kitchens
Make It Easy for Yourself
The kitchen is a workhorse with functions that include cooking, cleaning and entertaining. When planning your kitchen renovation you want to consider how you can make being in and utilising the new kitchen space as easy as possible for yourself and your guests. In addition to including the 'magic triangle' in your plans, go above and beyond that and think about how and where you plan to use other items in your renovated kitchen as well.
Here are a few simple examples and things to consider:
store containers, lunch bags, foil/plastic wrap so that they are near a surface with plenty of space for wrapping leftovers, sorting and making lunches

position plates and dinnerware close to the dishwasher for ease of unloading

locate hot beverage items such as mugs, spoons, coffee and tea near the kettle or coffee machine

place your bin near the main preparation area of the kitchen to avoid walking the entire way through the space with rubbish. Include a separate bin for recyclable rubbish to make sorting easier.

set the fridge at an easily-accessible point for walk-by grazers as well as cooks in the kitchen
Seating
Renovating a kitchen is the perfect time to think about seating that you will need for your family and potential guests.
If you are considering making use of a benchtop that doubles as a seating area, keep a comfortable space for each diner, generally between 71cm-75cm wide. Also, remember to leave an overhang large enough for knees to fit comfortably under the bench.
Another option is to drop or raise the benchtop seating to define it from the food preparation area – we find this is a more favoured option for home entertainers and those who use a breakfast bar regularly. This can also be a great option for those who don't have the space for a large dining table, such as residents of a small apartment.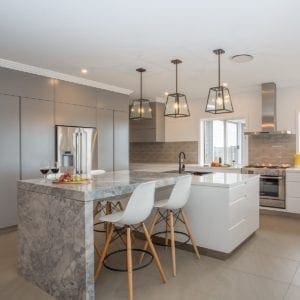 Image: Harrington Kitchens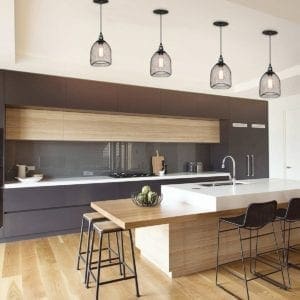 Image source: Westmenlights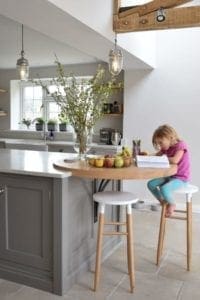 Image source: Decoholic
If you have a large family with the need for additional seating, or are home entertainers and have the space available, breakfast nooks are great considerations for a kitchen renovation too. Generally tucked away into a corner space near the kitchen, or sometimes butted up against a wall with bench seats and a table that folds down when needed. Breakfast nooks can be used for reading and study corners, entertainment quarters or a place to sit and relax with a cuppa in the morning.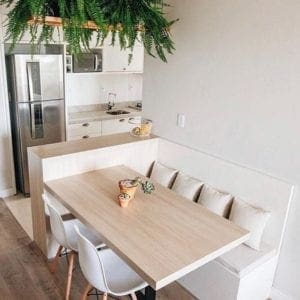 Image source: Ideiasdiferentes
Power it up
Electrical outlets are a must in any kitchen but are even more important to plan out during a kitchen renovation. As well as including general power outlets, that are typically on the back wall in a kitchen, a power outlet on an island bench is invaluable and you will thank yourself for the simple convenience later. Consider outlets for charging devices and multimedia uses too – could you make use of an outlet inside the pantry for a music docking station, for example?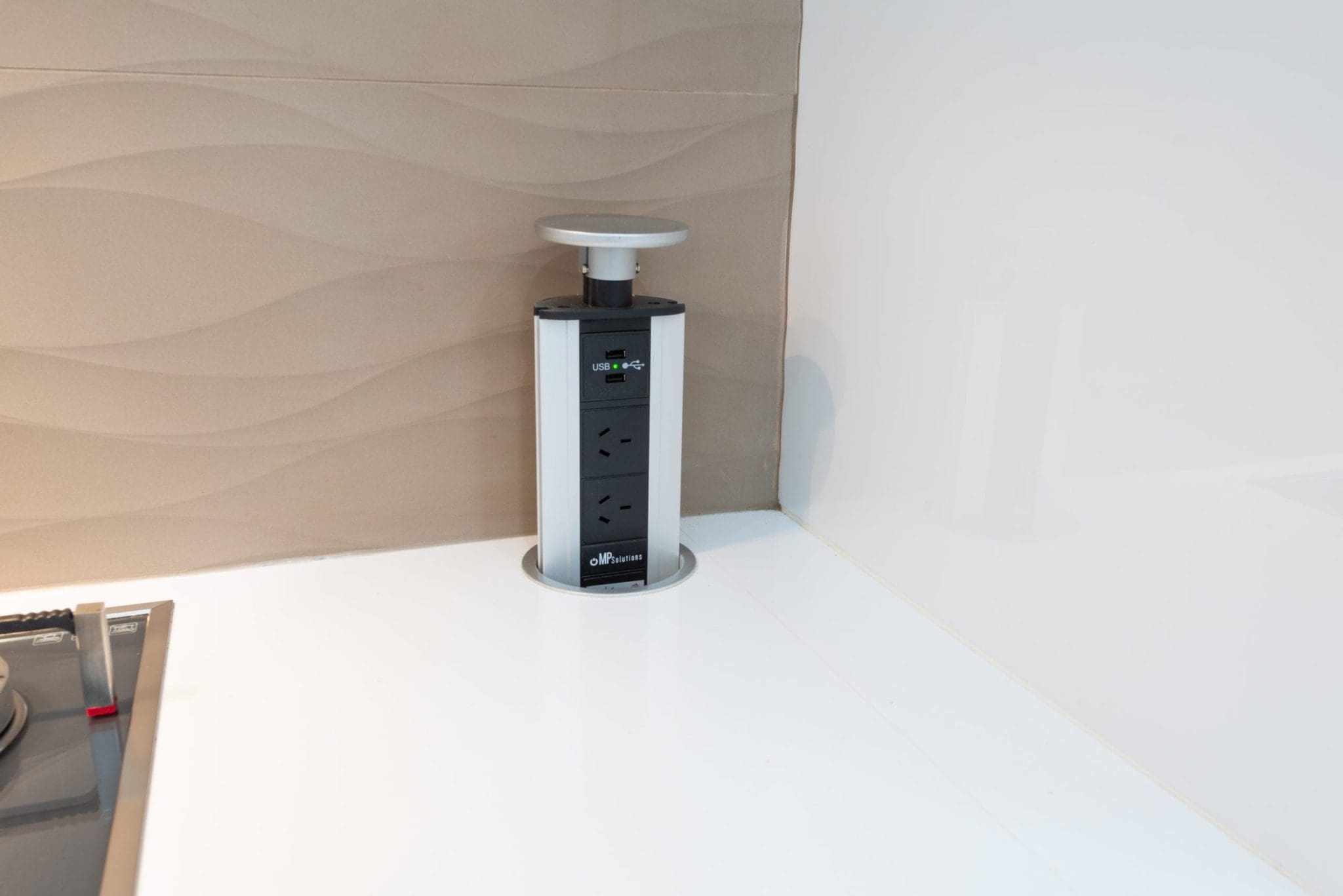 Image: Harrington Kitchens
Lighting
Kitchen lighting not only needs to be aesthetically-pleasing, it needs to conform to the 'lighting layering rules' as well.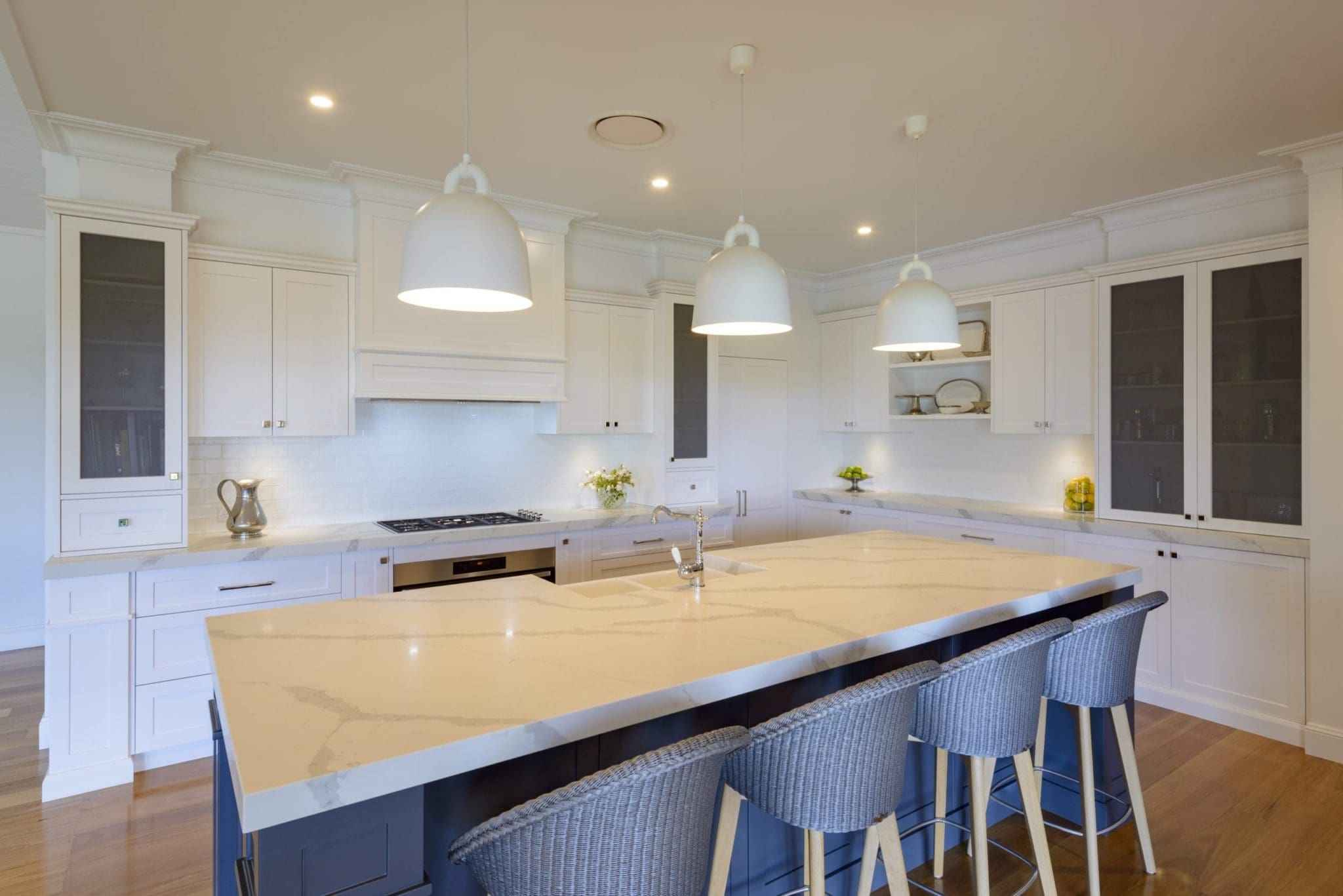 Image: Harrington Kitchens
When undertaking your kitchen renovation, consider the layers:
general – for day to day use

task – for cooking and preparation

ambience – for aesthetics
Think about what lights you will need to get the job done first, then plan the others around those. Dimmer switches also work great in kitchens as those lights can double as general and ambient lighting and can save a few dollars on electricity costs too.

Cleaning
How much time will you, or your residents, have to dedicate to cleaning and maintaining your renovated kitchen?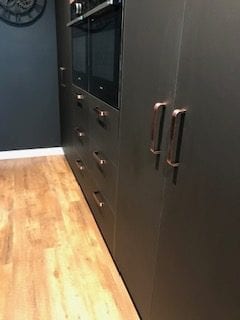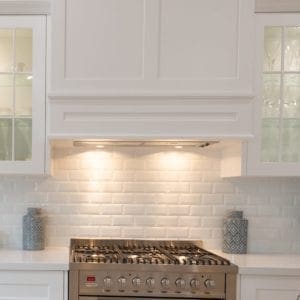 Images: Harrington Kitchens
remember, matte kitchen finishes generally don't show up as many dirty marks as those with glossy surfaces

stainless steel is durable but requires regular elbow grease to keep up its grime-free appearance

flush-set and under-mount sinks don't typically gather bits and pieces around the rim making them easier to keep clean

glass shows every mark and print and requires regular attention to maintain it's sparkly clear appearance

some cabinetry surfaces require more general upkeep than others

timber and wood may require regular re-coating and sealing
* Tip: check out pros and cons for some popular kitchen finishes, including cleaning, in our article Choosing a Finish for Your Kitchen Cabinets – Polyurethane, Melamine or Laminate.
It is more effective to lay out the puzzle pieces first, before realising there is something missing at the end of your kitchen renovation. It's important to consider the function and practicality elements first and then get busy with the aesthetics and bigger picture items.
Engaging the expertise of an experienced kitchen designer, like the team at Harrington Kitchens, means you will be sure to address all the important pieces that go in to making for an amazing kitchen renovation. The designers will work closely with you to ensure that they understand your lifestyle and expectations and then guide you to make the best choices to achieve your dream kitchen.
Contact our team on 1300 662 112, submit an online enquiry or visit us at our Narellan or Bowral showrooms to discuss your new kitchen project.