There are so many options to consider when building or designing a new kitchen, but one of the most important things to get right is kitchen storage. To make meal preparation and entertaining in your kitchen a breeze, a great place to start is to decide whether kitchen storage drawers or doors will suit your needs the best.
To help make light work of the decision, we have broken down some of the benefits, and the pitfalls, of kitchen storage drawers and doors.
When designing your new kitchen, an integral component that requires your consideration, are all the pros and cons of kitchen storage drawers versus doors. This is a vital step to ensure your storage choices match your kitchen personality as well as its functionality. Ensuring that you have really thought through what will serve you and your lifestyle best, as well as nailing the execution, means that you will have a highly functional and aesthetically-pleasing area to capitalise on for years to come. Following is all the scoop you need to help make an informed decision.
Kitchen Storage Drawers – Benefits
Kill the Dead Space
Drawers are a great option for utilising every space possible in an under-bench arrangement. Rather than having those hard-to-reach dark corners, which are often a common problem when it comes to kitchen storage, drawers can help to alleviate any dead space as they can be customised by size and shape.
Keep it Tidy and Together
Kitchen storage drawers also make it easy to see the contents. And what's better, kitchen drawers can be kept uber organised and tidy with a pegboard base and customisable dividers, just like the examples below from our friends at Hettich.
Smaller items, such as cooking utensils, need to have their own drawer space so they can be kept neat, tidy and at the ready for cooking and family dinner time! Drawers are also a great option for larger items such as pots, pans and bakeware.
Save Time
Tidy kitchen storage drawers can help to save precious time during meal preparation as there is less chance of having to rummage to find a cooking utensil or tool you need. Drawers make it easy for you to peruse over the contents in limited time.
Organise Cluttered Containers
Drawers can make it easier to store the plethora of plastic containers that we all tend to accumulate for lunch boxes and small food storage. With a few drawer dividers, which can be custom fitted or added later, you can have a plastic storage drawer looking nice and tidy.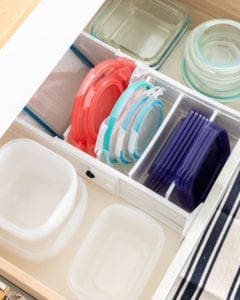 Image source: Apartment Therapy
Assisting Aesthetics
In a smaller kitchen in particular, kitchen storage drawers and doors both have the ability to assist with aesthetics and make the space appear roomier.
Drawers under bench can help to elongate a room, whereas doors on overhead cabinets can help to make the area from floor to ceiling feel more spacious.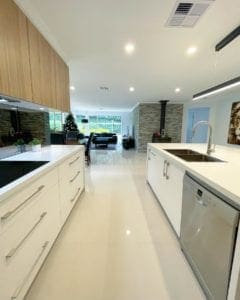 Helpful Technology
Kitchen storage drawers can host some interesting technology and extra gadgets within a kitchen. Charging stations, kitchen warming drawers, and vacuum drawers are just some of the recent fittings we carried out for our clients at Harrington Kitchens.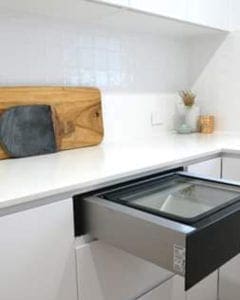 Kitchen Storage Drawers – Things to Watch Out For
Under the Sink
Kitchen storage drawers may not always be the best option for the area under the kitchen sink. Plumbing under sink can make the space difficult to work around and you may find that kitchen storage with a door is a more suited option for this void. Just remember to consider all options before making your decision.
Image source: Pinterest
Larger Sized Items
Larger sized items and heavier appliances are generally more suited to kitchen storage with doors, but not always. Those spaces can be made larger to accommodate items of this nature. Talk to your kitchen designer for advice and think about what is best for storing and accessing your larger items.
Potentially More Expense
Typically, kitchen storage drawers require more investment than doors. So, you can expect to require a bigger budget to accommodate kitchen storage drawers over doors. But in many cases, the upfront cost pays itself back in spades when it comes to enjoying to ease of use and functionality of your new kitchen.
Kitchen Storage Doors – Benefits
More Suitable for Larger Items
As we mentioned above, kitchen storage doors are generally a better option for storing away larger items such as a stockpot and medium to large-sized kitchen appliances, as heavy items can damage the mechanisms on drawers over time. Stacked appliances in drawers also tend to look cluttered and can damage the appliance if not stored or put away properly (especially if they are packed on top of one another).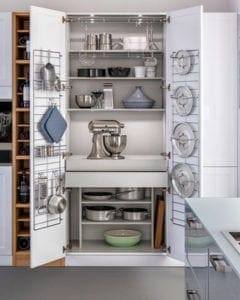 Image source: Ecstasycoffee
Create an Appliance Garage or a Café Quarter
You can create your own special quarters, designed neatly behind a kitchen storage door. A barista corner, a cocktail hub, or simply a place to store and stash away appliances when they are not in use. Cabinet doors can keep your area looking clean and tidy and readily accessible. Make it easy on yourself by adding some lights and access to a power outlet too.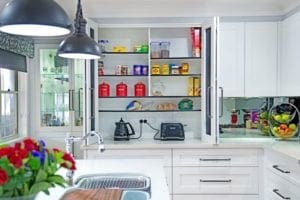 Transform Dark Spaces to Bright Ideas
Doors are not always a poor decision for corner cupboards and dark spaces. You can add some light onto the subject by having a pull-out shelf or corner carousel installed.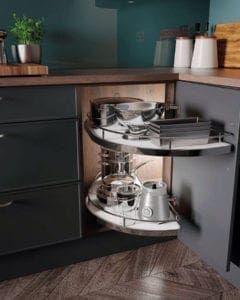 Image source: Ecstasycoffee
Customise Contents
A neatly organised cupboard offers the perfect opportunity to tailor the contents as you need. As per the example below, you can add a small stemware holder to fit wine glasses, a shelf for tea cups and other glasses to space save. Storage like this offers more versatility than a drawer.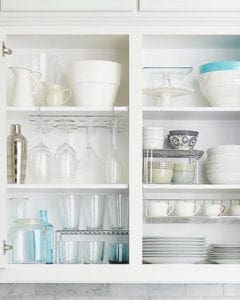 Image source: Love Property
Space for Hanging Storage
Behind every kitchen storage door is the opportunity for more storage! Unlike drawers, you can hang additional aids on the back of the door like pot lid racks, spice racks, and storage for smaller items such as freezer bags, foil wrap, and packet mixes.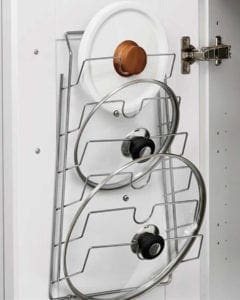 Image source: Love Property
Behind Closed Doors – You Can Add Some Drawers!
There is not much else needed to say about this advantage of kitchen storage doors. Whatever you choose to put behind them is up to you, and this indeed can include drawers. You don't get this flexibility with kitchen storage drawers.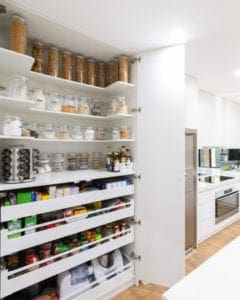 A perfect kitchen can often be the perfect blend of kitchen storage doors and drawers. The trick is to learn about the available storage options and carefully consider what will work best for you and your kitchen before making a final design decision.
If you are looking for some kitchen design inspiration, take a look at out our Instagram or get in touch with the wonderful team of designers and kitchen experts at Harrington Kitchens.
Call us on 1300 662 112, submit an online enquiry or visit us at our Narellan or Bowral showrooms to speak with the amazing team of designers and kitchen experts at Harrington Kitchens about your new kitchen and the best kitchen storage options for you.