The fundamental rule of any kitchen pantry is to capitalise on storage. But like many things, there are some people who are just a little craftier at it than others. If kitchen pantry organisation is not really your forte, or your looking for some new inspiration, check out these clever ideas to help transform your kitchen panty from unorganised mess to storage king!
The main function of a kitchen pantry is to consolidate food stores (and even appliances in some instances) into one handy location. Whether you have a massive Butler's pantry or a boutique kitchen pantry made from a recycled locker, there is one thing they will have in common and that is, the need to capitalise on space.
We have compiled our favourite kitchen pantry storage hacks that are useful for kitchen pantries of any size.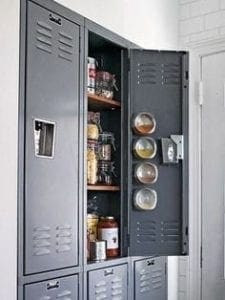 Image source: Thekitchn
Get into the zone
One of the simplest ways to organise a kitchen pantry is to keep like with like. Create zones within your kitchen pantry by stocking similar foods in the same area for easy access (e.g. baking ingredients together, pastas near rices, canned vegetables stacked together, snacks together, etc).
Image source: Martha Stewart
This clever kitchen pantry storage idea, by Martha Stewart, includes labelled zones to make it even more streamlined and of course, it looks amazing too.
Keep it crystal clear
There is a myriad of options when it comes to choosing the best kitchen pantry storage containers. But one of the most effective ways to keep food stored is in clear or see-through containers. Not only does this makes it easy to see the contents when you are frantically searching for a certain something to complete your masterpiece, but it is also much easier to determine when a re-stock is due.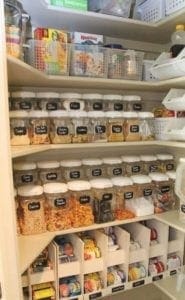 Image source: Pinterest
This kitchen pantry has been stocked with clear cannisters and containers, as well as open-faced storage for smaller items at the bottom of the area. Nothing has been obscured, making it easy to see the entire contents of the kitchen pantry – crystal clear!
Make use of every space
When it comes to making the most of every available space within a kitchen pantry, don't discount any spare space such as the walls or even the back of the kitchen pantry door. Depending on the size and layout of the actual pantry, ceilings can also make great kitchen pantry storage solutions.
The kitchen pantry floor
Baskets are perfect to house larger items like paper towel, table linen, cooking oil (be sure to safeguard the floor of the basket with a cloth or towel in case of oil drips) and even spare boxes of cereal on the floor.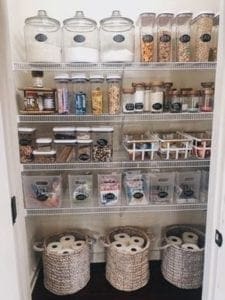 Image source: Home Décor Art
This kitchen pantry storage wizard has opted for rounded baskets to suit the shape of the paper towels. As an alternative option, square-shaped baskets might be a better option for other items.
Kitchen pantry door and wall space
The kitchen pantry door should never be a neglected option as it provides valuable storage real estate space, particularly for those people with small-sized pantries.
Due to the smaller sizes of spice containers, they can generally fit well on the back, or inside, of a kitchen pantry door. Quickly and easily make use of this space by hanging a spice rack. A rack like the one featured in the image below is also easy enough to make yourself. Having a designated space like this for spices will free up shelf space within the pantry too and make them much easier to locate and store.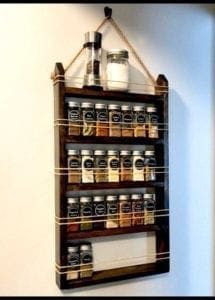 Image source: etsy.com
A magnetic spice rack is also another great option for wall-hung kitchen pantry storage.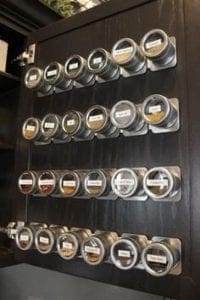 Image source: The House on Stanford
We love the darker tones of this magnetic spice rack too – it would fit perfectly into the décor of a contemporary kitchen.
* Tip: weightier items should be kept off the kitchen pantry door so not to put extra weight on hinges and cause any unwanted damage.
Label it
It is fairly self-explanatory why this next kitchen storage solution makes our list. Labelling cannisters makes it easy to find items and identify their contents straight away. This can be as easy as affixing sticker labels or using a simple paint pen on the front of glass containers. Remember to always face your newly applied labels towards the front.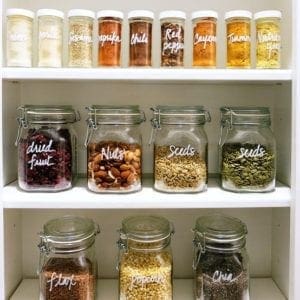 Image source: 100daysofrealfood.com
Make it easy to reach
The corners of a large or deep kitchen pantry are often hard to reach. And I find if there is an area within a kitchen pantry that gets messy or neglected; it is here. To alleviate any hard-to-reach spaces, consider incorporating a Lazy Susan.
For a new kitchen that is in the design phase, think about incorporating a smart storage solution like this Lazy Susan corner unit from top to toe.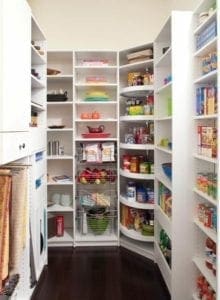 Image source: Onekindesign
Or, for an established kitchen pantry, you could try a simple and inexpensive DIY job like this image below.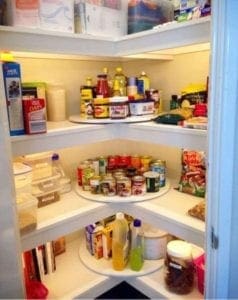 Image source: housebeautiful.com
* Tip: the corner of a kitchen pantry can also make for an ideal spot to store small appliances as they tuck neatly into the space.
Extended storage solutions
If you are at the design phase, now is the perfect time to ponder over the plethora of contemporary kitchen pantry storage options available. Kitchen pantry storage has many innovative solutions including pull-out and slide-out cabinetry, pop open compartments, and even caterers' solutions like warming drawers.
Appliance nooks
Appliance nooks are a great way keep all your appliances neatly stored and easily accessible. We talked about keeping like with like before, and it's the same for appliances as it is for food. Be sure to keep the shelves adjustable so you can change them around for various appliances as your collection or needs change.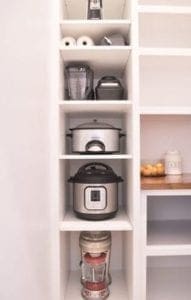 Image source: Stacyssavings
Progressive sliders
The bottom drawer pulls out further than the top making the contents easily accessible when there is more than one drawer in use.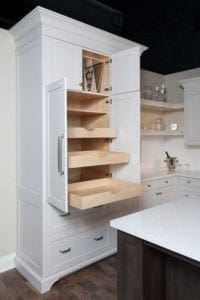 Image source: Socialwiki
Hidden cabinet
Sleek and uniformed with storage galore. We love the ladder in this image too. What a great idea for the hard-to-reach cabinets at the top. It's practical but adds a touch of character to the style too.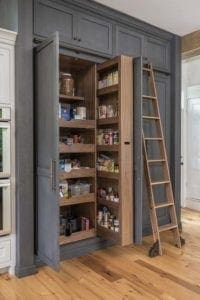 Image source: decorpad
Kitchen pantry storage hacks – the wrap up!
To ensure you always make the most of space available in your kitchen panty, remember to follow three basic rules:
Place larger items at the back

Keep it streamlined and tidy: use cannisters and containers of similar type so that your kitchen pantry does not turn into a higgledy-piggledy eye-saw

Make use of the entire space: doors, floors shelves and ceilings (if feasible) should all be considered potential kitchen pantry storage solutions
For expert advice on optimising the kitchen pantry storage space in your new kitchen, speak to the team of kitchen designers at Harrington Kitchens. Contact us on 1300 662 112, submit an online enquiry or visit us at our Narellan or Bowral showrooms to explore the possibilities.