When it comes to designing your new kitchen, there is no doubt that there are plenty of kitchen cabinet options to ponder over. The secret to nailing the perfect cabinet choice for your kitchen is honing on the ideal combination of function and lifestyle, as well, of course, as design and aesthetics, to suit your individual requirements. See our simple tips for choosing which kitchen cabinet is right for your style.
Cabinets are not only vital in a kitchen for storage, but as prominent, highly-visible features, they are also a major player for the overall aesthetics of a kitchen. In fact, in open planned designs especially, kitchen cabinets can impact the look and feel of an entire living space.
If you are considering building or renovating your kitchen, you may have already noticed that there are many options for kitchen cabinets available. No doubt, there are at least two or three kitchen cabinet designs that you are tossing up between. But, have you dug into the features of all to distinguish which kitchen cabinets really suit your kitchen style, and the overall style of your home too?
From sleek and shiny, to carved, etched, glass and open shelved – there are plenty of kitchen cabinet options to consider. To simplify the process, our design gurus at Harrington Kitchens have come up with a guide to help walk you through popular kitchen cabinet options to perfectly suit your chosen style.
Choosing kitchen cabinets to suit your kitchen style

#1 Shaker Style Kitchen Cabinets
Shaker style is based on a classic design, inspired by a religious sect from the 1800's. The "Shakers" as they were commonly known, would craft their own furniture made from locally-sourced timber to produce pieces boasting the three P's – plainness, practicality and pride. These pieces showed off quality of craftsmanship with any decorative features made as part of the structure itself.
Characteristic elements, for example, consisted of knobs that mimicked a mushroom design, chair backs that were made from horizontally placed, wide slats, and chair tops decorated with acorn, pinecone, or finials that were shaped liked flames.
Today's shaker style kitchen cabinets still echo the ethos of classic shaker style. A simple, professionally crafted recessed panel, which is surrounded by a four-piece frame. Kitchen cabinet knobs can be small, elongated, or they can be removed all together.
Shaker style kitchen cabinets work in many kitchen designs. Here are a few examples of their versatility:
partner black shaker style kitchen cabinets with a concrete-looking benchtop and splashback for an industrial style kitchen

go for white cabinets and a timber-looking benchtop for a modern farmhouse kitchen

paint your shaker style kitchen cabinets steel grey against a white benchtop for a Scandinavian feel

add some elongated sculptured steel or brass cabinet handles on white for a French Provincial look
leave them white as a perfect Hamptons kitchen feature

create a nautical-looking kitchen with white shaker style kitchen cabinets, timber flooring, brass drawer pulls, and a blue subway tiled splashback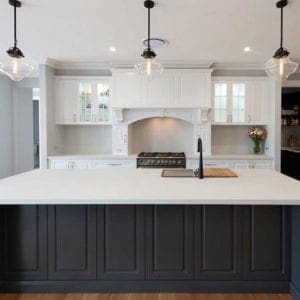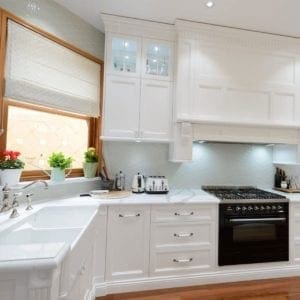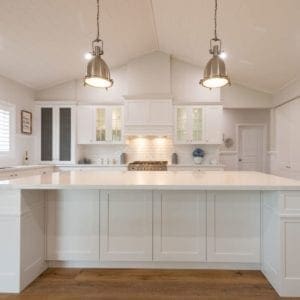 While many kitchen designs and trends have come and gone, shaker style kitchen cabinets have always remained constant. They have the ability to add beautiful, subtle detail to your kitchen through their classic look and versatile application.
#2 Flat Panel Kitchen Cabinets
Flat front kitchen cabinets are a plain, solid design that has no panels, recessing or framing. They are typically made from plywood or MDF and coated to create a polyurethane, melamine or laminate finish. This style of kitchen cabinet is very popular in contemporary homes.
Flat panel kitchen cabinets can generally be painted or textured to create the look that you desire. And kitchen cabinet handles are optional in this style, with the ability to have touch open doors. Or, use their flat surface as an opportunity to show off some impressive cabinet handles as a feature.
* Tip: to see which finish is best for your flat panel kitchen cabinets, see our article choosing a finish for your kitchen cabinets.
Flat panel kitchen cabinets are popular in the following kitchen designs:
keep the kitchen cabinets one solid colour for use in monochrome kitchens where everything else is in an opposite shade

use flat panel kitchen cabinets in modern contemporary kitchens as a base to showcase other impressive features within the home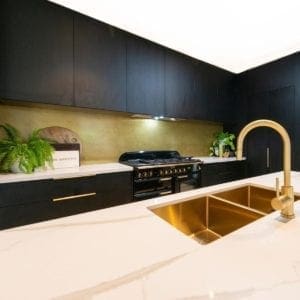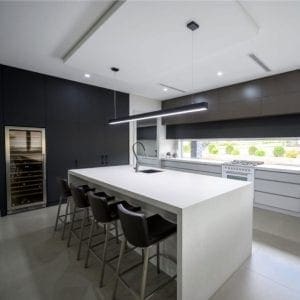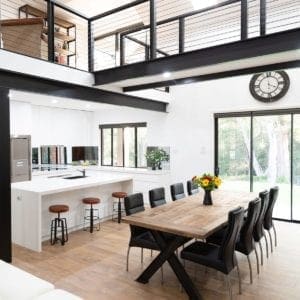 Flat panel kitchen cabinets are a simple design feature which can be a striking, yet subtle, feature of it's own or allow other elements of the kitchen, and the home, to be the main showcase instead.
#3 Kitchen Cabinets with Glass Feature Doors
Kitchen cabinets with glass feature doors are the perfect solution to adding plenty of character to a kitchen. And what's best is, you don't need to rummage through cabinets to see the contents so they are practical too! For a beautiful and contrasting feature you can opt to install glass feature panels on some of your kitchen cabinets rather than all of them. It is completely okay to mix and match.
Glass can be fitted as one single panel or arranged in various window sections to create several panes on the one cabinet door.
Kitchen cabinets with glass feature doors work exceptionally well in a variety of kitchen design styles:
Hamptons kitchens – glass feature panels are perfectly Hamptons

modern farmhouse kitchens – create a door with several panes for a farmhouse look

industrial style kitchens – use smoked glass for more of an industrial look

Scandi kitchens – mix and match with shaker style kitchen cabinets

use glass with a mix of flat panel kitchen cabinets in a contemporary kitchen
As with most kitchen renovation components, there are no strict rules. You can use kitchen cabinets with glass feature doors in almost any kitchen design to create interest. Keep it minimal for the right balance of feature and style as too many kitchen cabinets with glass panels can result in the space looking overwhelming and messy.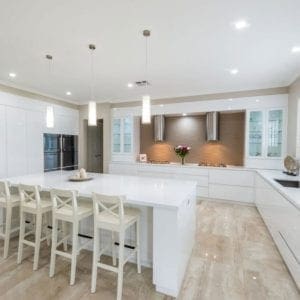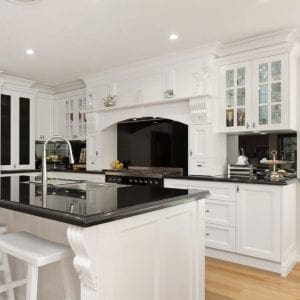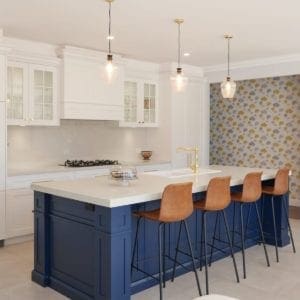 Because you can see the contents on show, kitchen cabinets with glass feature doors are definitely a style for the neat and tidy inclined. They will also need a little more upkeep than others due to the marks that glass tends to show. But if you're happy to do a bit of upkeep, then the aesthetic benefit can be well worth it.
#4 Open Shelving
Although not a kitchen cabinet as such, it would be remiss not to mention open shelving as a kitchen cabinet option, due to its sheer popularity. Open shelves can work in almost every kitchen design and are highly functional giving ease of identifying location and gaining access to your most necessary kitchen items as well as the perfect opportunity for showcasing treasured pieces.
Open shelving works particularly well in industrial style kitchens. But they can look just as great in French Provincial and other styles too.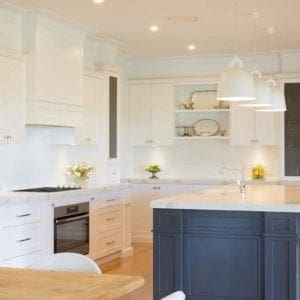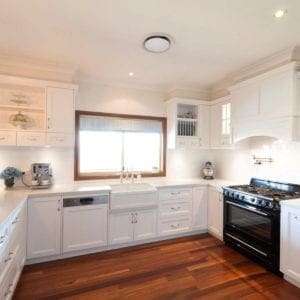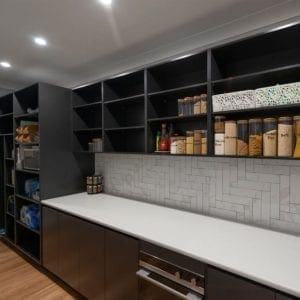 Open shelving is also a great option in the pantry and butler's pantry.
As you've probably realised, there's a lot to consider when it comes to choosing the best kitchen cabinets to suit your style. Whether your ideal kitchen style is sleek and modern, classic and sophisticated, or perhaps a unique blend, an experienced and professional kitchen designer can guide you to the perfect result for your lifestyle needs and design style too.
Contact our team of professional kitchen designers on 1300 662 112 or submit an online enquiry to discuss your dream kitchen project. We invite you to visit our kitchen image gallery and explore our collection of kitchen projects for plenty of ideas and inspiration.