Choosing the right kitchen storage solutions can have an incredible effect on the overall impact of a new kitchen space. A truly amazing kitchen not only looks great, but it needs to perform and function well too.
And big part of how well a kitchen functions relies on making the best use of the space that you have so that ultimately you can quickly and easily find what you need, where and when you need it.
What's Behind the Closed Doors?
Whether it's a brand new kitchen for a your new home, or replacing a well-loved kitchen in your current home, creating a new kitchen is certainly an exciting undertaking. But it's not just about choosing cabinetry colours and statement-piece appliances. Whilst those things are definitely important, what is just as important, is what is happening behind those immaculately finished closed doors.
At Harrington Kitchens, our years of kitchen design and manufacturing experience and expertise have cemented our view that quality is paramount, down to the smallest detail. It is this approach that sees us choose to partner with industry leading suppliers to deliver kitchens of the highest quality – from top to bottom, and everything in between.
Quality Partners = Quality Results
When it comes to providing hardware and kitchen storage solutions of the highest quality for our kitchens, Harrington Kitchens are proud to work closely with Hettich Australia. Part of the internationally renowned Hettich brand, with it's origins and base in Germany, Hettich is committed to constantly innovating and "developing intelligent technology for furniture". Their product range offers drawer and runner systems, decorative handles and hardware for folding and sliding doors.
It's Hardware's Time to Shine
Despite the important role they play in kitchens of every shape and size, it's true that hardware pieces may not always get quite the level of fanfare and attention as other more obvious kitchen items. So today, we'd love to shine a spotlight and share some of the key pieces from Hettich that can definitely make a huge difference to your new, custom-designed Harrington Kitchens' kitchen.



Kitchen Storage has Come a Long Way
There's no doubt that as a society, our approach to how and why we utilise kitchen storage options has certainly come a long way. From the brightly-coloured, contact-covered shelves of yesteryear, when the only thing put in a drawer was cutlery, to innovative, integrated design concepts and full extension drawers that are sturdy enough for any kitchen item, great kitchen storage solutions are a key ingredient in the design and function of any new kitchen.

Image Source: Hettich
All About Drawers
One notable shift when it comes to kitchen storage and design choices is that a lot more people are opting for drawers over cupboards in their new kitchen when they can.
Drawers offer many benefits when compared to their traditional cupboard counterparts.
Using drawers means that you can easily see everything that is stored in that space. Nothing gets lost or forgotten because it is buried up the back of a cupboard and is impossible to find.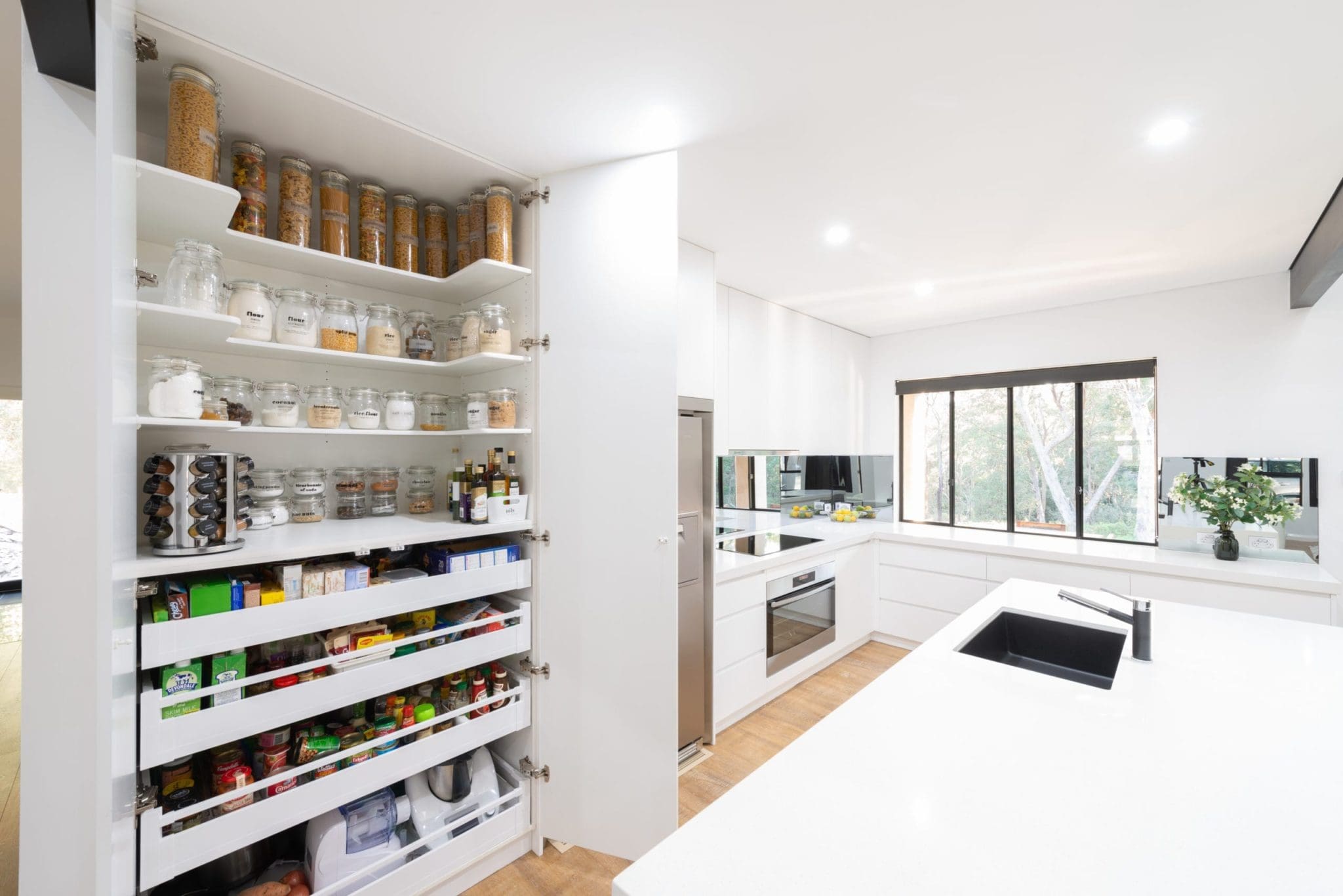 Image Source: Harrington Kitchens
The other great thing about drawers is not only can you easily see and locate everything that is in the space, but you can easily access and reach them too. You don't need to be a contortionist, or remove millions of other items to reach that thing you need all the way at the back. Nor do you need to get down on your tummy to reach something at the back on the bottom shelf.
The transition from cupboards to drawers has been largely due to the advancements in hardware technology and design solutions. When once upon a time, the cutlery drawer clattered and banged as you wrestled it out and jammed it in, drawers today are engineered to hold much more weight and are suitable for a variety of contents such as plates, appliances and pantry items too.

Image Source: Hettich
Hettich's popular ArciTech Drawer System is the industry's most versatile drawer. High quality Actro soft close runners eliminate the bangs and crashes other non-soft close drawers make and the Full Extension ArciTech Wall Steel Drawer System enables you to maximise your space and get the most out of your kitchen storage system.
The ArciTech range comes with a lifetime warranty and is available in three designer finishes – white, silver and anthracite – perfect to suit a wide range of kitchen design and style options.
Alongside quality and function, Hettich values creativity. So if you'd like to add a personal touch to your ArciTech Drawer System, consider incorporating a stylish DesignSide panel into your ArciTech drawer? DesignSide panels are made from a variety of 8mm materials (such as glass and timber) so you can customise to compliment your kitchen design and express your individuality.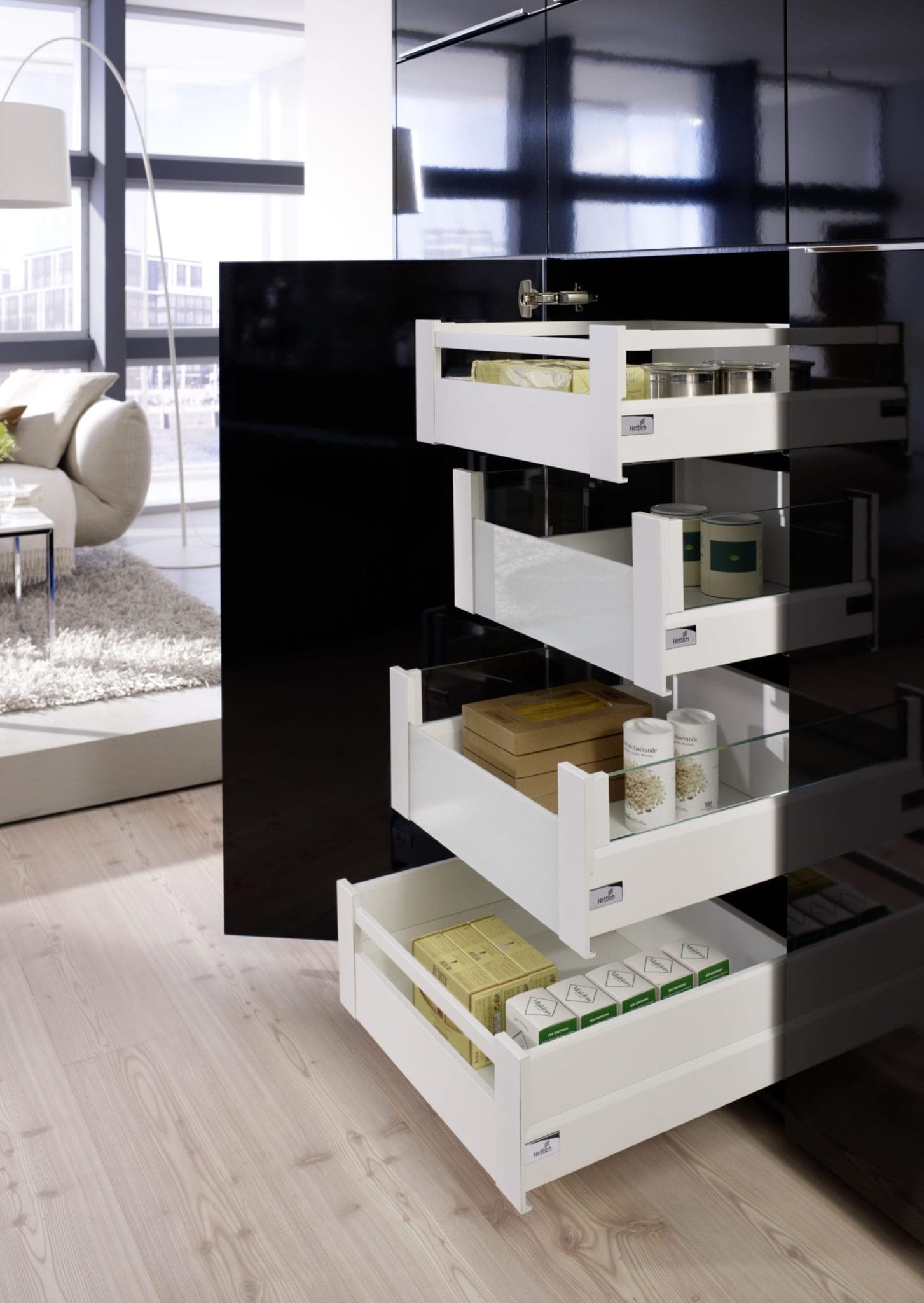 Image Source: Hettich
Drawers offer endless options for versatility and adaptability with plenty of products available to help you organise the contents of your drawers. Whether it's dividers to break the space into convenient sections or pegs and supports for keeping plates and glasses securely in place as the drawer moves in and out, having drawers will completely change the way that you use your kitchen storage space.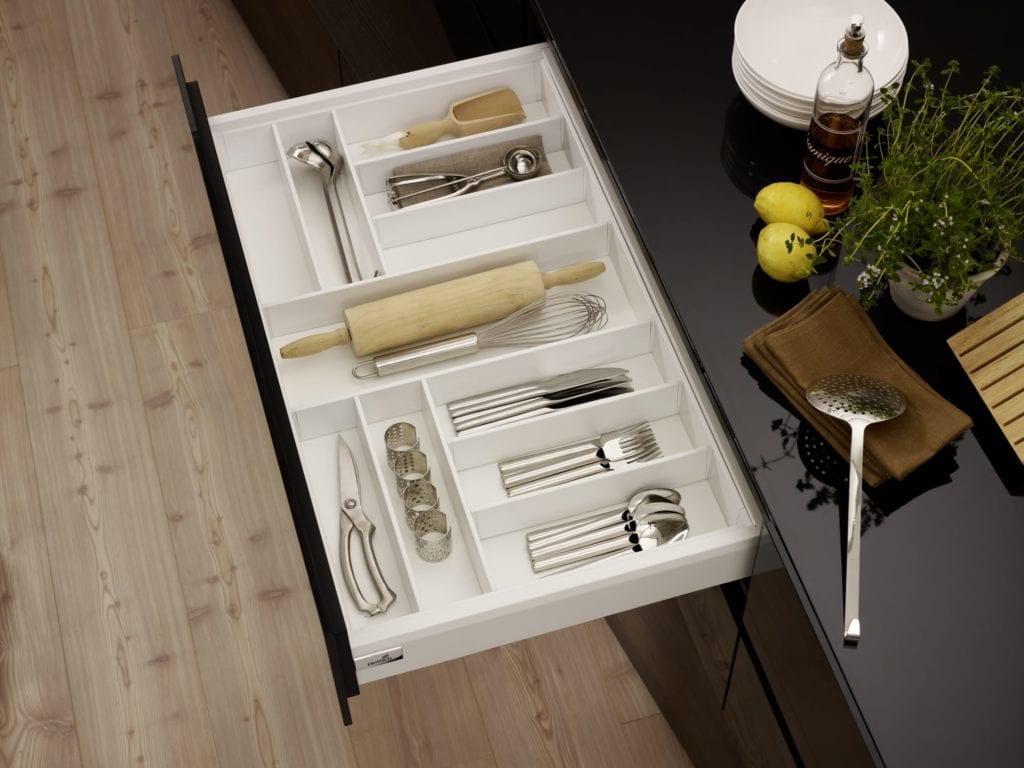 Image Source: Hettich
You can even squeeze a drawer in that awkward space under your sink to be sure that you use up every single piece of available space.
Customised Cupboards
There's no doubt that drawers are becoming more popular in the kitchens of today but that doesn't mean that cupboards are completely extinct. While drawers are a great choice for under bench kitchen storage, obviously you won't want drawers overhead, and then there's the times where a tried and trusted cupboard is exactly what you need.
There remains plenty of good reasons to have cupboards in your kitchen and technology has made it's mark when it comes to improving the way we use cupboard space too.
Hettich offers the WingLine bi-folding doors as part of their range. The fitting of 2 or 4 door panels, part and slide to the sides for easy access to everything inside without a large door opening into the space. And because it features Hettich's signature hardware and fittings, the soft opening and closing mechanism means the structure glides effortlessly, with no slamming impact.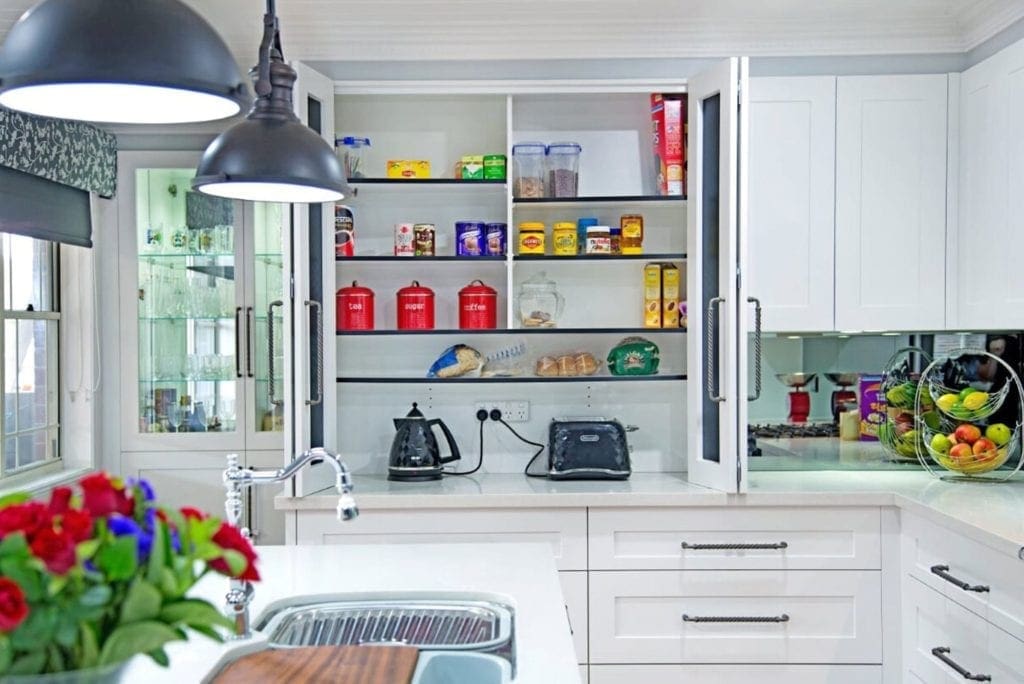 Image Source: Harrington Kitchens

Image Source: Hettich
The WingLine bi-folding door system is not exclusive to the kitchen. The same technology can be used to can transform storage in your laundry, wardrobe, linen cupboard or home office too.
For those tricky spaces where a standard drawer or cupboard simply won't do the trick, the team at Hettich have the LeMans Corner Storage Unit. Perfect for areas like hard to reach corners, voids for plumbing, or making room for power sockets, the LeMans Corner Storage Unit helps to transform a potentially unusable space to one that is suddenly very handy. The Le Mans unit swings around the corner and out of the cupboard space to make all stored items readily accessible and it can be used anywhere in the home, to make any living space work beautifully.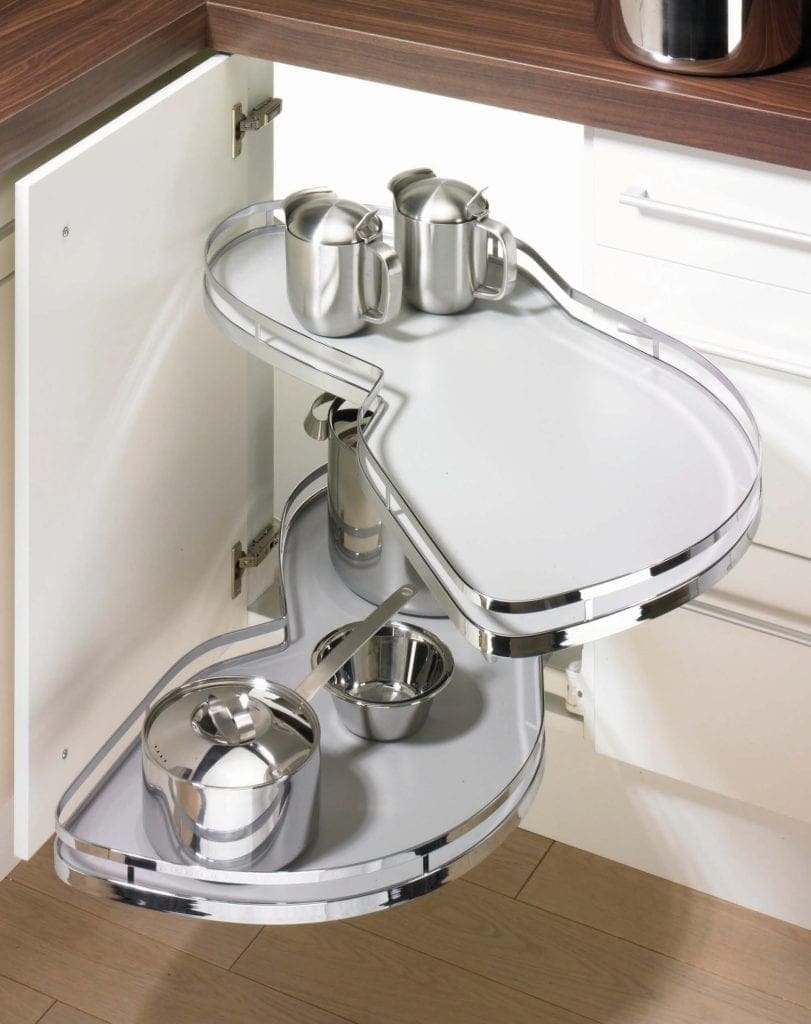 Image Source: Hettich
Hide It All Away
Another popular design feature of modern-day kitchens is integration. The same technology and hardware that gives us easy access to drawers full of cutlery, crockery and pantry items is also used to hide away the unsightly, but oh-so-necessary waste system.
Hettich's Pull-boy waste system means that your waste and recycling bins can be conveniently located right where you need them in the heart of your work area. With seamless integration, they won't detract from the overall aesthetics of the space.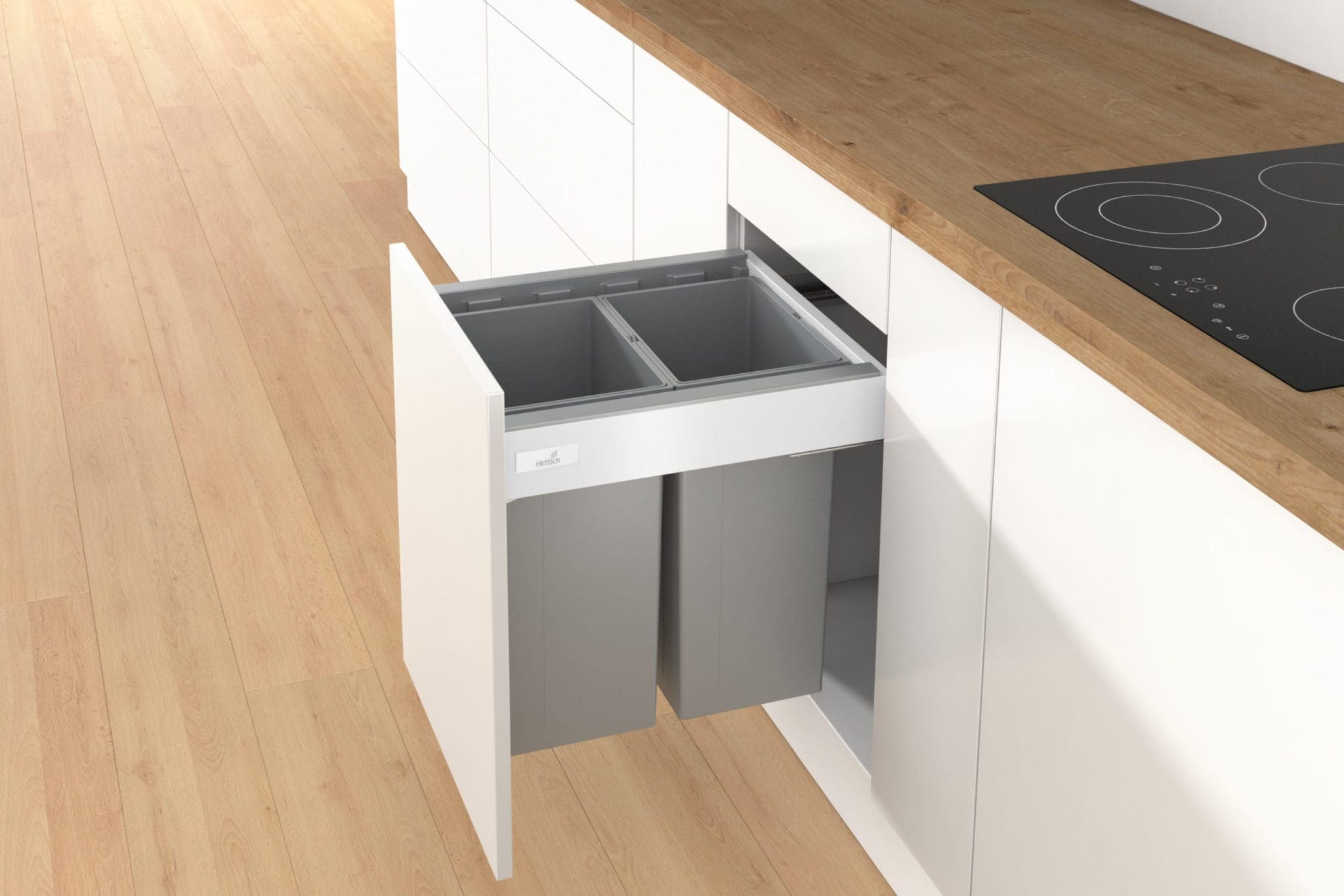 Image Source: Hettich
Like their drawers systems, Hettich's bin hardware is designed to handle the weight of your waste and recycling needs and makes handling the rubbish a breeze with their quality German runners.
With various bin combinations available, you can configure an option to best suit your household needs.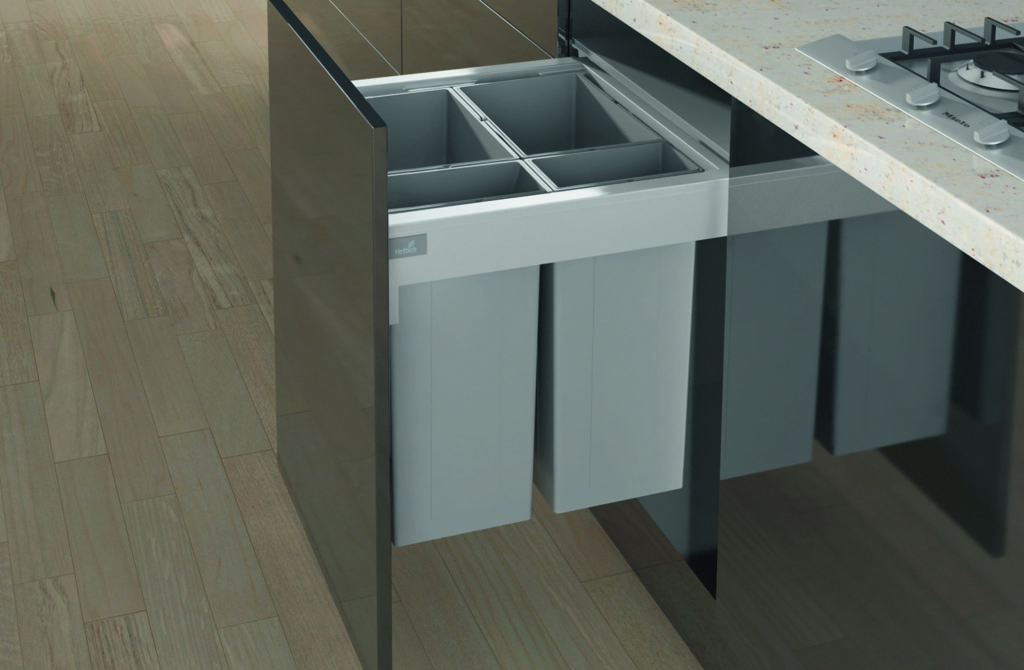 Image Source: Hettich
Quality kitchen storage solutions are at the heart of every new kitchen. With the combined expertise of the kitchen designers at Harrington Kitchens and the innovative technology from the team at Hettich, you can be confident that your new kitchen will look stunning and perform amazingly for many years to come.
Contact our team on 1300 662 112 or submit an online enquiry to discuss how we can work together to make your dream kitchen a reality.