The Hamptons style kitchen of 2021 is fresh, cool and breezy, with elements that we see staying on trend for quite some time to come. See what makes a Hamptons style kitchen distinctive in 2021.
Just like the original style, which was borne from a group of villages on the East Coast of Long Island, USA, a Hamptons style kitchen in 2021 is the perfect representation of relaxed, coastal living with gorgeous natural materials, classic shapes and a flood of natural light. The Hamptons style kitchens of 2021 are purposely curated with elegance and longevity at the forefront of all design decisions. This is achieved through a simple mix; piecing together the best of the old with wonders of the new. Blended up, we champion a style that is classic yet contemporary, refined yet playful with an edgy seaside vibe.
Here are 3 of the must-have elements to successful execution of a Hamptons style kitchen in 2021.
#1 Embrace Classic Style
Classic Shaker-Style Kitchen Cabinets
Nothing says classic Hamptons style kitchen more than traditional Shaker-style cabinetry.
Shaker-style kitchen cabinets are crafted from timber material, typically constructed with a frame around the inside panel to showcase solid lines and quality craftsmanship. These are a quintessential element of this Hamptons style kitchen design style.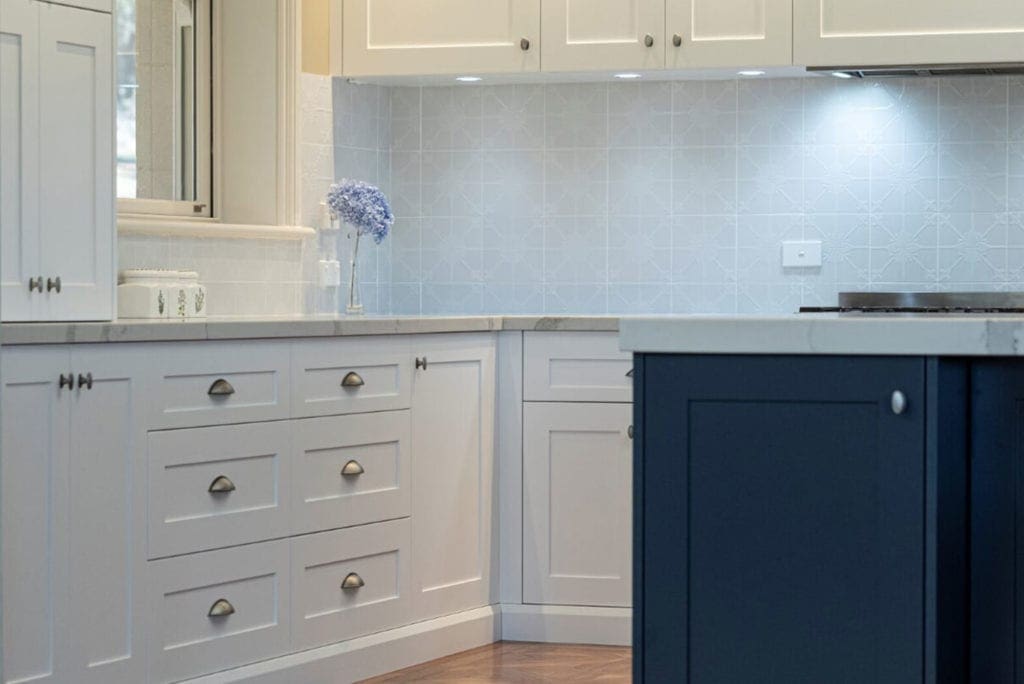 Shaker-style cabinets are finished in satin paint, as opposed to a gloss finish. To embrace a spacious vibe and add more detail, glass-fronted panels can be included on some of the upper cabinets as well. Open shelving is also a welcomed favourite in the Hamptons style kitchens of 2021.
Classic Colour Palette
In 2021, Hamptons style kitchens still embrace the simple, classic base colour palette of white and grey that works so well with this coastal-inspired style. A popular choice is to opt for all white cabinetry and walls. However, painting the walls in a soft grey tone can help make the crisp white cabinetry appear more opulent and defined.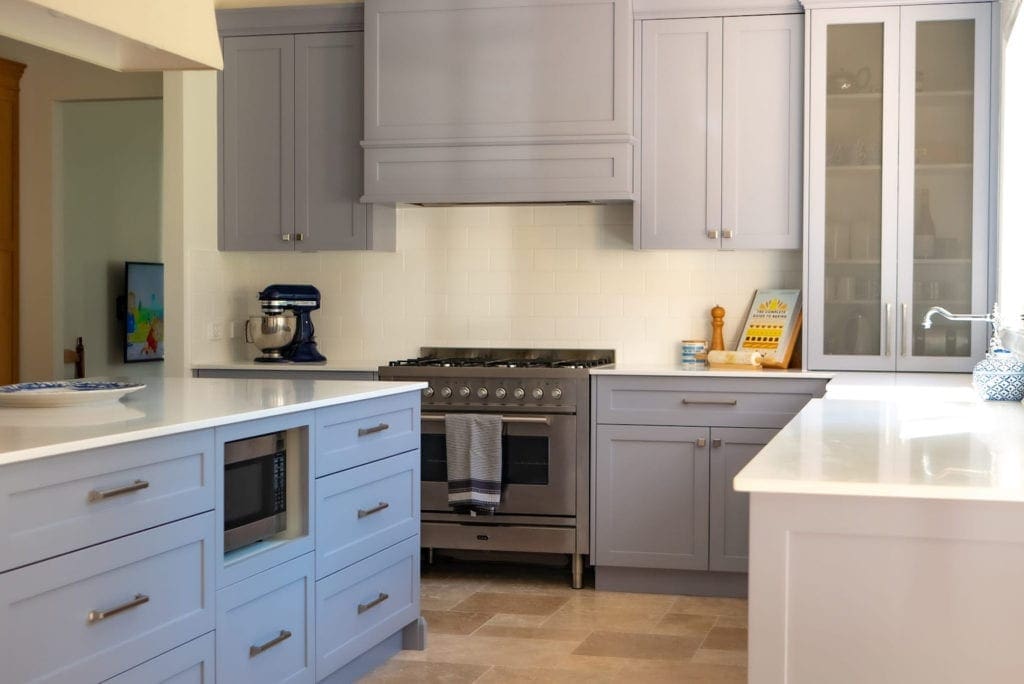 Grey tones can also be introduced elsewhere; such as the colour of the veins in a stone benchtop, or having grey fronts on the bottom cabinets and white doors for overhead cabinets. For a dramatic contemporary variation in your Hamptons style kitchen, consider colouring the island bench cabinetry in a dark and contrasting colour.
In Hamptons style kitchens this year, pushing the boundaries of the traditional Hamptons style kitchen colour palette is perfectly fine and is becoming a popular choice.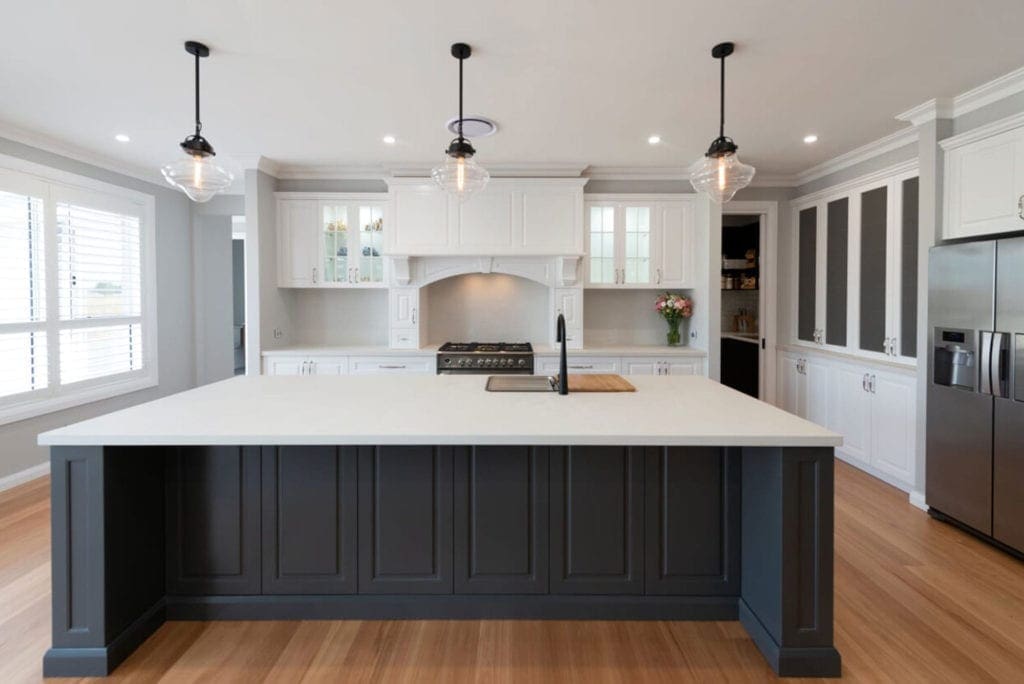 In a contemporary shift from the tradition, another difference we are seeing in Hamptons style kitchens in 2021 is the rise in popularity of black cabinet handles. While chrome is a more classic choice, matte black handles offer a modern twist.
Classic Shapes
Solid lines and plenty of attention to detail make up a Hamptons style kitchen, which is often mimicked through beautiful architecture of pitched ceilings, exposed beams, sarking, and crafted cabinetry. But in 2021, Hamptons style kitchens are also embracing detailed curves on the benchtop. To coincide with the splash of black hardware added to the cabinetry, a sway towards modern matte black tapware is on the rise this year, making the perfect blend of old with new.
#2 Statement Pieces for Hamptons Style Kitchen in 2021
Statement Lighting
Pendant lights are all an-important feature of Hamptons style kitchens in 2021 as they can add drama and scale to the room. And with an influx of options available, popular choices this year are made from a variety of materials that include cloth, metal, ceramic and woven cane.
A Striking Splashback
Typically, splashbacks in a Hamptons style kitchen tend to be one of the more subtle elements of the space. They might be the same stone as the benchtop or a ceramic subway tiles with light-coloured grout.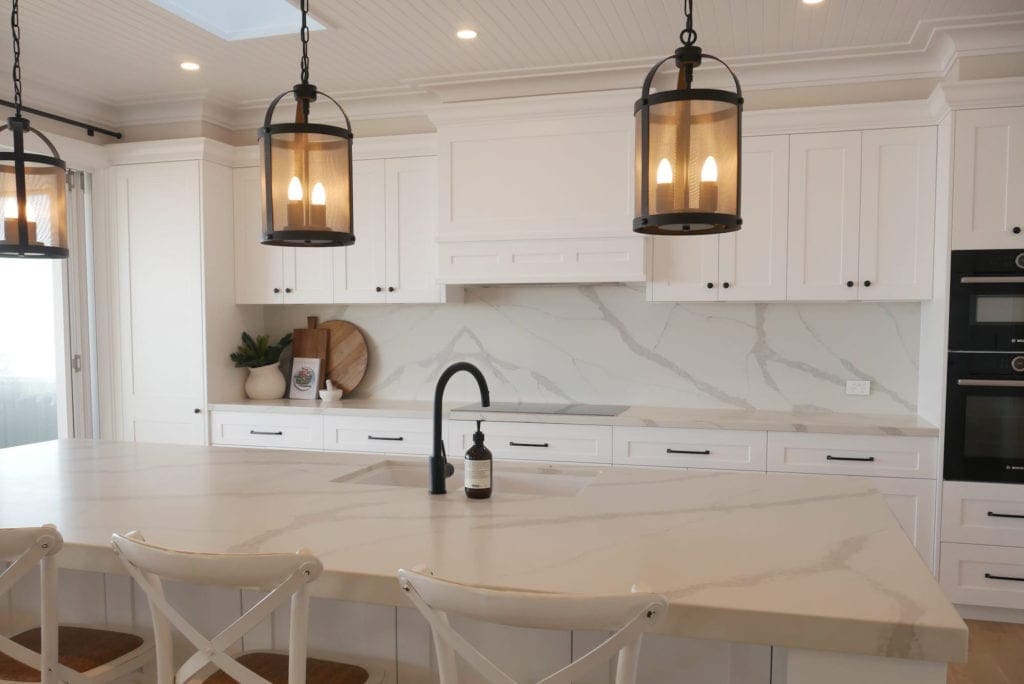 Splashbacks in some of the Hamptons style kitchens of 2021 are moving to more detailed and interesting designs. Tile choices that echo the traditional colour palette create statement feature pieces.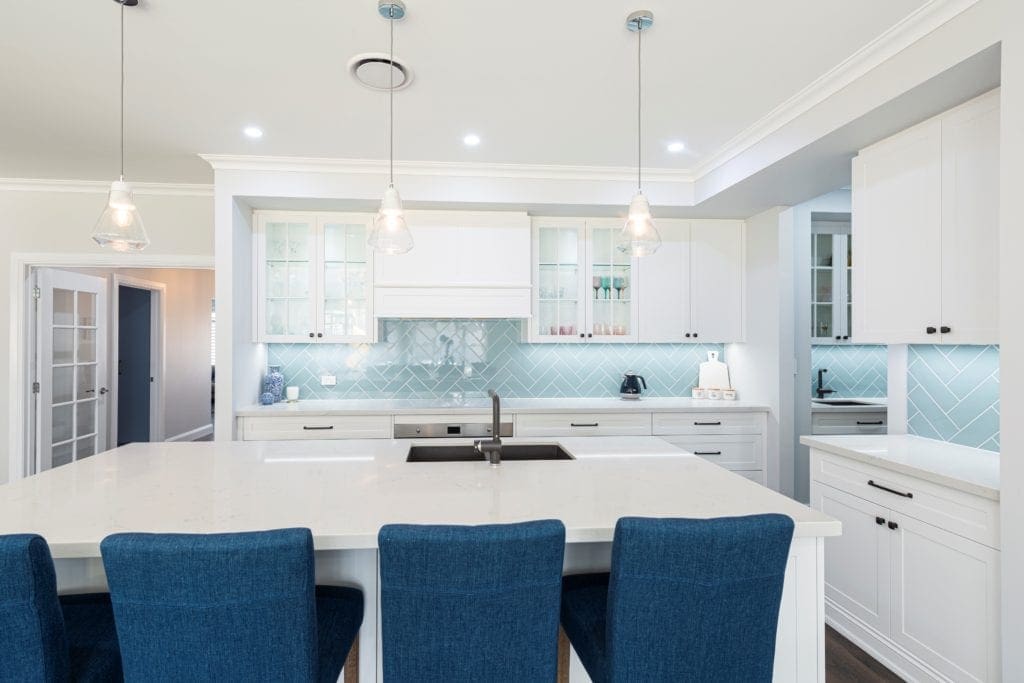 Mimic Marble
Due to the wide availability of stone options on the market, marble (or manufactured stone that mimics its appearance) is an absolute must-have in Hamptons style kitchens in 2021. To help make your decision, focus on the detailed veins within the stone and ensure they colour match to all the elements in your Hamptons kitchen. Also, the thicker the stone, the more high-end your kitchen will appear.
* Tip: for help with choosing the right stone benchtop, take a look at these natural stone options for your modern kitchen
Dark-Coloured Flooring
Provide plenty of balance in your 2021 Hamptons style kitchen by making use of dark-coloured flooring such as a deep, walnut-inspired timber. If budget does not permit real timber, you might like to investigate other options such as vinyl or laminate flooring instead to create a similar look.
#3 Inspired by the Seaside
Coastal-Inspired Styling
Traditional Hamptons style is all about embracing the spirit of seaside holiday homes, particularly through finishing décor. The Hamptons style kitchens of 2021 require playful detail to piece everything together perfectly. For styling, use coastal-inspired colours such as aqua, seafoam green, blues, and hints of yellow. Bring together natural elements such as raw timber, cane, stone and seashells.
An increasing trend in Hamptons style kitchens in 2021 is the use of epoxy resin chopping boards featuring gorgeous free-flowing images of the ocean. These boards are simply layered atop the bench for functional, coastal-inspired impact. Just add a cane or ceramic utensil holder in front of the boards for more impact.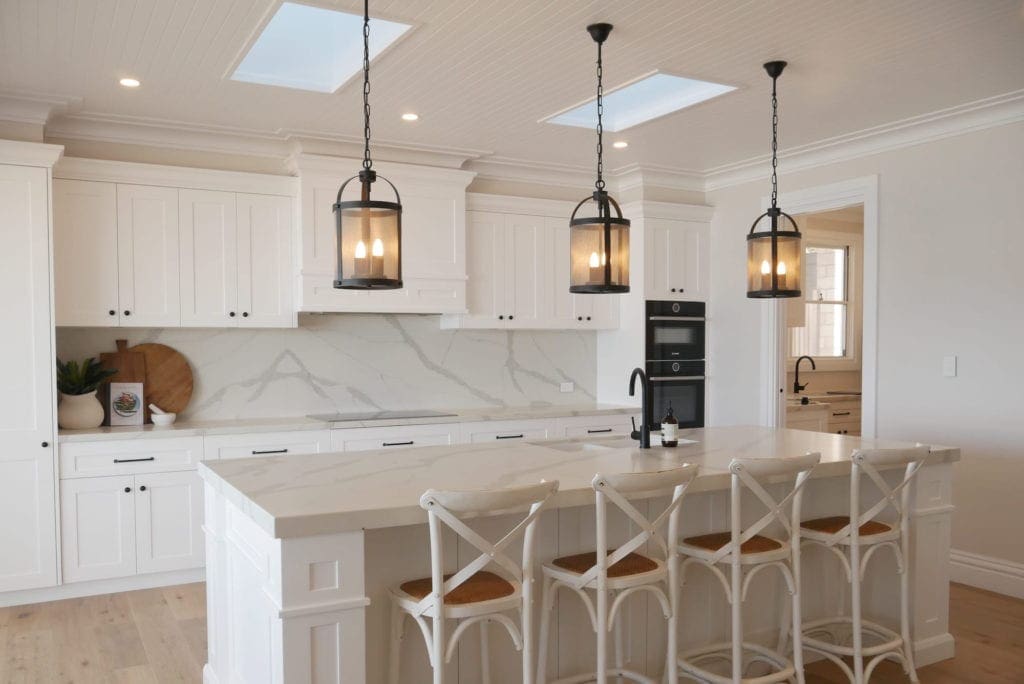 Cane or rattan barstools, coupled with pale natural fibre cushions, make the perfect compliment for a Hamptons style kitchen breakfast bar. And for the walls, think about fresh and fun décor that can add character and modernity to the room – a simple wooden surfboard, genuine-looking starfish decals, oversized shells, etc. Select styling pieces that resemble the real deal to avoid the room looking tacky or contrived.
Hamptons style kitchens in 2021 are a contemporary fusion of the iconic original design style paired with modern innovation and design. Combined with plenty of coastal-inspired detailing ensures that this highly liveable style ever-evolving.
Call us on 1300 662 112, submit an online enquiry or visit us at our Narellan or Bowral showrooms to speak with the amazing team of designers and kitchen experts at Harrington Kitchens.
Take a look at our Instagram page and website gallery for kitchen design inspiration across a range of popular design styles.