Once upon a time, a butler's pantry was often overlooked as a luxury item – one that would fit into kitchen designs "if there was room". In modern kitchens, butler's pantries are being requested in increasing numbers and as a result are becoming much more of a common feature. However, that certainly doesn't mean that they are desired by everyone.
For a passionate home cook or entertainer, a butler's pantry is the perfect partner to have in the kitchen. Generally offering up more storage and preparation shortcuts that you can throw a set of saucepans at, butler's pantries can indeed be a useful add-on to modern kitchens.
When considering your new kitchen design and whether or not to include a butler's pantry, an important question to ask yourself is do you really need, or even want, a butler's pantry? Perhaps you might even feel like you should have one because that is generally the done thing these days. The other important element to consider is whether you have the required space available to incorporate a butler's pantry into the layout.
Whether you are a little tight on space or maybe just not completely in love with the idea of a full-scale butler's pantry, it doesn't mean that you have to forego a lot of the benefits that come with having a butler's pantry. The great news is there are other ways to capitalise on the advantages of a butler's pantry, using much less space.
Our expert design team at Harrington Kitchens have put together some clever design ideas for how you can enjoy all that is great about a butler's pantry in your kitchen without creating an actual butler's pantry!
Butler's pantry alternatives
Before proceeding with the process of designing your butler's pantry or a similar alternative, it is important to ask yourself what would you like to achieve from this area of your kitchen?
Are you looking for some extra space to store Grandma's cherished tea sets that she gifted you and other precious pieces? Perhaps you would really like a tea and coffee preparation area or a cocktail station to entertain guests when they come over. Do you need more washing up space? An extra bar fridge? Food preparation aids like warming drawers or a compact conventional oven? Once you have an idea of what you are trying to achieve, then you can move forward with the best way to implement it.
When it comes to kitchen storage solutions there is definitely no "one-size-fits-all" solution. We hope that these butler's pantry alternatives give you some inspiration about the wide-ranging options available to suit many individual kitchen requirements.
Butler's pantry design alternative #1: showcase and hide away
One of the best things about custom built kitchen cabinetry is that you can create just about anything you want within your kitchen. And when it comes to cabinetry doors and joinery, there are plenty of options to play with. For example, you can have kitchen cabinets that slide open, bi-fold to one side or lift vertically. This makes it very easy to create a mini butler's pantry area without too much fuss.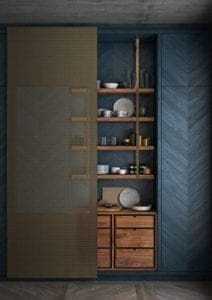 Source: bluetea.com.au
Bi-fold cabinetry doors have the ability to gather up and slide to one side. This makes them perfect to store away contents when they are not in use and to provide practical access and even showcase said contents when it is needed. Bi-folds can be designed floor to ceiling height, or as a downsized version, such as on the top of a bench and can be operated with one hand.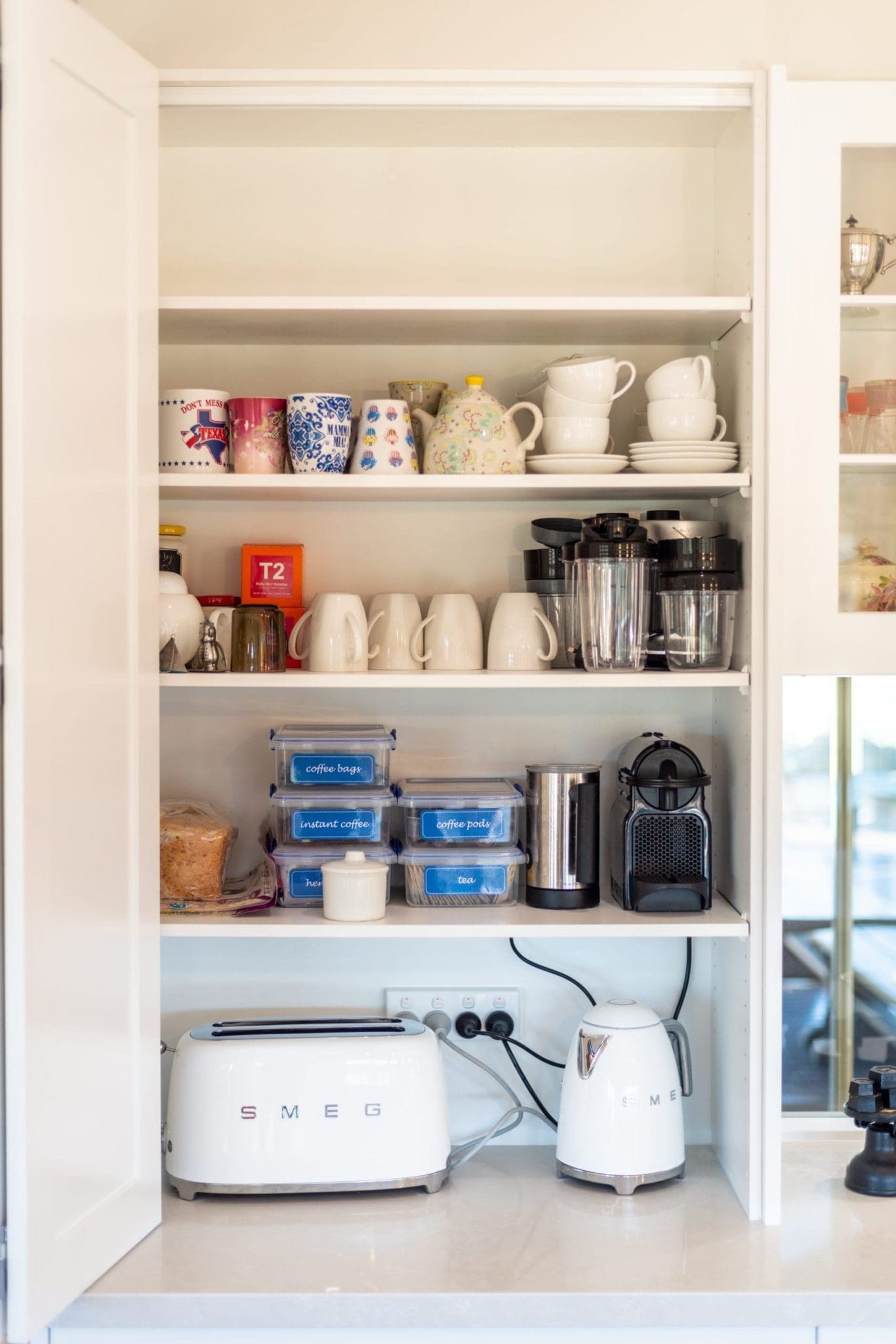 Source: Harrington Kitchens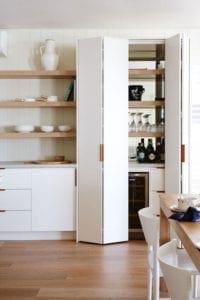 Source: bluetea.com.au
Depending on the intended function of this butler's pantry area (a cocktail station, breakfast nook, or tea and coffee area, etc); you could use the under-bench space to include a mini bar fridge, warming caterers' drawers, or some storage pigeon holes for recipe books and large cooking appliances. Add a coffee machine, a thermomixer, or cocktail blender on top of the bench to create a truly functional space.
Roller shutter doors are also another great option for creating a mini butler's pantry this way. Roller shutter doors, however, generally limit the space to above bench, as opposed to the bi-folds which can be installed floor to ceiling.
* Tip: if you are looking for more storage solution ideas for your kitchen, check out one of our recent articles here.
Butler's pantry design alternative #2: sharing is caring
If you are really set on the idea of having a dedicated butler's pantry but space is limited, perhaps it could be an option for you to share some of the space with an adjoining room. This is quite easy to do if your kitchen pantry backs on to your laundry for example. Potentially you could knock out a dividing wall and create a twin storage area. This is a basic design hack that can help to achieve additional storage for two zones.
A well-designed butler's pantry caters for more than just extra storage. It can be an entertainer's marvel and a real helping hand in the kitchen. However, it is not the size that matters – practicality and functionality is the key to getting the most out of your butler's pantry space, in whatever form it takes and whatever that looks like.
From big and bold to boutique and refined, it's possible to reap the benefits of a butler's pantry by capitalising on space and functionality in a kitchen of any size.
The experienced team of designers at Harrington Kitchens have a wealth of expertise optimising kitchen spaces to suit both design and function preferences. Contact our team on 1300 662 112, submit an online enquiry or visit us at our Narellan or Bowral showrooms to discuss your new kitchen project queries, from lavish butler's pantries and the many great alternatives too. We can make your dream kitchen a reality.